This post is part of an ongoing series on Eye Level: The Best of Ask Joan of Art. Begun in 1993, Ask Joan of Art is the longest-running arts-based electronic reference service in the country. The real Joan is actually many people from our museum's Research and Scholars Center. These experts answer the public's questions about art. Last year, they began posting questions on Twitter and made the answers available on our Web site.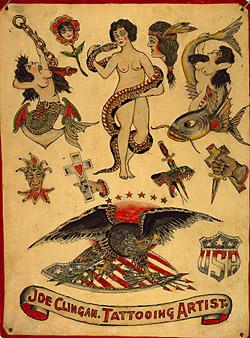 Joe Clingan's JOE CLINGAN. TATTOOING ARTIST
Question: Does the Smithsonian consider tattoos works of art?
Answer: You ask an interesting question that is directly related to the larger issue of "what is art?" In 1995, when she reviewed the tattoo-based art exhibit "Pierced Hearts" at the Drawing Center of New York City, Village Voice art critic Elizabeth Hess wrote "Every artist in town will want to see 'Pierced Hearts' because it's the real thing." The show, which included 300 drawings of tattoo art from the 1800s to the present, was so successful that it went on a national tour, appearing in such institutions as Miami's Museum of Contemporary Art.
The Smithsonian American Art Museum also added tattoo design work and equipment to its permanent collection in 1986, a gift from Herbert Waide Hemphill, Jr.
Tattooing is considered body art, an art form in which the artist's body is the medium. In addition to tattooing, piercing, branding, scarification, implanting, and mehndi are forms of body art. All of these are rooted in cultural or tribal traditions of body decoration and adornment.
From Jane Caplan's book Written on the Body: The Tattoo in European and American History: "Like many art movements, for the past quarter-century, the West has been enjoying a 'tattoo renaissance,' characterized by the influence of Abstract Expressionism, the introduction of 'photorealistic' tattoos, graphic 'tribal' styles, Japanese designs, and imagery adopted from the mass-media, according to Arnold Rubin, tattoo artist and theorist who popularized the term. Changing social attitudes have resulted in the increasing mainstream popularity of tattoos from their historically marginal status. Unlike earlier tattooists, artists of the 'tattoo renaissance' may have professional art training and some association with the larger art world. They increasingly specialize in large-scale, custom designs, and recognize and value each others' work.
For further information about tattooing and body art, you might be interested in the following books: Steve Gilbert's The Tattoo History Source Book, Karl Gröning's Decorated Skin: A World Survey of Body Art, Arnold Rubin's Marks of Civilization: Artistic Transformations of the Human Body, and Clinton Sanders's Customizing the Body: The Art and Culture of Tattooing.