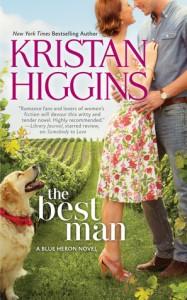 Title The Best Man

Author Kristan Higgins

Publisher Harlequin

ISBN 9780373777921

Pub Date Feb 26 2013

Category Fiction, Adult, Contemporary, Romance
Summary:
SOMETIMES THE BEST MAN IS THE ONE YOU LEAST EXPECT…
Faith Holland left her hometown after being jilted at the altar. Now a little older and wiser, she's ready to return to the Blue Heron Winery, her family's vineyard, to confront the ghosts of her past, and maybe enjoy a glass of red. After all, there's some great scenery there….
Like Levi Cooper, the local police chief—and best friend of her former fiancé. There's a lot about Levi that Faith never noticed, and it's not just those deep green eyes. The only catch is she's having a hard time forgetting that he helped ruin her wedding all those years ago. If she can find a minute amidst all her family drama to stop and smell the rosé, she just might find a reason to stay at Blue Heron, and finish that walk down the aisle.
My Thoughts:
 had a hard time with this book, there was a lot of good things about it but there were also things that I just didn't get. To me it seemed like there was just too much happening and at times it was hard to keep track of everything. Faith seems to be the heroine who just cant catch a break, and it really is sad to see so much trouble and heartache happen to this one girl. Loosing her mom at a young age, finding out the guy you are about to marry is actually gay at the wedding. How much can a person take, then to add insult to injury over the next many years Faith just has no luck with guys. All she seems to go out with are the losers, those who are cheating on their wives, looking for someone to help them in their drug habits. Its just too much for me personally to see anyone go through and took a lot out of the story for me. Levi is a great guy, but he also has had a hard life and while his life might be better than Faiths its not really hard to have things better than her.
Over All Rating: 3/5 Stars
Disclosure: This book was provided to me by the publisher via NetGalley. The rating, review, and all opinions are my own