We all love camping; we do it as a means of exploring what nature has to offer. Group camping is even better. But you won't stay together as a group the entire period. There are times that you will want to go your own way.
While you are on your own, you might get caught in an emergency situation. How then will you alert your group for support? This is where the best long-range two-way radios become very resourceful.
These are just devices like the walkie-talkies only that they are designed for weather resistance and range clarity. The range is a very important factor in these devices, and if you aren't careful enough during purchase, you might end up with a device that can only cover just a few miles.
This comprehensive guide contains all the relevant details you need to know about the consistent and reliable information that the long-range two-way radios have to offer. Read along and learn more.
Best Long-Range Two-Way Radios
Factors to consider before buying the best long-range two-way radios
A review of the best long-range two-way radios
1. Ansoko Long Range Two-Way FRS/GMRS Radios2. Revetis H-777 Long Range Two-Way Radios3. eSynic Long Range Two-Way Radios4. Midland GXT1000VP4 Long Range Two-Way Radios5. Greaval Long Range Two-Way RadiosConclusion
Factors to consider before buying the best long-range two-way radios
The long-range two-way radios are available in different styles and features. Most are indicated to be long-range types while that isn't the case in the real sense. However, through careful selection, you can get the best product that will match your needs.
In this section, we are going to look at some of the features that will help you make the right choice. Take a look.
Different two-way radios have been designed to cover different ranges regarding distance coverage. The range is always measured in miles. Most models have their ranges operate between 1 and 35 miles, but this depends on the terrain and the surroundings.
If the area you plan to visit with the radio is densely populated or has lots of buildings, then it is advisable that you go for a model that is capable of penetrating concrete walls and offer reliable communication in long ranges.
But when you are in an open field like a campsite or even when hunting, then radio models that allow for range increase are what you need. You can do some research on what kind of reception other users get in the area to help you make the right decision when buying one.
The range should be on the higher side of your needs. You better have too much rather than too little, and you will be good to go.
This basically refers to the amount of power that the radio puts out. It is always measured in watts. The output power is what determines the radio's transmission power. If the wattage is average enough, the range also becomes better. Alternatively, a lower wattage means that the range will also be lower.
The larger two-way radios typically have their power output ranging between 4 and 5 watts whereas the smaller ones are about 2 and 3 watts. This explains why most of the larger radios are always efficient in terms of range coverage.
The output power is also important when it comes to the radios' audio quality and signal strength. There are some radios whose wattages can be temporarily increased to improve the signal strength when there is need to cover a longer range.
You also need to take note that higher wattages mean that the battery will get drained much quicker. But the radios with manual settings allow for the reduction of wattage to conserve the battery especially when its need is not that necessary.
The best long-range two-way radio should be easily portable. It is, therefore, important to closely consider the product's design. Is it compact and lightweight? Such is the most trouble-free devices that you need for the outdoor activities.
And given that you are going to subject the device to rugged and diverse use, it should be made of high-quality material. The material should be able to last for a longer time. Never assume that even if the radio is heavy, you can clip it o the belt. This is because it will still weigh you down.
The less bulky radios are easier to use on a daily basis or even during emergencies. Only go for heavier models if you will not be using them for outdoor activities like traveling and hiking.
The radio should have a long life that can take you for days without even a single charge. That is now an ideal two-way radio that will save you a lot of charging time. Besides, the battery should be lightweight.
Also, check on the type of battery charger the radio has. Some chargers are compatible with both vehicle and home charging ports. Such is the best as you will be able to restore the radio's charge anywhere if it runs out.
Most two-way radios do come with a charging station as well as a rechargeable battery. Again, buying a long-range two-way radio that can operate using AAA or AA batteries is also another viable option. Such batteries will allow you to use the radio even on the go.
Most two-way radio batteries can last between 12 and 18 plus hours. But currently, some models have power saving modes. If you come across such models, it is better to go for them as you will be able to save your battery's life more so if you will not be using the long-range functionality.
If you come across an antenna that is long, know that it will have a better reception compared to those with short antenna lengths; which is actually what you need. But you might like a radio because it basically has all the features you want except for the antenna. What then can you do in such a scenario?
Well, some radios have the option of buying an aftermarket antenna for purposes of extending its range and reception.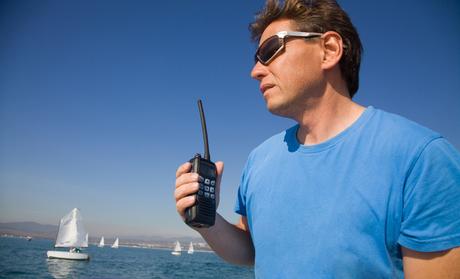 The Mother Nature is something that is not easy to predict. Rains can pour just anytime when you least expected. Having a two-way radio that is waterproof is, therefore, important to protect your device from water damage.
There are also instances when the adventure can take you to the oceans, rivers and even lakes. In such areas, the radio falling into the water is a possibility. Being waterproof is the only solution out of such accidents.
A radio with a display is advantageous and saves a lot of time. The display allows you to check the battery limit, the channel it is on and much more regarding the radio. There even digital radios which have incorporated features like private calling and texting which are very useful as well.
The display option also makes toggling of the radio settings much flexible. There is no need of reprogramming the radio in case you want to make small changes when the display option is available on the radio.
Besides being used for calls, the best long-range two-way radios should have access to local weather forecasts and NOAA for purposes of receiving real-time weather alerts. Knowing the weather condition of the area is very important as it helps you prepare yourself sufficiently for the weather. This helps you stay safe from any kind of emergencies.
An ideal long-range two-way radio is waterproof, dust and heat resistant among others. This is done in consideration with the different environments where the radio will be used. The radios are even made of materials that can endure falls from as high as 6 feet. To sustain all these, the radios have to be durable.
The devices are often backed up with a few years of warranty on different parts but only if purchased through authorized dealers. Different models have different warranties on their products. This is another important area that you need to check on keenly.
If you notice any defects within the warranty period, you are at liberty to take it back to the manufacturer for repair or replacement at no cost.
Out-of-range and Call Alerts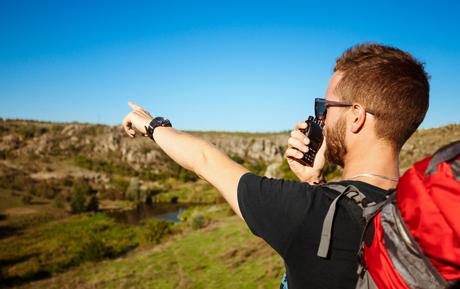 There are times that you can walk to distances where you can no longer communicate with members of your group or family without even knowing. The worst part is to get caught up in an emergency situation while you are out of range with the other people. Who then will come to your rescue?
To avoid such cases, some firms are producing long-range two-way radios that are capable of alerting you when your partner's radio is out of range or is still within range. This is a safer way of ensuring that you all keep close to each other.
Another great feature you should as well look for is the radio's ability to allow usage of specific tones while receiving calls from members of your group. For instance, one of the tones you can use is the vibrating tone that won't startle the game while you are hunting.
Besides, a radio that is capable of alerting you whenever you are likely to get hazards like fire, landslides and tornados is very important.
This feature looks simple but very important for any camper and even hunter for that matter. The headsets will allow you have a hands-free operation and allow you to focus on other issues. A good example is when you are aiming for a target like a deer during hunting, but you still want to communicate with the other members of your group.
Without the headset, the animal will be long gone. But once you have them, you can aim at the target while at the same time be on call.
The above are some of the many features that will help you in making an informed choice on the best long-range two-way radios that will be ideal for your situations.
A review of the best long-range two-way radios
To save you the struggle, we have carefully selected the 5 most suitable long-range two-way radios. Here is everything about them; from features to pros and cons. From this, you will be able to make a decision so easily.
Overview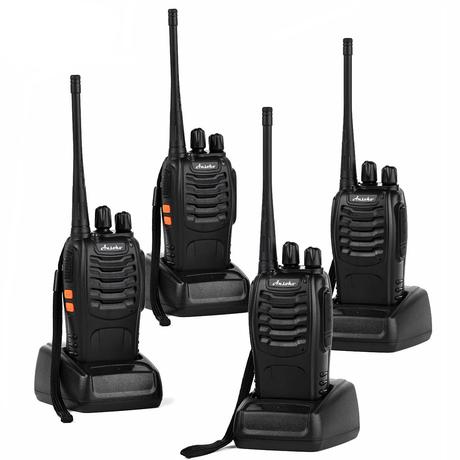 The Ansoko radios operate based on Ultra High Frequencies (UHF) which besides being shorter, get around and penetrate areas with interference mostly in buildings to give the desired reception. Their ranges, however, vary depending on the nature of the environment.
This product is well-built which makes it long-lasting. It is also ideal for most outdoor activities like family trips, hunting as well as other outdoor uses. These products also have channels that are easy to use and match.
These radios will help you keep in touch with your family or group while camping in areas that do not have mobile reception. And the connection happens in real-time.
To​​​​​p Features
Have output power of 2 watts

Their frequency ranges are between 400 and 470 MHz

The range coverage is 3 miles but is highly dependent on the environmental conditions

Have 16 already preset and programmable channels which are easy to use and match

Built-in 105 DCS codes or 50 CTCSS privacy codes

Built-in LED flashlight for use at night

Have a warranty of 18 months with 30 days window for free return

Sold in packs of six, four and two

The capacity of the battery is 1500mAh which charges for between 4 and 5 hours and lasts for up to two days of typical use, 1 day of continuous use and up to 7 days of standby time.

Each radio weighs 160 grams

The products have low battery alerts as well as power saving functions

The impedance of each antenna is 50 ohms

They are single bands
Pros
Cons
Easy to use

Lightweight and portable

Very versatile

Very clear sound of communication

Reasonably priced

Efficient and reliable rechargeable batteries

Good operational range
Getting batteries for replacements isn't easy

Not so good for speedy road trips and drives
Check Price and Rating on Amazon.com
Overview
Revetis radios have already been programmed to operate at the same frequency once removed from the box. You won't, therefore, have to program them after that. This even saves your time more.
They are lightweight and this makes them easy to carry from place to place. Just like phones, you can charge them from the computer via the USB cables. You can use them on a variety of occasions like in hotels, churches, and warehouses apart from group camping.
What's more, it is possible to communicate hands-free when using these two way radios because of their original earpieces. They also feature the low voltage alert that will inform you when your battery is running low. The battery itself is rated 1000mAh and will last long enough while you are camping.
Top Features
Allow for both direct wall and USB charging

Have 2 knobs for controlling the number of channels as well as switching

Charging time for each is between 2 and 3 hours which supports a continuous use for up to 9 hours

Hands-free communication as a result of the original earpiece

Low voltage alerts are supported to help save battery life

asterisk

Backed up with a one-year warranty on body and a 30-day return period for the radio and all accessories

asterisk

Operate in UHF of 400 to 470MHz but can be modified when the need arises

asterisk

The battery has a capacity of 1000mAh

asterisk

Have built-in LED torches for easier navigation in the night or dark environments

asterisk

They have time-out-timers (TOT) which prevent users from occupying channels for long

asterisk

Support both English and Chinese voice prompt as well as PC programmable software

asterisk

Sold in a pack of three
Pros
Cons
plus-circle

Very clear

plus-circle

Lightweight and easy to walk around with

plus-circle

Easy to use charging docks

plus-circle

Quick charging

plus-circle

Have a great range

plus-circle

Durable

plus-circle

Reliable and easy to operate
minus-circle

A bit costly
Check Price and Rating on Amazon.com
Overview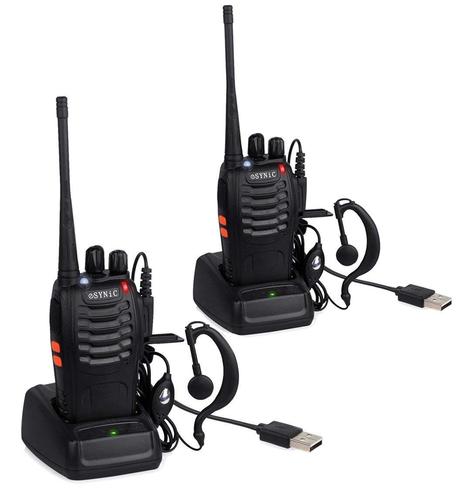 The eSynic radios are sold in two's or four's and can be very instrumental in your communication with your fellow campers in wild fields and the most remote areas. From meters to kilometers apart, you can find your partner very easily.
These radios have been made using the latest technology, therefore, making them easier to operate. You simply turn them to the same channel, push a button and you will be good to go. At no particular moment will these radios fail you; even at night since they are equipped with LED lights for use at such times.
These products are very versatile and can be used in different places. Furthermore, these radios can communicate with other radios from other brands like Revetis, Baofeng 888s, and Beeway 5W. With over 16 different channels, these radios will make sure that your communication is as smooth as possible.
Top Features
asterisk

The antenna has an impedance of 50 ohms

asterisk

Output power ratings are at 0.5 watts

asterisk

Each battery has a capacity of 1500mAh

asterisk

They are single band radios operating at a single frequency

asterisk

Rated voltage is 3.7V D.C

asterisk

Battery and radio charging are both supported at a span of about three to five hours and the battery is fully charged

asterisk

Have 16 different channels

asterisk

Have built-in LED lights for use in dark environments and at night as well

asterisk

Each radio weighs 180 grams

asterisk

They operate using UHF at a range of 400 to 470 MHz

asterisk

Both Chinese and English voice prompts are supported

asterisk

Low-battery alarm and power saving functions are operational in these radios

asterisk

Base warranty of 18 months by the manufacturer
Pros
Cons
plus-circle

Very durable

plus-circle

Clear reception

plus-circle

Good range

plus-circle

Easy to set up and operate

plus-circle

Are waterproof

plus-circle

Compact in size and lightweight

plus-circle

Quick delivery
minus-circle

Reported instances of missing antenna
Check Price and Rating on Amazon.com
Overview
Midland GXT1000VP4 radios are high-powered, long-range two-way radios that can operate a record 36-mile range. Besides, they possess 50 channels all which you can utilize. The number of privacy codes which each one has is another record 142.
The radios meet the JIS4 exposure to water standard of 30 minutes. With these radios, you can actually scan the latest weather conditions to help protect you from emergencies. On the other hand, the radios are capable of warning against other emergencies like child abduction, biological hazards, fire, landslide and nuclear power plants.
What's more, these radios are waterproof and have the vibrate alert that will inform you incoming calls are notifications. They also have the LCD backlight which makes it possible to use them even in the dark. The other good thing about these radios is that they allow for group calls.
Top Features
asterisk

Have 50 channels

asterisk

Can cover up to 36 miles in range

asterisk

Accompanied by a 120V charger

asterisk

Are having NOAA/hazard weather alerts after weather scan

asterisk

Each has 142 privacy codes

asterisk

Hands-free operation as a result of 9 VOX levels

asterisk

Waterproof

asterisk

Backed up by a three-year warranty

asterisk

Lasts up to 11 hours when fully charged

asterisk

SOS siren that allows for sending of locator/distress signals

asterisk

Allows for group calls

asterisk

Whisper sounds made are clearly heard from the other end

asterisk

LCD backlight

asterisk

Vibrate alert
Pros
Cons
plus-circle

Long-lasting batteries

plus-circle

Affordable

plus-circle

Weatherproof

plus-circle

Lightweight and portable

plus-circle

Great reception and high sound quality
minus-circle

The range doesn't reach the advertised 36 miles in actual use
Check Price and Rating on Amazon.com
5. Greaval Long Range Two-Way Radios
Overview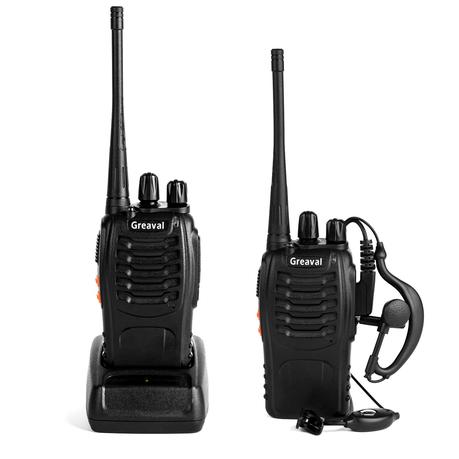 The last but not the least products on our list are the Greaval Long Range Two-Way Radios. They are a great consideration for your outdoor communications as well. They are user-friendly with no complicated radio settings.
These radios are lightweight as well with each radio weighing only 160 grams. The fact that the batteries of these radios take only 4 hour to be fully charged makes them very efficient to use. When in the darkness, these radios have in-built LED torches that will allow you to see your way through.
Another good thing about these radios is that the channels can be programmed. They also have alarms that will inform you about low battery and emergencies. What's more, the 1500mAh rechargeable lithium-ion batteries will last long enough before you are required to charge them again. They also have a wider transmission range of between 1 to 3 miles.
Top Features
asterisk

They have 16 preset channels

asterisk

The operating frequency range is 400 and 470MHz

asterisk

The capacity of the rechargeable lithium-ion batteries are 1500mAh

asterisk

The antennas have impedances of 50 ohms each

asterisk

Each radio weighs 160 grams

asterisk

Built-in LED torches

asterisk

Low-battery and emergency alarms are supported

asterisk

The VOX function is not supported

asterisk

They support voice prompt in English as well as CTCSS/DCS privacy codes

asterisk

The output power and transmitting current are 2 watts and 1.3 amperes respectively

asterisk

Charging time for batteries are 4 hours which can be used continually for 12 hours, 2 days of typical use and 7 days in standby time

asterisk

The channels are programmable

asterisk

Comes in two's, four's and six's which each radio having its charging dock

asterisk

The range is between 1 and 3 miles
Pros
Cons
plus-circle

Pretty simple to assemble

plus-circle

Inexpensive

plus-circle

Compact in size, lightweight and convenient to use

plus-circle

Very understanding customer care service

plus-circle

Loud and clear sound even miles away from buildings

plus-circle

Long-lasting rechargeable batteries
minus-circle

The LED light is not bright enough

minus-circle

Serial cable responsible for advanced settings is not included
Check Price and Rating on Amazon.com
Conclusion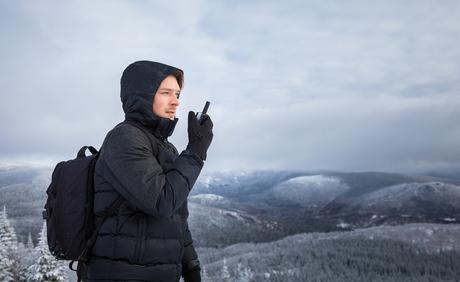 Keeping in touch with members of your family or group during an outdoor activity like hunting is very important. These little gadgets go a long way in ensuring that your safety is guaranteed. That's why we thought it wise to let you know of these lifesavers before you start your next vacation.
Midland GXT1000VP4 wins the overall prize as the best among the five long-range two-way radios. These radios have 50 channels alongside 142 privacy codes. Besides, you can operate the radios hands-free as a result of the 9 VOX levels.
Additionally, these radios have SOS sirens that allow for the sending of locator or distress signals in case of emergencies like severe weather. As if those aren't enough, the radios have 10 different tones for incoming call alerts. The radios can be operated using either rechargeable or AA batteries.
The other products on our list are also of great quality, and you can choose any of them as well whenever you deem fit. Are there any questions that you still have based on this guide? Have you used any of our above products? Share your experience with us.

Back to Featured Articles on

About the author

Zoey Fawell View profile
View Blog
THE %(site_name)s COMMUNITY