Home   /  
Pawan Soni  /  Travel  /  
The best located hotel in Mussorie: Mosaic Hotel
The best located hotel in Mussorie: Mosaic Hotel
The best located hotel in Mussorie: Mosaic Hotel
pawansoni April 14, 2017 0 comments 644 view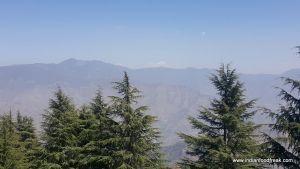 Hills seem to be the ultimate destination to beat the heat of the plains besides having a beauty of their own and we all do have our favourite hill station. Mussorie has been like a second home to both me and my wife. We have been going their almost every year even before we met each other. Mussorie has some of our favourite spots and the kind of explorers we both are, we always trying staying at a new place. For this visit, we chose Mosaic hotel primarily because of it's location. Mosaic Hotel is situated just next to the Picture Palace side entrance of the mall road and before the toll , beyond which no cars are allowed. This makes it ideal for one to park their car at the hotel's parking and enjoy time on the mall road.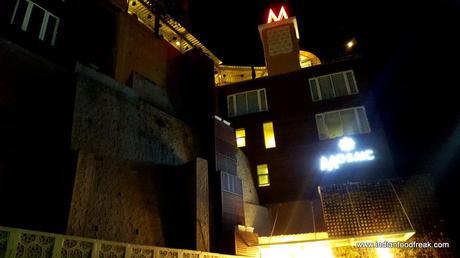 As soon as we reached the hotel, my wife realised that she had stayed at this hotel many years ago but at that time it was called Shipra Hotel. Mosaic hotel has had a complete transformation , the hotel wears a new face now.  I must congratulate the interior designer of the hotel who has done an exemplary job of redoing the place. In keeping with it's name Mosaic hotel has mosaic tiles, beautiful floral design lamp shades and other props have been used to decorate the walls. The hotel is completely wheel chair friendly with lifts helping it reach all levels. The rooms are tastefully done and there are various activities to keep the guests engaged. Here are some of the amenities of this hotel: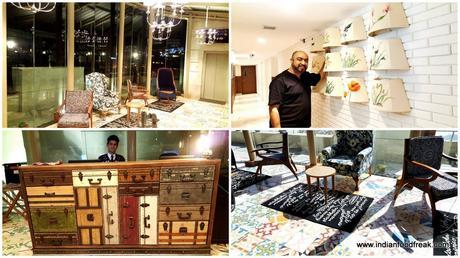 Swimming Pool: Mosaic hotel at Mussorie has an indoor swimming pool. Though the room is centrally heated, the pool doesn't have a heating facility. In summers when the temperature is not too low, one can easily enjoy a swim.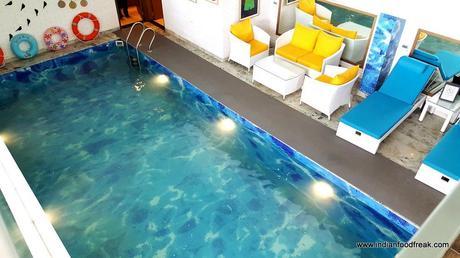 Spa & Gym: The hotel has only 1 spa room where the lone but trained therapist really takes good care. She has a strong hand and I enjoyed the deep tissue massage. Since I don't have an athletic body, I was scared that this massage may be painful,  but the masseur checked the pressure level and did the entire 60-min massage taking the levels in mind. I just wish that the spa room was sound proof where I would not have to bear with the phone bell ringing outside,  due to which the therapist had to leave the massage twice in between to attend the calls. The gym is small but adequately equipped for workout. Along with the spa, I also enjoyed the steam room. I simply loved the steam room because unlike many other places, the steam does not burn your legs.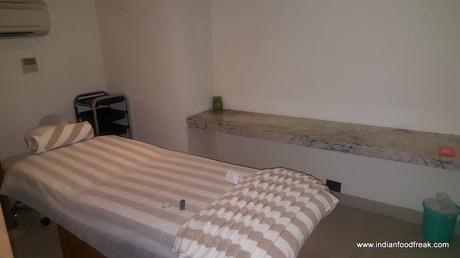 Spa Rooms
Kids room: If you are going out with family and have kids, then you will find this room very useful where kids can keep themselves occupied with many things to do.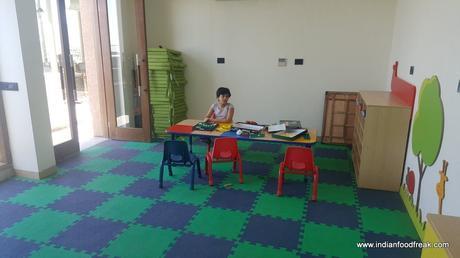 Kids Room
Parking: The hotel has its own parking making it very convenient for people travelling by their car or taxi to park the vehicle.
Bar: It has a small bar attached to the Random restaurant but sadly they were still waiting for the liquor license at the time we went to the hotel.
Rooms: Mosaic hotel has three types of rooms – 26 deluxe rooms, 7 suite rooms and 13 attic rooms. While we stayed in the deluxe room which was quite comfortable, we did go and check out other rooms too. The Suite room has an extended portion to accommodate a sofa cum bed with a partition in between. Attic room has twin level room with a spacious master double bed on the ground floor and another twin bed on the top floor. Each room has only 1 washroom and contains tea-coffee maker, digital safe, mini bar, 38' LED TV etc.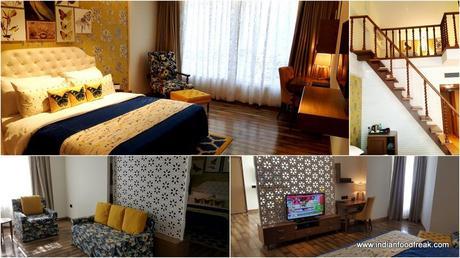 Banquet Hall: If you are throwing a party, then its banquet hall can easily accommodate upto 60 guests.
Wi-Fi: The hotel has wi-fi facility and thankfully they did not charge it to us.
Restaurants: Apart from all day room service menu, Mosaic has primarily 2 restaurants – 'Random' which is an indoor multicuisine restaurant and 'Charcoal' which is a terrace restaurant. Charcoal was not operational at the time we went, perhaps they are waiting for a better weather to start operations. However, the hotel did oblige us by agreeing to serve some of us who wanted to sit under the sky and enjoy a candle light dinner. Most of our meals were at Random. The breakfast is not lavish but spreads across cuisines and I liked it. However the restaurant takes much time and the Chef is not receptive to feedback. Apart from the soup, the main course lacked  true flavours. You might want to explore other eating options which are not only at a walking distance from the hotel but tastier too. Else be ready for atleast 25-30 min after placing the order to be served at Random.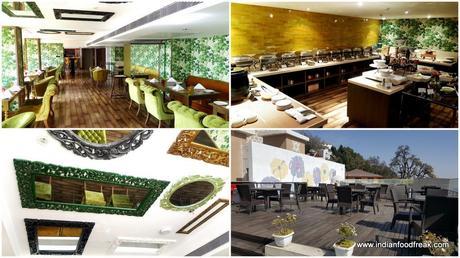 Mosaic hotel is a very conveniently located, thoughtfully made property with good features. I just hope they get their food right too.
Address: Mosaic Hotels, Picture Palace, The Mall Road, Mussorie | Phone: 0135-2636200 / 70881-01415, 03





Kids Room











Spa Rooms




Tags Best Hotels in Mussorie Hotels in Mussorie Mosaic Hotel Mussorie Mosaic Hotel Mussorie review Restaurants in Mosaic hotel Mussorie Travel in Mussorie
Facebook
Twitter
Google+
Linkedin