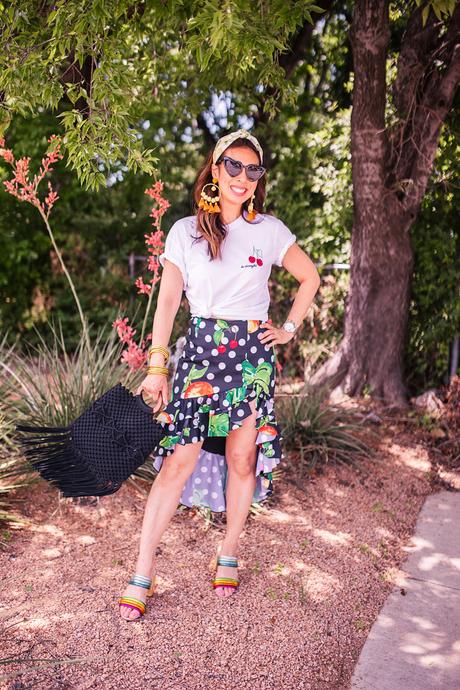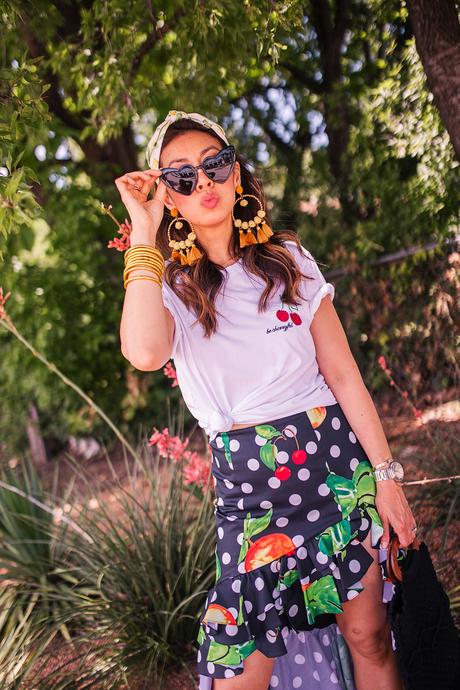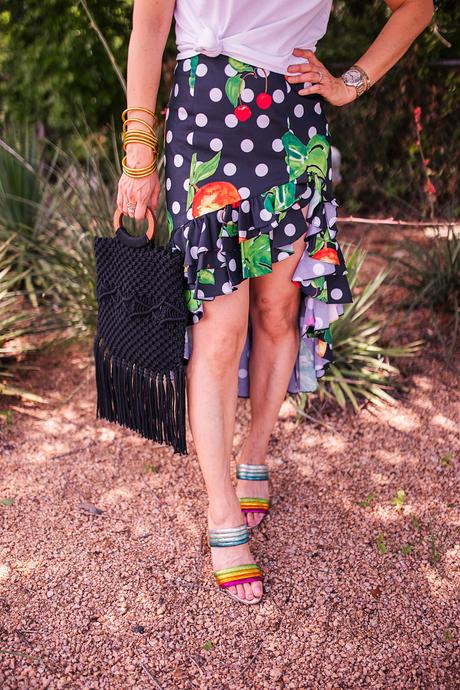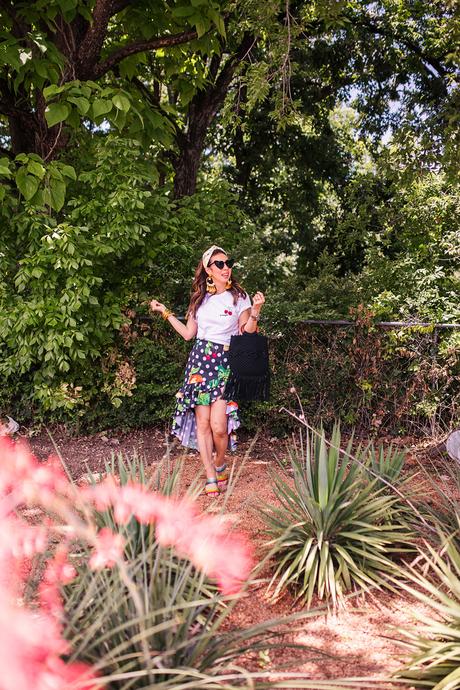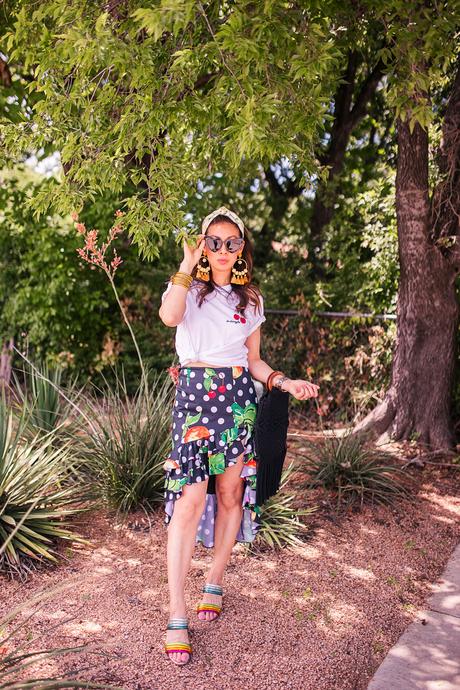 Hello GlamFam! They've been around since the 60s and most of us have one in our closet. Because of th 80s and 90s trend, they are making a huge comeback! Say hello to the GRAPHIC TEE that's been buried in your closet! Today, I'm showing you three chic ways to wear a graphic tee.
One of my favorite things about style is having a fashion challenge and coming up with different ways to wear a piece. You never know what's going to happen, but it can be fun! If you don't like how it looks, then just change. That's the best part about fashion - it's not permanent.

THE STYLE Rx:Graphic tees are an easy wardrobe piece that can be elevated or casual and they never go out of style! It's our little secret! ;)
So let's take a look three easy but chic ways to wear a graphic tee!
WITH A SKIRT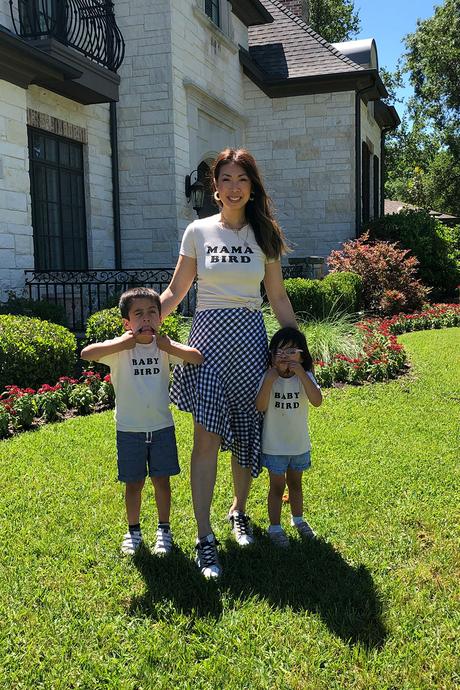 Wearing a graphic tee with a skirt has been my go-to lately. It's definitely a fun and feminine way to wear a tee and can be dressed up or down. In the first pictures, I'm very dressy with piled on accessories and rainbow heels. Wearing a headband, statement earrings, and ruffle skirt lends to a Chiquita Banana look but it's all fun!
I've also worn a graphic tee, skirt, and sneakers more casually on the weekend with the Littles!

UNDER A BLAZER/CARDIGAN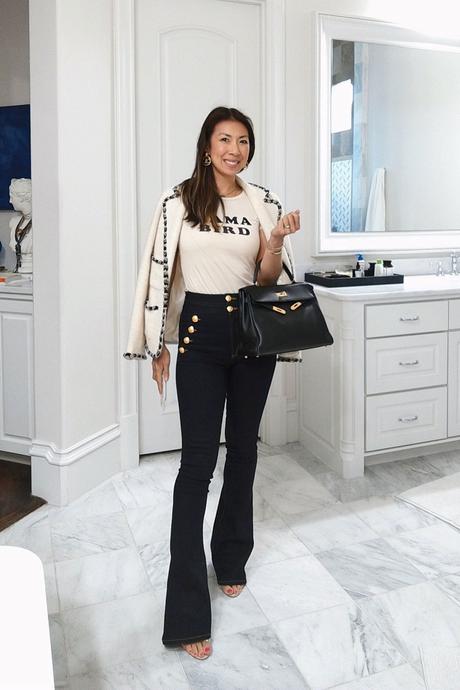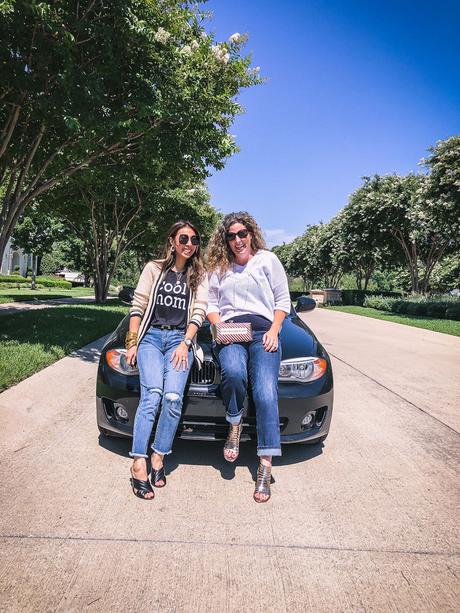 It's Summer and the air conditioning is usually on full blast so it can be chilly in the office. Layering a graphic tee under a cardigan or blazer is an easy way to address the cold and elevate a simple tee look. In the above examples, I'm wearing a vintage Chanel jacket, tee, and flare jeans for an elevated look. For a fun and casual look, I'm wearing a CABI cardigan and jeans with the graphic tee. You can decide which way you want to go!

WITH JEANS/SHORTS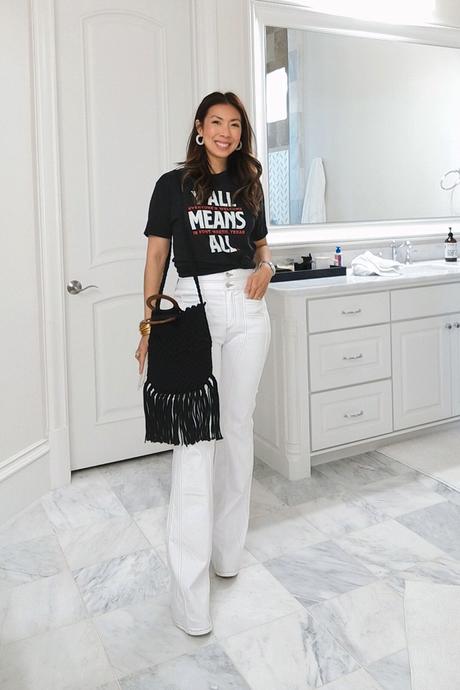 You can never go wrong with denim, and jeans or shorts are the easiest to wear a graphic tee. Taking a cue from the 70s, I am wearing my "Y'all Means All" Fort Worth Texas tee with white flare jeans for a dressy look. Of course, it's easiest to wear more casually with distressed denim shorts and sneakers for running casual errands like grocery shopping.
FUN GRAPHIC TEES ON SALE (LESS THAN $30)

P.S. For my sale loving friends, there are PHENOMENAL Sales going on today! A lot of retailers are getting rid of inventory to make way for incoming Fall pieces. This is the time to nab some of those designer pieces that you've been stalking.
Today continues AMAZON PRIME DAY! I don't know how we lived before Amazon Prime! You can check out my favorites on my Amazon page.
Early access for the Nordstrom Anniversary Sale is going on! My Dressing Room Diaries post is up, and others have asked more blog posts about sale picks via category. Let me know if you have any specific questions about the sale.
Neiman Marcus is having their Last Call Sale with up to 75% off designer styles!! (I LOOOVVEEE this sale!)
Barneys New York is also having their designer sale with up to 75% off!
Saks Fifth Avenue is having their designer sale with up to 75% off! I've scored some amazing shoes during this sale in the past!
How do you wear a graphic tee? Or do you wear them at all?
Happy Tuesday Y'all! Hope you had a wonderful weekend. We did a lot of hanging out at the pool and got to enjoy Sunday dinner at my SIL's house. It was fabulous, and we always enjoy family time.
This week, I'm getting ready to attend the RISE Conference by Rachel Hollis! I'm so excited about it, but honestly, it's coming at such a busy time! I'm really a bit nervous about getting everything done for the kids and traveling back and forth to Coppell which is at least an hour away for three days. I just need to make sure I get enough sleep! It's supposed to be LIFE CHANGING, and I am SO GRATEFUL that I have tickets and can go just a bit apprehensive! Wish me luck!
♥︎ ♥︎ STAY GLAM, DO GOOD ♥︎ ♥︎
Thank you so much for stopping by and supporting SOS!
JOIN THE #GLAMFAM // SIGN UP FOR THE NEWSLETTER BY CLICKING HERE.
CHECK OUT MY INSTAGRAM SHOP HERE TO SHOP ALL OF MY INSTAGRAM LOOKS!