This post may contain affiliate links. Please read my disclosure.
This is the BEST Instant Pot Vegetarian Chili ever! It's smoky and hearty, rich and spicy. It is family-friendly, ready in 30 minutes, and will satisfy both meat-eaters and vegetarians alike. Made with 3 types of beans, packed with veggies, and under 300 calories per serving!
This Instant Pot Vegetarian Chili is a family favorite in our house. It's super easy to make and thanks to the Instant Pot, you end up with that cooked-all-day flavor in just about 30 minutes!
I've made this recipe for a crowd, or just for our family (and saved the leftovers for another day) and it turns out great every time!
The smokiness in this dish comes from two secret ingredients: unsweetened cocoa powder and smoked paprika. It's got the deep flavor of traditional meat chilis, but is much healthier, gluten-free, and vegetarian friendly (and can easily be made vegan too).
Tools and Equipment You'll Need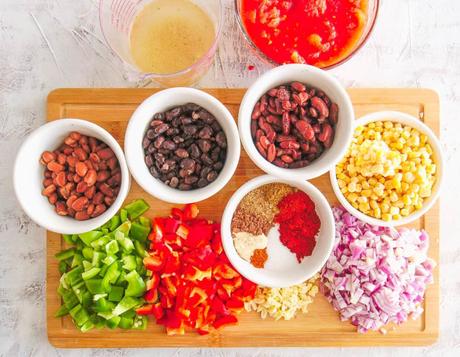 How To Make Instant Pot Vegetarian Chili - Step by Step
Step 1: Turn your instant pot to the Saute function, and add your olive oil, bell peppers, onion, and garlic. Saute lightly for 2-3 minutes.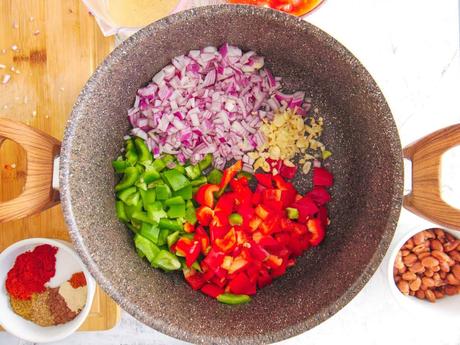 Step 2: Add everything else into the pot (beans through paprika in the list above) and stir to combine. Close your instant pot and pressure cook on high for 4 minutes.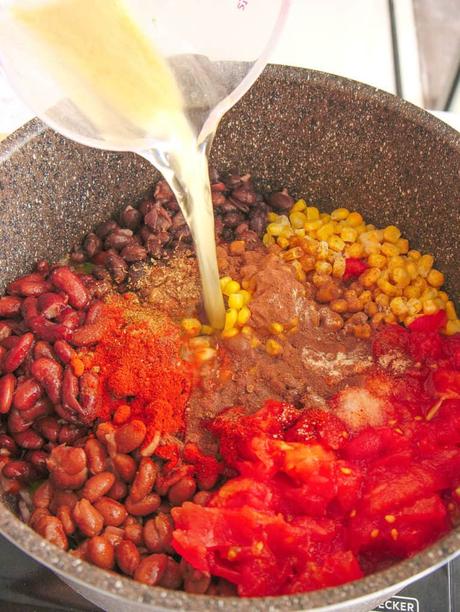 Step 3: Once the pressure cooking is done, let it natural release for 5 minutes, then quick release the rest of the pressure.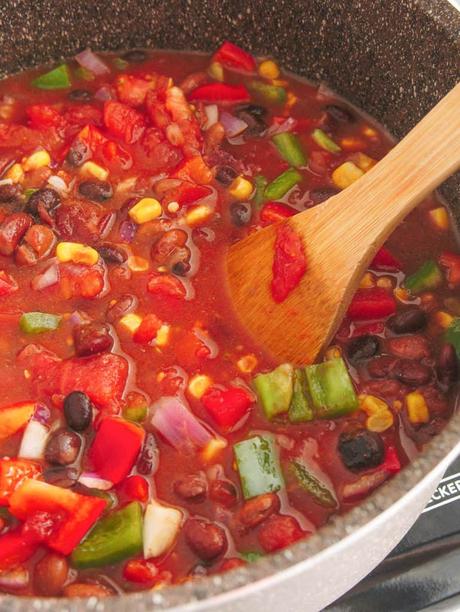 Step 4: Serve warm with any toppings you like! 1 Tbsp cheese, low fat sour cream or plain greek yogurt, diced tomatoes, green onions, or tortilla chips.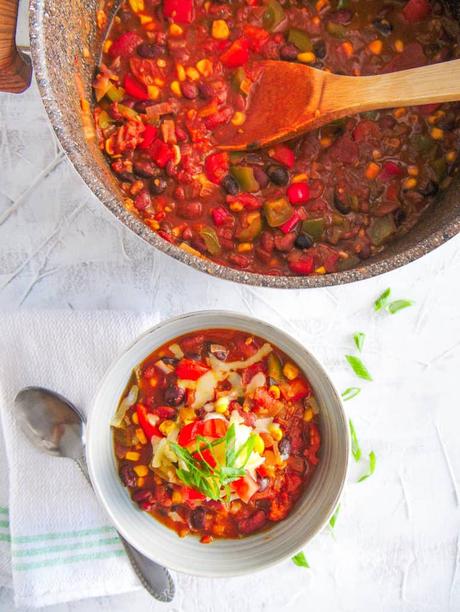 What Makes This Vegetarian Chili Healthy?
Fiber and Plant Protein: Thanks to the beans, this chili packs a ton of protein and fiber into each serving. Each serving has 9g protein and 10g fiber.
Vitamins and Nutrients: Beans are a heart healthy food that are a great source of iron, B vitamins, protein and fiber. Bell peppers are rich in vitamin C, A, Potassium, Folate and Iron.
Low Calorie: This Instant Pot Chili is super filling and satisfying, but each serving has only 300 calories! That means you can go back for seconds completely guilt-free!
Will Kids Enjoy This Instant Pot Vegetarian Chili?
This recipe is SUPER kid friendly! Both of my kids gobble up this dish every time I make it. I create a toppings bar for this chili and let my kids pick out their own toppings - which they love to do.
I also tend to cut the veggies smaller when serving this to little kids so that it's easier for them to chew. For super picky eaters, you can even puree the bell peppers/veggies with the tomatoes so they don't see it, and reduce the spices as needed!
Toppings for This Instant Pot Vegetarian Chili
There are so many options for toppings - the possibilities are almost endless! Here are some of our favorites:
Fresh squeezed lime juice
Sour cream or Plain Greek Yogurt (use cashew cream for a vegan substitute!)
Sliced green onions or fresh cilantro
Shredded cheese or cojita cheese (omit if you want to make this vegan!)
Diced tomatoes or Salsa
Crushed tortilla chips or crackers
Pepitas (pumpkin seeds)
Brown rice or quinoa (more as a mix-in than a topping, but still tastes great and this is one of my kids' favorite chili add-ins!)
What to Serve with Vegetarian Chili?
This chili is so hearty it stands on its own, but if you're looking to round out the meal even further, here are some side dishes to pair it with:
A fresh garden salad
Cornbread
Brown Rice or Quinoa
Quesadillas (when cut into strips, can be great for dipping too!)
Storage and Freezing Tips
To store in the fridge: This recipe will keep an an airtight container in the fridge for up to 4 days. Make sure to store any toppings separately.
To freeze: Let the chili cool completely, then transfer into an airtight freezer safe container. You can freeze this recipe for up to 3 months.
To reheat after freezing: Let the chili thaw in the fridge and then defrost in the microwave using the defrost setting, or heat gently on the stovetop.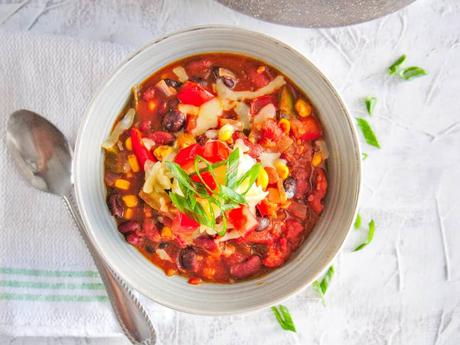 Can You Make This Vegetarian Chili On The Stovetop?
Heat the olive oil in a large stock pot over medium heat. Add the onions, garlic, bell peppers and saute until tender, about 5 minutes.
Add all of the rest of the ingredients and bring to a boil.
Reduce heat and simmer on low for 30 minutes to 1 hour, stirring occasionally. The longer you cook it, the thicker your chili will be.
Serve hot!
Absolutely! Here are the directions for making this on the stovetop:
You can add any veggies you like into this chili. Think of it as a "clean out your fridge" recipe. If you increase the quantity of veggies, just make sure to increase the quantity of spices accordingly so that it's not bland.
For additional greens, add one 5oz box of chopped baby spinach into this recipe at the same time you add all of the ingredients into the instant pot!
When you're making this for kids, adjust the spices accordingly.
If you don't have an instant pot, you can make this chili on the stovetop.
If you have a newer Instant Pot, keep in mind that they tend to display the "Burn" warning much more quickly than the older versions. If you have this model, You'd add the vegetable broth and all the spices immediately after step 1 and stir to combine. Then you'd add the rest of the ingredients (beans, tomatoes, etc) and do not stir until after cooking.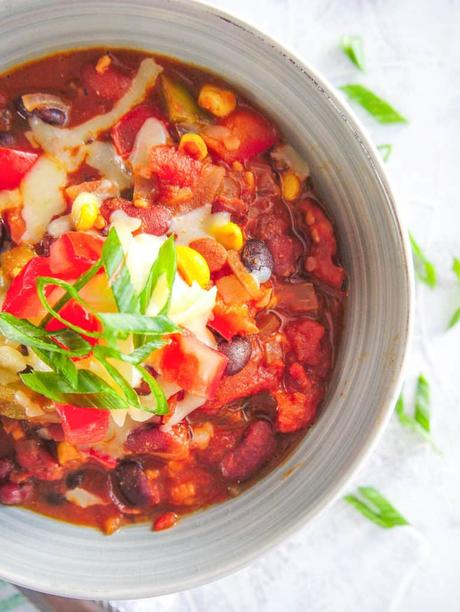 If you have tried this instant pot vegetarian chili recipe, or any other recipe on my blog, then please rate it and let me know how it turned out in the comments below! You can also FOLLOW ME on
FACEBOOK
,
TWITTER
, INSTAGRAM and
PINTEREST
to see more delicious, healthy, family friendly food!
Top Tips for Making Instant Pot Vegetarian Chili
Check Out These Other Instant Pot Recipes!
The Best Instant Pot Vegetarian Chili