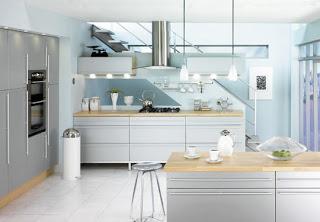 A galley style kitchen features cabinetry and appliances along both sides of a narrow hallway-like space. They are common features in apartments and units that only have limited space to work with. A galley style kitchen renovation in Melbourne requires you to make clever use of the space that is available to you, otherwise the room will feel quite cramped and enclosed.
Purchase space saving appliances, such as smaller refrigerators and stoves; not only will these smaller appliances use less energy, they will also free up some valuable bench space.
Look into vertical storage options; use an extra-tall cabinet that extends from the floor to the roof, for example (just make sure that you store little used appliances at the top).
Choose an attractive finish for your benches; in galley kitchens, the benches become the star feature. Granite and natural stone gives the space a luxurious look, for example.
Consider open shelving or glass cabinet doors; these can make the room feel much larger and more open. It can also make finding food and ingredients easier than ever.
Choose an attractive backsplash; this can actually make your kitchen appear larger. Lighter finishes in cool colours are ideal for making the room feel more open.
When it comes to kitchen renovations in Melbourne for rooms that resemble a galley, the top priority is making the space feel as large as possible. This can be achieved using the above tips, but it also takes the careful consideration of lighting. Speak with your renovation specialist for more advice regarding a galley style kitchen.