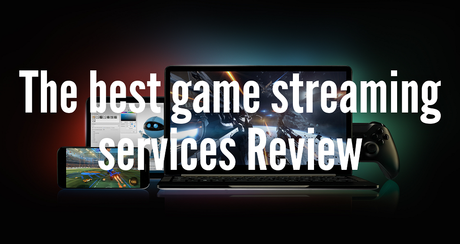 Game streaming services: Shadow by Blade, Xbox Game Pass Ultimate, Amazon Luna, Nvidia GeForce Now, Sony PlayStation Now, AntStream, Google Stadia.
Video games require processing power, and that power is expensive. The new consoles start at $300, and gaming PCs can easily cost several thousand dollars. A less expensive alternative's slowly picking up steam, though.
Game streaming services let you play as if you have a gaming PC or console right in front of you, only they are located in a server rack somewhere else in the country. These services give you access to big gaming power for a monthly fee; all you need is a modest PC or mobile device to play. We are here to walk you through how these services work, how much they cost, and which are the best ones we have tested so far.
Game streaming lets you remotely access hardware on the service's servers. You use a client to log into a powerful PC over the internet, and the games you play run on that PC instead of your own hardware. The client simply provides a live feed of the video and audio coming from the server hardware, and sends all of your inputs to that server to translate into gaming commands. Essentially, you are controlling a computer that is not in front of you, and seeing everything, that computer displays.
As you can imagine, you need a fast network connection for these services to be useful. If your internet is slow or inconsistent, the inputs you send will not come through properly, and you will experience gameplay lag and glitches. More than a fraction of a second of lag between your commands and the system responding can make a game unplayable.
Depending on the game streaming service, you will need an internet connection with speeds that are at least 5Mbps to 20Mbps. You do not need a wired hookup, but it helps, as does 5GHz Wi-Fi. You do not want to skimp on your router for these services, and you should seriously consider a fiber connection if it is available in your area.
With a fast and consistent connection, gameplay can feel instantaneous, with input lag of milliseconds. This makes most games perfectly playable, though it might still be too slow for competitive gaming. If you are controlling a multiplayer shooter or fighting game, every frame can make a difference, and you might not want to rely on a streaming service in those cases.
Best Game Streaming Platform
Most services feature Windows 10 clients, which effectively let you turn even a cheap work laptop into a high-end gaming PC. PC clients have the added benefit of supporting Ethernet connections as well as Wi-Fi. Every publicly released game streaming service is available on Windows 10 in some form, either as a dedicated app (GeForce Now, PlayStation Now, Shadow) or in a web browser (Stadia, Amazon Luna). Curiously, Xbox Game Pass Ultimate's cloud gaming feature does not have a Windows 10 client, which is a shame if your PC cannot handle some of the games available to download on the service.
You can also use a smartphone to play on most streaming services. Every service except PlayStation Now has an Android app, though the iOS game streaming ecosystem is a lot shakier with some disputes on letting certain services run on iPhones and iPads. Just remember you will be playing console and PC games on a smaller smartphone or tablet screen, which can feel awkward.
Several of the services also have straight-to-TV options, with extra hardware. For example, Google Stadia features a Stadia controller that you pair with a Chromecast Ultra to access Stadia on your TV (the service does not work yet with Chromecast with Google TV). PlayStation Now works on any PlayStation 4 or PlayStation 5. Amazon Luna works with Amazon Fire TV devices.
What Do You Need?
You almost certainly need a gamepad. Stadia works best with the Google Stadia Controller, but it is compatible with the Xbox Wireless Controller, the Sony DualShock 4, and some Bluetooth controllers. Amazon Luna works with some Bluetooth gamepads, but the Luna Controller is the best way to play over that service. GeForce Now works best with an Xbox Wireless Controller, but you can also use any XInput-compatible wireless gamepad. PlayStation Now requires a DualShock 4 or DualSense controller.
Shadow, meanwhile, works with any gamepad that is compatible with Windows 10, but you will also want a keyboard and mouse. After all, you are accessing a Windows 10 PC directly, so the ability to move a pointer and enter text is useful. You can use a touch screen and on-screen keyboard if you are using the Shadow Android app, but if you want to get the most out of a Windows PC, you really need a mouse and keyboard.