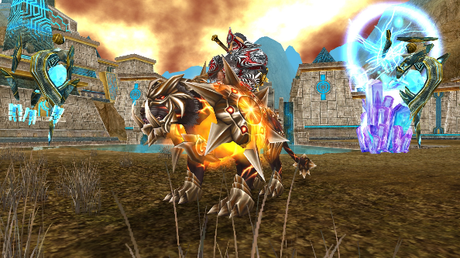 You can't play Minecraft forever you know! If you?re looking for something new to play, there are loads of other PC games out there. Best of all, there are lots and lots of games that are free to play. We at BoxMash have picked a few of our favourites. Try a few… try them all!
World of Tanks
World of Tanks is a lot of fun and hugely popular. You get to drive over 240 World War II tanks and jump into massive battles. There's vehicles from lots of the countries that fought in World War II, like Britain, America, Russia, Germany and France, so there's plenty to keep you busy. Best of all it's free – just sign up to try it out here.
World of Warplanes
If you'd rather try your luck in the sky then you should try World of Warplanes instead. It's made by the same people as World of Tanks, but rather than being stuck on the ground you get to be a pilot flying over 200 different types of aircraft, testing your air combat skills in dogfights. It's amazing good fun, and you can try it for free here.
Rise of Mythos
If you enjoy trading card games like Yu-Gi-Oh! or Pokemon then there's no shortage of free PC games to try. Sign up and try fantasy game Rise of Mythos. It?s a little bit like Lord of the Rings with Elves, Goblins, and Humans, and you play as one of several different character classes like a hunter, a mage, or a warrior. You'll have to protect the city of Silver Heron Ridge from enemies using your collection of cards.
There's a great story to follow, and when you're finished there you can fight against other players in the Challenge Hall! Why not give it a try right now?
Wizard 101
If you've been waiting for your Hogwarts invitation letter but no owls have turned up yet, perhaps you should try out Wizard101. You play as a student of the Spiral, a school for wizards and witches. There's lots of places to explore and worlds to travel too, and of course a big, bad evil to defeat too! You'll also learn lots of magic spells, which you collect as cards. The more spells you have, the better your card deck, and the more awesome abilities you can use in battle!
free cell phone tracker by number
The Lord of the Rings Online
If The Hobbit is your favorite film at the moment, how about trying the Lord of the Rings Online? It's a massive adventure game full of thousands of players, spanning from The Shire all the way to Gondor and beyond. The game is free to download and play and will keep you busy for hundreds of hours with it's many many quests and dungeons to explore.
Aion
If you fancy the big multiplayer adventure but Lord of the Rings Online isn't for you, then how about Aion? You can create your own character from any race or class you like, and head out on an adventure of a life time. And because it's a MMO (Massively Multiplayer Online) game, you can team up with you friends. Every journey is more fun with your mates.
Runes of Magic
Or could try Runes of Magic. It has a really good tutorial to help you get started and introduce you to it's massive world. If you think playing a massive multiplayer game will be a bit difficult, perhaps Rune of Magic is the best place for you to start. It's got all the great fantasy stuff from other MMOs, and of course your friends can still play with you too.
War Thunder
You can play World of Tanks to drive around in amazing armoured machies, and you can play World of Warplanes to zoom around the skies. But if you want to do both in the same game, you need to play War Thunder. It's a game where you can take part in battles from World War 2 either as a fighter pilot in the sky or as a tank commander on the ground. It's really great fun and has loads of vehicles for you to choose. Each one feels really different too, so every new tank or plane you use lets you try out different things. Download it for free and get winning the war right now!
Royal Quest
If you need your games to be big and epic, then Royal Quest is the one for you. It's a huge world filled with battles to fight, both against monsters and rival players. Hundreds of quests will keep you busy, and you'll need to become a skilled warior to defeat the enemies of the world. Make sure you brush up on your elemental knowledge, because knowing what elements are strong against each other is the key to victory! Sign up and start your quest for free.
MapleStory
MMO games are fun because they lets hundreds of players come together to play quests and fight. A lot of them look the same though. That's where MapleStory is different: instead of being a big 3D world it's a side-srolling cartoon. Even though it looks a bit like a platform game, it's still a huge multiplayer adventure that you can complete online with your friends.
Marvel Heroes
Everyone loves a good superhero. Now you can be your favorite character and fight crime online in Marvel Heroes. Choose a hero from a huge list of Marvel characters such as Wolverine, Iron Man, Captain America, The Hulk, Jean Grey, and so many more, and hit the streets of New York City to defeat threats like Hydra and Doctor Doom. SHIELD will always be on hand to give you more missions, and the more missions you complete the better gear you can pick up. Soon you'll have an amazing set of new claws for Wolverine or some cool new body armor for Captain America that keeps him protected even when battles are tough. It's free to play, so get saving the world right now.
Farmerama
If saving the world seems just too much trouble, then perhaps growing some food will be more your thing. In Farmerama that's just what you'll be doing. Plan carefully and you'll be able to grow some amazing crops, raise some cute animals, and sell your food at the local market. If you make enough money you can start buying new things for your farm and make it bigger and bigger. Farmerama is free to play, and even better you don't have to even download anything. Just visit the website and start playing!
Roblox
Have you played Project Spark yet? Well there's a free-to-play game a little like it called Roblox. In it you can make your own game and gameworld and play in it online with your friends, or publish it and let other people play. You can also explore other people's games and try out what the community has built. It's just a huge world of creations ready for you to discover.
Remember, every one of these games are free to play, so you don?t need to buy anything to have any fun at all! Just get your mates to download them too, and you can be exploring a new world of fighting off enemies together in no time.
Check our sister site PCGamesN.com for more of the best free PC games.
If you like any of these games please tweet and let us know! And let us know if we've forgotten to include your favorite free PC game, too!