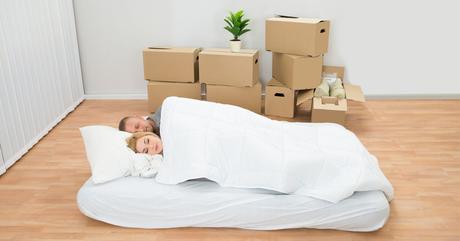 The best overall floor mattress should be comfortable, easy to store, durable, and not hard on the wallet. The Milliard 6-Inch Memory Foam Tri Folding Mattress checked all these boxes while offering extra features that other contenders couldn't touch.
This mattress is THICK. Thickness is essential when you plan to lay the mattress straight on the floor. And even more critical if you want to use it while camping. But keeping you off the ground is only one piece of the comfort puzzle. The mattress also needs to be firm enough to support and soft enough to cradle.
With thicker memory foam than any other product we found, this mattress accomplishes both. Even if you are on the heavier side, this mattress offers enough support to hold you off the ground. Don't worry. It's still soft enough to cradle pointy hips and shoulders for those on the thinner side.
Multiple users report preferring this mattress to their traditional innerspring. Because of this, it often seems more consistent use than a floor mattress normally would. But even in these cases, the Milliard holds up well and does not lose any support over time.
You do trade in some storability for all this comfort, however. Because the mattress is so thick, it doesn't fold up into as tight a package as other options on this list. But the tri-fold action does still allow for quick pick up and easy storage in the back of a closet.
If storability is a big factor for you, we recommend the cot size. The Milliard is also available in twin XL, full, and queen. While each size is advertised as being washable, removing the cover is not advised. The inner fire-resistant layer contains fiberglass particles that will get everywhere. Instead, we recommend always using a fitted sheet to protect the mattress from stains.
Worried about beg bugs? We have a handy guide on how to eliminate bed bugs naturally.
Best Budget Floor Mattress
Best Price Mattress 4 Inch Trifold Memory Foam Topper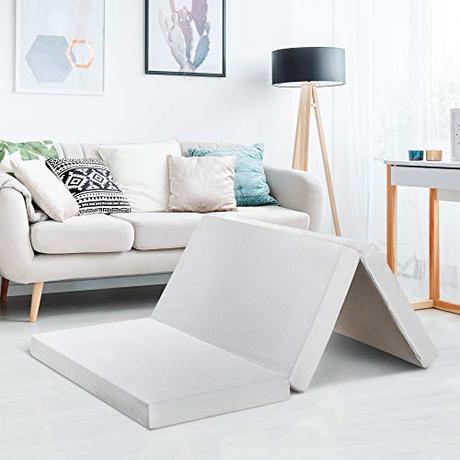 If you are searching for a floor mattress on a tight budget, you will always be balancing comfort with the price. The Best Price Mattress 4 Inch Trifold, more than any other budget mattress we looked at, gives you superior comfort at a surprisingly low price, especially for their larger sizes.
This floor mattress isn't as thick as our top choice, but this is actually a bonus if storability is a concern. And it still offers a good deal of comfort thanks to the high-density foam base. This bottom layer will keep your hips and shoulders from touching the ground, despite the mattress only being about 4 inches thick.
On top of this base layer, you get the choice of standard memory foam or slightly thinner cooling gel memory foam. If you like a firm mattress, the cooling gel option is excellent and has the added benefit of keeping you from overheating while you sleep. If you are more of a soft-mattress type, the extra half-inch of standard memory foam makes a big difference in overall comfort.
Like all tri-folds, this mattress folds up quickly for easy storage. The extra small size is especially nice for small apartments with little storage or floor space. On the other end of the size spectrum, the California king is an excellent choice for family campouts.
The folds on this mattress do not gap like similar models, which adds to the comfort. But that doesn't mean you should expect the experience of an innerspring. For what it is-an affordable, thin mattress-it is very effective. If you need something with more support or something you can use long-term, you'll have to up your budget.
Best Floor Mattress For Children
Maxyoko Dinosaur Japanese Floor Futon Mattress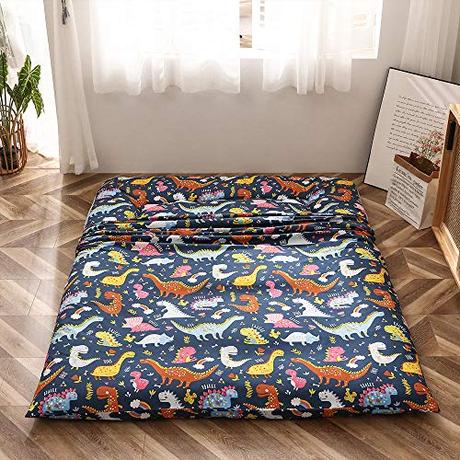 The least critical patrons to use your floor mattress will always be kids. Youngsters just don't require the same degree of support that adults do. But that doesn't mean you shouldn't look a little harder to find a floor mattress that will appeal to these tiny guests. The Maxyoko Dinosaur Japanese Floor Futon Mattress is a fun, storable, and comfortable option that kids will absolutely love.
This traditional Japanese floor mattress is colorful and appealing to younger users. The dinosaur pattern is our favorite, but this option is also available in constellation, space adventure, and star patterns. Each comes with a matching dust cover that is easy to wash and a carrying bag that compresses the mattress for easy storage.
The Maxyoko also works well for toddlers who are still learning how to stay put while they sleep. It doesn't come with oversized bed rails like a toddler-specific mattress, but the sides are defined by wide perpendicular sections that help keep kids in place. And, unlike a toddler mattress, you can use this one well into their elementary years.
This mattress includes cotton layers on the top and bottom with about 2 inches of memory foam between them. It is enough for young kids to feel comfortable, especially if it is set on a soft carpet. But it is not overly thick, so heavier or older children may find that it does not give enough support.
The optimal floor mattress for traveling provides ample support but can also break down for easy packing. Of all the travel-capable mattresses we looked at, the Better Habitat SleepReady Mattress offered the most comfort and ease of use while also being easy to store.
Blow-up mattresses are often the go-to for camping and travel. But they require electricity (or a handheld pump) to blow up. Even if you do have the time and means to blow up one of these mattresses, you often wake up on a saggy, uncomfortable bed. This travel mattress is different.
Instead of using a pump, the Better Habitat simply rolls out. The thick 3-inches of memory foam holds its shape during storage and continues to support you throughout the night. Even on less than even ground inside your tent, this mattress is thick enough to help you get a restful night's sleep.
It will take up a bit more room than a blow-up mattress of the same size, but a little extra packing space is worth it for a mattress that is so easy to set up. Plus, with this product, you get the benefit of near odorless, non-toxic Certi-PUR-US materials.
This mattress comes in two sizes: twin and single. Neither are going to be small or light enough for carrying long distances or for traveling by plane. But either would be perfect for car camping and visiting relatives. Thanks to a water-resistant base cover and waterproof sheet, you can expect this pad to last wherever you use it.
Best Japanese Floor Mattress
Trule Hogue 4″ Cotton Futon Japanese Mattress
A Japanese floor mattress is an excellent option for more permanent floor sleeping setups. These mattresses don't fold down as compactly as others for storage but do offer a great night's sleep at ground level. The Trule Hogue 4" Cotton Futon is our top pick for this category because of all the color and size options available, the non-bunching stuffing, and the durable workmanship.
It is easy to match your home decor with this Japanese mattress. It comes in 14 solid colors, from gray to vibrant magenta. Since the size and compactability of these types of mattresses make storing them out of sight difficult, what they look like is an important feature to consider.
In terms of sleeping and lounging comfort, this mattress scores high. A center layer of memory foam helps it hold its shape without bunching while offering more support. The cotton layer on each side gives you the feeling of napping on a cloud. If you like being cradled in plush blankets while you sleep, you will love this mattress.
Each Trule Hogue mattress comes with a matching, washable dust cover and storage bag. It will arrive vacuum-sealed and requires some time to fluff back up after shipping. It is not the thickest mattress on our list, but you cannot go wrong with this option if you prefer Japanese futons.
Best Convertible Floor Mattress
Best Choice Products Folding Portable Mattress
All floor mattresses provide a great extra space for lounging around. But if you are looking for one that can provide even more, you need a convertible floor mattress. These products fold into multiple positions so you can use them as sitting areas and couches in addition to beds. If you want the best convertible floor mattress, we recommend the Best Choice Products Folding Portable Mattress.
This mattress is highly convertible. It can fold into a bed with or without a raised area for your head. It also transforms into a couch or a bench for lounging. And when you are all done with it, it can be completely folded up and placed back in the included bag for easy storage.
Not only does this product offer more use options than others in this category, but it comes with a fully removable, easy-wash cover. You can even throw it in the dryer! It is an essential feature for a convertible mattress that might be used around the kitchen table or brought along on a camping trip.
The 4-inch thick Best Choice Products mattress is made of durable foam that provides good support without feeling as firm as others. For the average person, this will be plenty for short-term and occasional use. But for long-term use and for those that like a lot of padding, we would go with a thicker option.
But if what you are after is a reliable, storable mattress that performs many additional tricks, you can't go wrong with this one. And it is available in twin, full, and queen sizes to better fit your needs.
Foam floor mattresses are great if you are looking for easy setup and takedown, but they will never be able to get you far enough off the ground to make you feel like you are sleeping in a real bed. For this situation, having blow-up mattresses outperforms other floor mattress types. And the SoundAsleep Dream Series mattress will get you higher off the ground with less work than most.
This very well-priced air mattress blows up to an impressive 18 inches high. This added height makes it easier to get in and out of bed. It is an especially great option for older guests. Plus, the extra height keeps the user farther away from creepy crawlers that call the ground home.
The mattress includes a built-in pump that quickly inflates and deflates the bed. It is pretty loud and makes a distinct high-pitched sound while in operation. But it still beats using a manual pump or having to pull out a different product to get the bed ready.
If what you need is a durable mattress for consistent use or to take camping, you are better off with a higher-priced item. With repeated use and strain, this one will develop leaks. But as an occasional-use mattress for guests, this air bed is great. It deflates and folds up into a compact square that can be stored just about anywhere and comes with a very agreeable price tag.