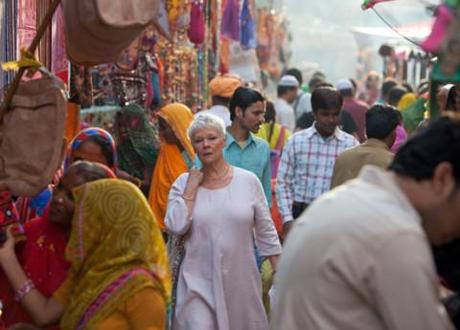 Judi Dench in The Best Exotic Marigold Hotel. Publicity image.
The Best Exotic Marigold Hotel, directed by John Madden, who previously gave us Shakespeare in Love, is based on a novel by Deborah Moggach (These Foolish Things). It sees a group of older people going to South Asia, specifically to spend their retirement in a hotel in Jaipur run by Sonny (Dev Patel). Maggie Smith's playing Muriel, a cockney; Judi Dench plays a widow; Bill Nighy, Penelope Wilton and Celia Imrie also feature, as well as Tom Wilkinson as a High Court judge. In fact it might as well be Harry Potter, says Periscope, wishing rather wistfully that Alan Rickman was in it. But perhaps that is too much to ask. Critics have, for once, reached a general consensus. You won't get much insight here into India or old people; but it is a bit like having a warm bath and a biscuit.
Like Agatha Christie. A bit. The film, said Peter Bradshaw in The Guardian, "needs a Stannah chairlift to get it up to any level of watchability." It doesn't do away with "condescending stereotypes about old people or Indian people of any age." It would be better off "on a continuous loop in a Post Office queue." Sure, it's a "very impressive cast doing their best", but the story's "insipid." It's like a "Saga holiday to Tea-with-Mussolini country." There are some "nice moments", as when Nighy capers with joy "after fixing a tap." But really it's "like an Agatha Christie thriller with all the pasteboard characters, 2D backstories and foreign locale, but no murder."
Largely benign. Like a tumour? David Gritten on The Daily Telegraph was a little nicer. Having old people as central characters could be seen as "radical." It's "predictable from the outset that of this group, not all will survive." Also, that "everyone will belatedly learn life lessons." The script is "ruthlessly schematic," which wouldn't matter if the cast weren't "ciphers." Dench and Wilkinson get roles "with vestiges of nuance." But India is "routine", and all the "wince-inducing clichés are straight from travel brochures." Povery, the caste system, arranged marriages are "dutifully but briefly touched upon." But it is largely "benign", and gives something to an audience sector that's often ignored.
We all like a microwave curry. Hmmm, said Kate Muir in The Times. It's more "a lukewarm M&S chicken tikka masal ready meal." And whilst we "all like a microwave curry now and then", this is more like Saga magazine's travel section. Dame Judi Dench certainly suits her "floaty linen shifts"; Nighy "plays his usual aging dude in a suit," henpecked by Penelope Wilton's character, "a one-note nightmare." Maggie Smith "seems shockingly common", playing a "racist, retired housekeeper." In terms of visuals, it's "delightful." But the director "should have anticipated a little more sophistication" from his audience.
It's not so bad. Give it a chance, though, said Nicholas Barber in The Independent. The film has "at least as much to say about post-financial-crash retirement as The Full Monty had to say about post-industrial unemployment – which is quite a lot." There are some "sparkling one-liners delivered by some of our most distinguished actors, and it's undoubtedly positive in its representation of the over-sixties."
Watch the trailer and decide for yourself