For the better part of a century, Las Vegas, Nevada has been recognized as the best casino resort destination in the world. Whether you liked to gamble or enjoyed the glitz and glamour of the casino resort, it was the definitive place to be. This hasn't really changed, but in the last 10 years or so Southeast Asia has begun to challenge Las Vegas.
The difference is that not all of the incredible resorts in this part of the world are in one city like they are in Vegas. From a traveling perspective this makes the region that much more intriguing. You can hop from destination to destination in Southeast Asia and sample some of the most incredible resorts and entertaining casinos in the world.
City Of Dreams (Manila)
While we're working with the Las Vegas comparison, Manila is taking the most direct steps to imitate the infamous "Strip" of resorts and casinos. The area is called Pagcor Entertainment City, and it's doing quite well for itself. A report earlier this year indicated that City Of Dreams saw $157.4 million in revenue in the first quarter, which represented a 65 percent jump from last year. If you're looking for a resort that's on its way up, this is one to consider. The venue itself has all the luxury accommodations, fine dining institutions, and games you could ask for, as well as a nice range of nightlife options. The Chaos Club in particular makes it a worthwhile stop for any traveling night owls.
Resorts World Sentosa
Sentosa, for those who aren't familiar, is a small resort island in Singapore that makes for a fun-filled vacation stop for anyone touring Southeast Asia. It also has some of the beautiful beaches that are characteristic of the entire region, but it's also full of attractions. There's a Universal Studios theme park, an aquarium, and a famous cable car ride. Resorts World is the biggest and most noteworthy resort on the island, and has a similarly fun-filled atmosphere. It's more family friendly than some of the more elegant casino resorts, though it still has everything you'd want from a major casino.
Venetian Macau
If you're in for the luxury and gaming of a casino resort, this is probably the stop for you. More than anything, it'll wow you with its gaming floor, which is among the biggest in the world. These days, a lot of people who enjoy these types of games look online before exploring real venues, and it's no wonder why. There's a huge range of slot and table game options at reputable internet sites, where players can easily search for their favorite titles, browse new games, and easily cycle from one experience to the next. At the Venetian Macau you can be reminded of the glories of a massive, luxurious gaming floor at a real life venue. There are more options than you know what to do with.
Marina Bay Sands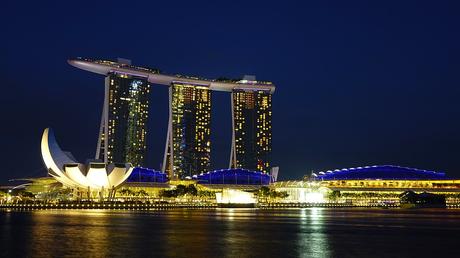 If there's one establishment on this list that you might know just by looking at it, it's the Marina Bay Sands resort in Singapore. Its original design (three towers linked by a long rooftop area with its own attractions) has gotten it named as one of the most ridiculous hotels in the world, though that's meant in a good way. It has a casino, restaurants and entertainment, but this one is mostly worth checking out for the hotel itself. If you can make your way into the rooftop infinity pool, you'll be in for arguably the best single experience you can have at any of these resorts.