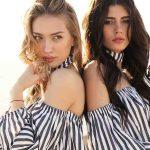 The art of applying the bronzer may be difficult to master to get that warm summer golden deep brown tan finish, but the application method is only half the battle, you must also find the right and the best shade to get that glow.
We are endlessly looking for best bronzer for every complexion. It is a never ending battle.
Blush is not the only product that can instantly give glow to your complexion.
By just sweeping a little bronzer with a good brush, blend it well, you will create a high cheeks look and get that youthful glow, people would think that you have just came back from a tropical island.
What Is Bronzer?
Just like foundation and concealer, bronzers can look very fake if you don't find the best shade. Generally, try to avoid bronzers that have too orange or gray undertones, because these tones can make you look unnaturally tan.
The best way to find a good bronzer or sun kissed glow bronzers is to check apply it under natural light to make sure it perfectly matches your complexion.
What Is The Purpose Of Bronzer?
Bonzer is used after foundation and concealer, the use of bronzer powder can add depth, glow and warmth to your face, giving it a healthy golden glow. They are also used to contour the face.
Face contour products have different shades and are cooler than bronzer colors, thats why when adding the bronzing powder to contour the face, it will give you a warmth look, like a warm summer with that golden deep brown tan finish, as well as it will add better facial depth and definitions and this is the secret that is been used by top celebrities makeup artists.
People with very fair skin tend to avoid bronzers because it can be tricky to find shades that won't be too orange or too cloudy. However, no matter how pale the complexion is, only a few simple instructions can make you glow.
Every Make up artist recommends looking for shades that are a little darker or two darker than natural tones, and always use light hands when applying.
What Is The Most Popular Bronzer?
Best Bronzing Products For Fair Skin
Finding the perfect bronzer shade for fair complexsion is a tricky. You really need to pay attention to the skin's undertones. If the bronzing powder color is lightly sheer, then , you can apply more and still looking natural, but a heavy more organy color on fair skin is worse than tanning bed disasters.
Hoola Bronzer – Benefit Cosmetics
Best shade for light skin tone is Hoola Lite – Natural Light Bronze, this has been voted the best glow soft matte bronzing product time and time again, it is 100% matte and very versatile bronzing powder and a one of best bronzers as a glow matte bronzer for all skin tones.
It does excellent job on fair complexions since the undertone is not orange or grayish, and since the powder is finely milled the powder will not look patchy or uneven like some other bronzing products. It gives just the right natural skin glow. Also this one of the best bronzers for healthy glow cheekbones when applied with a good brush.
Hoola Bronzer has over 4.7 stars from 3000+ reviews on Sephora. One user called this "absolutely my go to bronzer. It's a perfect shade for fair to light skin tones (what I am) it blends out flawlessly for a natural sun kissed finish" , another one wrote " this is the best bronzer for a fair skinned person. I love this and will never go with out it again. It completes my look".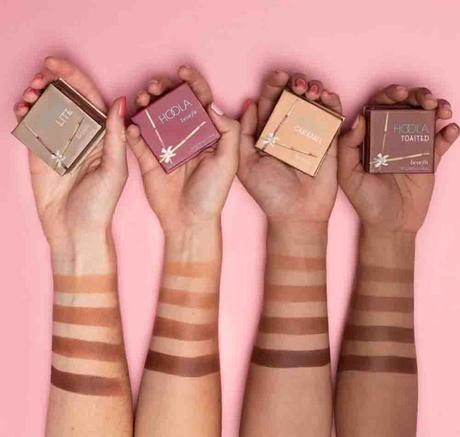 Tarte Park Ave Princess – From Amazonian Clay Bronzers Collection
To give your face an all over glow use this great bronzing powder, the formula is silky and promise to be a streak free as well as water-proof.
It is a very popular product on social media, influncers love it because it blends easily and does not give patchy look. You can use it with other different products and layer it too.
Tarte Park Ave Princess bronzer has over 4.8 stars from 1000+ reviews on Sephora. One user called this "best bronzer that I have owned! I have oily skin and have struggled to find a bronzer that lasts all day but this does!" , another one wrote "this is one of the only bronzers I have found that looks natural for glow and contouring on pale skin!! It's a must have"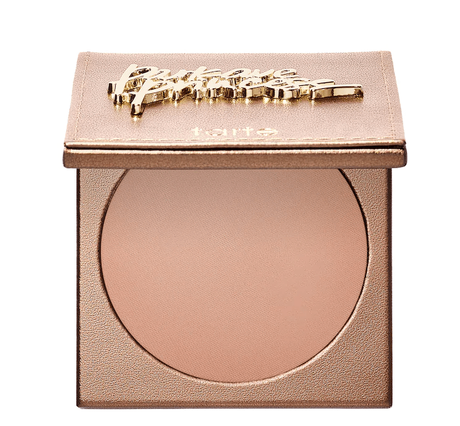 Best Bronzers For Medium Skin
Medium or olive tones have a mix of undertones, they do tend to be the easiest skin's shade to find the right bronzing powder.
There are many bronzers out there, matte, shimmer or shimmery bronzer, baked bronzer, cream bronzer, stick and some even contain cocoa butter, tucuma butter and murumuru butter.
Bronzing powder can add depth and better contour, and on medium complexion shade it will be better to use bronzer vs contour products.  As you can see best bronzers are great for healthy glow looking cheekbones.
Guerlain Terracotta Bronzer
There are two shades of Guerlain bronzing powder are great for medium/ olive skin tone: 02 Natural Blondes and 03 Natural Brunettes. This is one of the best bronzers for a sun kissed glow look minus the sun damage.
Guerlain Terracotta Bronzer is very finely milled, cult favorite for years for a reason, 100% matte bronzer with no shimmer added to it. It has that beautiful soft matte silky feel and is very buidable and pigmented. It is considered the most loved sun kissed glow bronzers for years.
Guerlaim Terracotta Bronzer has 4.8 stars rating on Sephora. One user called this " this is absolutely one of my favorite bronzer. while its pricey, it lasted me forever and I have yet to find another bronzer that tops this one" , another one wrote " my favorite bronzer for 20 years"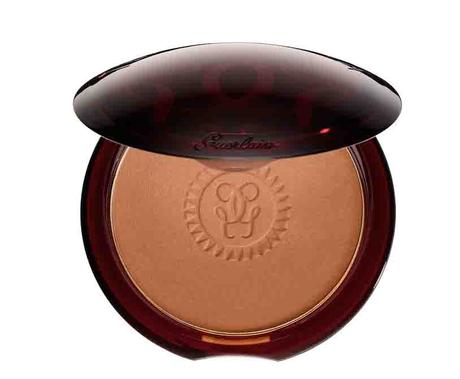 Chanel Bronzer – Les Beiges Healthy Glow
Chanel offers an awesome bronzing product, which is by far best beauty glow powder bronzer to date, it comes with 5 different shades, and surprisingly enough they all works on every level.
The formula is unique and works are a bronzing powder and glow highlighter, it is enriched with illuminating pigments and is buidable with velvety matte finish that gives a vacation natural finish look.
You can keep this beautiful lighting bronzer compact in your purse to sculpt and contour at any time. The powder feels like pure silk, sweeps like a dream for that exotic sun kissed glow
Chanel Bornzer Les Beiges Healthy Glow is rated at 4.2 stars on Nordstrom, a user called this " The Name Says It All- Chanel, this is the most luxurious powder I have ever used. Why not it's Chanel! I have tried many other brands, you can Never go wrong with Chanel. It is a beautiful color, adds just enough highlights and comes with a brush that glides over your face. You will not be disappointed".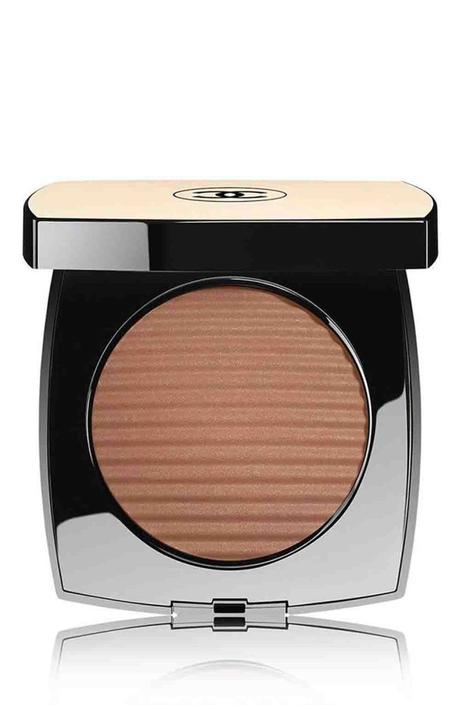 Most Popular Bronzer For Dark Skin
Bronzing product for a dark skin may not seem as much hype, but you will be surprised to know that using a bronzing powder or liquid or creamy when you have darker skin tone will upgrade your makeup look at any time, day or night.
Bronzing products are not meant to make the skin look darker and for a darker skin shades it will add definitions such as high cheekbones or a sculpted jawline. Lighter skin types may benefit differently from bronzing type of makeup but on the dark skin, it can be used differently to achieve kissed glow and definitions. And by using best bronzers for tanned complexions, you will add healthy glow cheekbones.
It is all about combining the right bronzing powder, the perfect shade, and with the right technique.
Too Faced Bronzer – Chocolate Soleil
Cult favorite, it was created for all over warm look, 100% cocoa powder, matte, longwearing for 8 hours.
Very buildable and excellent for oily and dry skin types. Used by many top Instagram infulncers and has always been voted as top 10 of sun kissed glow bronzers.
The dark chocolate shade is a perfect pick for tanned tones for a soft matte look. Comes with 4.7 stars and 3000+ reviews on Sephora, a user reviewed this product as " my favorite bronzer!!! Makes my skin look stunning in the summer. Smells great and application is nice and buttery feeling" , another reviewer wrote "I just bought it and I absolutely am obsessed with this. The formula is smooth and buttery! It's velvety, soft and SUPER pigmented! After purchasing this product I don't leave the house without putting it on my face. Best investment! Boys and girls you must get this too faced matte bronzer because this is revolutionary!!"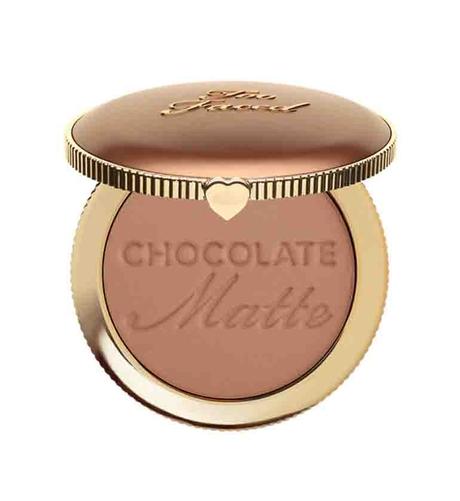 Hourglass Ambient Lighting Powder
If you are not into deep pigmented bronzing powder, you may need to check Hourglass Ambient Lighting Powder, the formula is sheer and airy, it gives that red carpet beauty glow on your best features.
Why this works great on dark tones? because it does not darken the area where you applying it, but rather it will refract light, give you a beautiful glow and emphasize your best features, which what is called: Photoluminescent Technology.
It comes in two different shades that are suitable for most skin tones and for a great shimmer look, this is best bronzer that offers a radiant glow of all bronzers.
No wonder hourglass ambient lighting bronzer is one of the best bronzers for healthy glow cheekbones.
Hourglass ambient lighting powder has 4.7 star reviews on Sephora, a user reviewed the product as "This hourglass ambient lighting bronzer  is absolutely incredible if you like a glowy look. It's not sparkly, but adds the prettiest healthy sheen to your face. I use this to bronze on the high points of my face and then I use a matte contour shade for cheek bones, under my chin" another user wrote " I love this hourglass ambient lighting bronzer so so so much. Holy grail forever. I bought the mini size a while ago to test out and my jaw dropped when I tried it. So glowy and natural. Just upgraded to the full size and love it so much"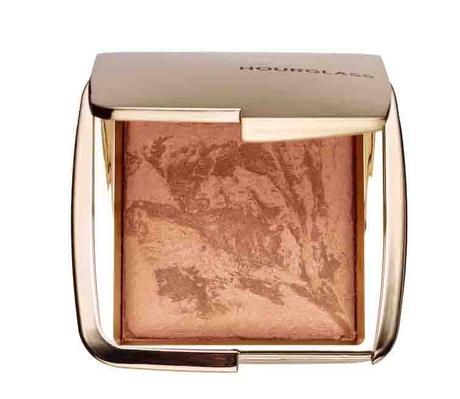 What Is The Best Natural Bronzer? 
Natural bronzing products are made from natural minerals, pure plant extracts, plant oils and butters. Some are made from cocoa powder, natural minerals of iron oxide and darker berries natural pigments.
You can get that look of a deep golden deep brown with tan finish with organic bronze powder of naturally sourced ingredients.
The all natural bronzing products come in different types of formulas, such as powder (pressed or loose), liquid, serum, cream or even butter/ balm types.
100% Pure Cosmetics – Cocoa Pigmented Bronzer
A matte glow bronzer that comes in a nice compact, contains pigments from natural sources such as cocoa, berries and coffee.
It also contains natural organic, you can compare this to Bobbi Brown, Benefit, Nars, Charlotte Tilbury, Fenty Beauty, or even Estee Lauder Goddess for a similar radiant bronzed look without orange or streaks.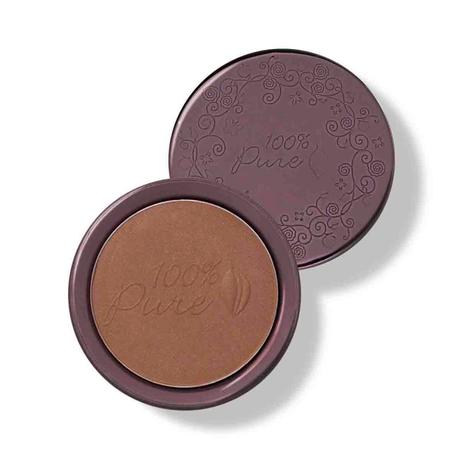 What Is The Best Bronzer For Dry Skin?
Some other great bronzing products for dry skin are from Bobbi Brown brand, which has a great powder bronzer, Bobbi Brown claims to give the most natural bronzed look and offers a hydrating effects, Bobbi Brown is known to be used by every skincare artist .
Other brands such as Fenty Beauty, Charlotte Tilbury , Estee Lauder Bronzer Goddess Powder Bronzer, Anastasia Beverly Hills, Rimmel, Nars, Milk Makeup, Becca Sunlit Bronzer and Kevyn Aucoin, have great bronzing products for dry and all types.
Fenty Beauty and Nars, offer some of greatest formulas and more shades for all skin tones, both are packaged in a beautiful compact.
Check other makeup articles: The Everyday Makeup Tutorial and 9 Tips To A Professional Makeup Look
                                 2020- All Right Reserved