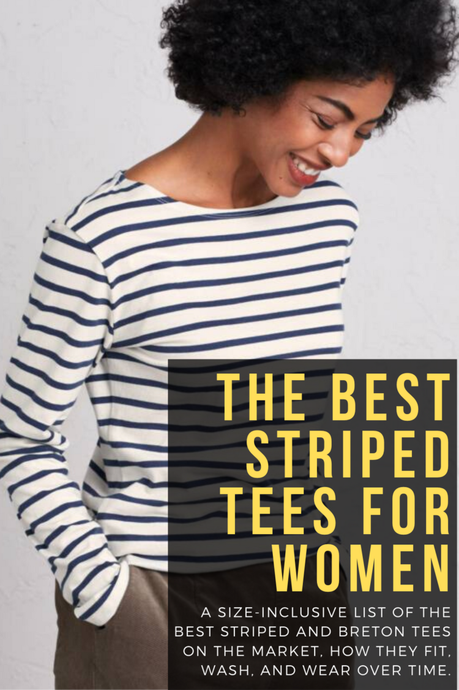 I love a Breton striped shirt. It's as easy as a solid t-shirt, but has more style. More polish than a graphic tee, more relaxed than a button-front, and transcends trends better than any other print in your closet. Yes even leopard print. But not all striped shirts are created equal. I know, I've bought a crap-ton of them.
What is a Breton Shirt?
Before I continue, I want to discuss the term Breton shirt. In 1958, the French Navy introduced a heavyweight indigo-striped shirt for its uniform, otherwise known as the Breton. The stripes were chosen so sailors could be easily seen if they went overboard. The 3/4 sleeves and boatneck were so the shirts could be easily removed and waved as a flag during an emergency. Originally made in Bretagne, that is how the shirt got its name. The original Breton shirt had 21 stripes to represent Napoleon's 21 naval victories over the English. The Act of France which instituted this uniform stated, "The body [of the shirt] shall have 21 white stripes, each twice as wide as the 20 or 21 navy blue stripes." Many in the apparel and fashion industry have taken the name for the original Breton shirt and use it for any two-color striped pullover knit top with sleeves but it is important to know where this term came from and why some shirts have that name and others do not.
My Favorite Type of Breton or Striped Shirt
The Breton striped shirts I buy look good at first glance. Navy or black or maybe a kicky magenta or teal stripe on a crisp white or ivory background. But then the little details determine whether it's a keep or return, a wear again or donate, and how long it's worn before I'm cutting off the sleeves and neck and turning it into cleaning rags. I think any striped shirt fan has a list of what they like and don't like, and even with that list we will make mistakes when adding to our collection.
I wrote about my search for the perfect striped tee back in 2015. It was not a Breton as the navy stripes were almost as wide as the white ones. It was from J. Crew Factory and it ticked all the boxes for me and I wish I bought more since unfortunately, it had J. Crew Factory quality (sometimes good, sometimes not). Since then, I've found this shirt from J. Crew which is close to perfect but not quite right. But it has stopped me from constantly buying and being disappointed by striped shirts that just aren't right.
But I can't stop thinking about my beloved striped tee. I finally had to retire it, the bleeding under the arms and the holes made it look slovenly, not Kate Moss distressed. I use it to wrap up a ceramic Christmas tree we put on display for the holiday, not being able to completely let it go. Since then, I have been on a resale site search. I have bought two shirts since then from resale sites that I thought was the same shirt only to be disappointed when it arrives and isn't quite right. But I keep searching.
And last month, I found it. It was at Poshmark, it was my size, it was $14. I almost didn't buy it, I knew it was worn, and $14 seemed like a lot. But then I thought of all the striped shirts I've bought in the past few years. The ones I returned, the ones I wore and regretted, the ones that were sold and donated or are now being used as cleaning rags in our home. I knew this was the one, and $14 was a small price to pay to have it again.
The Best Breton Striped Shirt: My Reviews
This is my "Holy Grail" striped tee, but that doesn't mean there aren't other great striped shirts on the market. Below I share striped shirts I have bought that are still available and my thoughts on them:
J. Crew Striped Boatneck T-Shirt: This is the second best striped tee in my wardrobe. I have bought this shirt more than once and each time it has been consistent in quality and fit. While the description says ivory/navy I think the shirt is a true white, so white I've worn it with white shorts and jeans. The navy is dark, closer to black than blue. It doesn't shrink if you put it in the wash, though after a year or two the shirt will need to be replaced because it's just not premium cotton. If you have larger arms, shoulders, and/or bust I recommend sizing up. I have an XL and usually wear a 14 in tops and jackets and I like the fit (relaxed but not boxy); it is available up to a 3XL. Negative reviews say this is not a heavyweight tee, and that's exactly why I like it. This is t-shirt material, it's something you enjoy putting on after a day at the beach, on a cool evening, and it's slim enough to slip under a cardigan when the temps drop.
J. Crew Structured Boatneck T-Shirt in Stripe: If you desire a heavier-weight striped tee, this is a fantastic one that I own. It's a heavier weight with less stretch, more of a classic boating shirt, which looks quite smart untucked with a pair of jeans or chino shorts. It hits at that high- to mid-hip point where it looks good untucked, whether or not you have a tummy. This is more structured and more of a square fit thanks to the heavier fabric so do know that going in. If unsure, size up. This does shrink a hair in the dryer. This shirt is available up to a 3XL and comes in three colors. This shirt is also thick enough that it can last for years and just gets softer with each wear. Unlike the previous striped shirt, this one is a true ivory, but enough of a contrast with white that personally, I find it chic paired with white jeans.
Saint James Galathee II Breton Stripe Top with 3/4 Sleeves: This is a soft cotton that is completely opaque, and comes in a great range of colors. Unlike many knit tees, this Breton top comes in number sizes. I ordered a size 14 and it fits, but it's not the best choice if you have large shoulders and arms (I have been lifting weights for two years and have larger shoulders from that). I find it not only snug in the shoulders, but it alters the fit so it hangs a bit off and a 16 would be too big. It has a round but not high neck and with the shorter sleeves, soft fabric, and slight shaping at the waist, this is a classic that is adapted to look great on a woman's figure. I did not keep this shirt but I have friends who own this and say the shirt wears like iron and can take a beating in the washer and dryer. If your size doesn't change much, this is a shirt you could still be wearing several years from now. Do note there is a visible logo on the sleeve, some people prefer shirts without this detail.
Saint James Minquiers Pride Rainbow Striped Shirt: I bought this after seeing it on another blogger. Not sure what size I would be in Saint James after trying the Galathee II in 14 and not having room for my shoulders, I got an XL. I kept it, but I should have gone with a Large. This is a long-sleeved tee and that along with it being unisex sized, it just is more roomy and long than my usual preference. However, if you like a more relaxed fit or are taller than my 5'3″ self, you too may wish to size up. It doesn't shrink. Like my friends have said about their Saint James Galathee tees, the shirt is soft and washes and dries great, is really durable yet beautiful, and I could see myself having this shirt for many years to come. This shirt is available up to a 4XL. Don't be surprised if ones things open up I take it to the tailor to shorten the sleeves! $15 of each of these shirts sold is donated to the Born This Way Foundation.
Boden Long Sleeve Breton: I can't tell you how many times I have bought and returned this shirt, hoping it would be a Holy Grail striped tee for me. This is a semi-fitted silhouette, and as with most Boden items, they are made for a woman with slimmer legs and arms than what I have. The sleeves are too long and too snug, which looks odd with the body which is shaped but still a relaxed fit. The body also hits lower on my hip, making it awkward untucked. I have tried this shirt in a 12 and a 14 and both were not right for me. This is a great choice for those who have proportional arms and especially for those who are taller. This shirt is available up to a 20/22 and in a variety of colors. While I have never kept this shirt, I have other Bretons from Boden and find them soft, opaque, and they hold up beautifully through multiple washings.
Boden Short Sleeve Breton: While I don't like the long-sleeved Breton from Boden, I do like the short-sleeved one! It's my favorite short-sleeved striped t-shirt in my wardrobe and that says a lot considering it's two years old and I have purchased many before and since it! It holds up great, even if you don't baby it. The neckline isn't too high but my bra is always covered, the sleeves hit at a nice point on my arm making my arm look more shapely, the length is shorter and I can wear it tucked in or untucked. I love the fit of it for tucking in; not too loose and blousy but enough space so it's not like a bodysuit and can be bloused out a bit. I have had this in a 12 and 14 and find the 12 to be a better fit on my size 14, F-cup self. If in doubt, size down unless you want a relaxed and boxy fit. This shirt is available up to a 20/22 and in a variety of colors. My only issue with it is that there are none with a white ground; all are a true ivory that is closer to a cream color.
L.L. Bean French Sailor's Shirt: I own this shirt, it's I think six years old and still looks like new. I have taken it to the beach, I have let it get mildewed at the bottom of a beach bag, I have accidentally splashed it with all sorts of oily and chemically things. It has gone in the dryer, it has sat in a plastic bag in a hot attic for a year, it has been used as a towel for a muddy dog. This is a hard-wearing shirt that is a classic. It is a heavier weight like the second J. Crew shirt I mentioned, similar neckline and sleeve length but this one is cut less boxy, more... expensive of a fit. Shaped, while still a straight cut if that makes sense. I have a regular large which has fit me when I was a 10 and when I was a 14, though as a 14 with the size bust and shoulders I have, it's not tight looking but with the weight of the fabric, more tailored than I find comfortable. This shirt is available in regular, petite, and plus up to 3X in two different colors. And for some reason, this one doesn't bother me being ivory instead of white!
Authentic Talbots Tee: Talbots has a striped tee they call their Authentic that I have a couple of and really like. Each season they come out with different colorways, occasionally have a more classic Navy and white or navy and ivory combo but also offering interesting mixes and the occasional embellishment on top of the stripes. The specific tee depends on the size offerings; some are just available in Misses sizes up to XL and others are available in their full range which includes petites, plus, and petite plus up to size 3XL. These tees are 100% cotton and a weight somewhere between a classic t-shirt and the heavier striped shirts from L.L. Bean and J. Crew that I reviewed above. Depending on the shirt, some have 3/4 sleeves and others have full-length sleeves. These shirts are not fitted, but shaped with sleeves that taper slightly, a waist that curves in just a hint, a hem that is a mid-hip length that rests easily over curves and looks good tucked in or left out. The neck is open but not so wide it gapes or shows your bra. All of my Authentic Talbots Tees are a Large Regular; next time I get one that is long-sleeved I will go with Large Petite because the sleeves are a hair long and I think a petite will fit better in the armholes and shoulders. These do not shrink, even if your husband washes them on hot by accident with the towels and it goes into the dryer with said towels.
Shop My Picks for Breton and Striped Shirts:

As always, I welcome your recommendations! If you've found a fantastic striped tee, do share in the comments and help out fellow Wardrobe Oxygen readers! Also, many of the best items in my wardrobe are from your suggestions. We all benefit from honest reviews from those we trust!