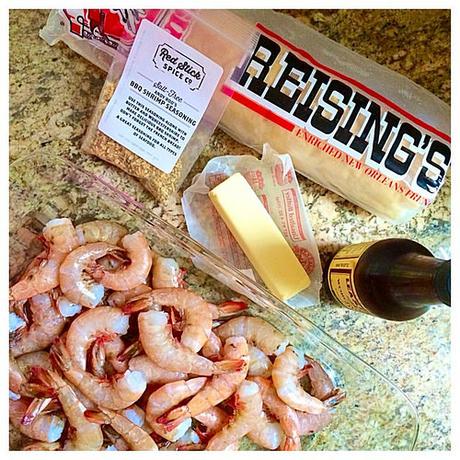 Barbecue Shrimp
If my heart could take it, I would probably eat Barbecue Shrimp at least twice a week, but I will admit that not a month goes by where this family staple is not on our dinner table. Cooking the shrimp with the heads on preserves the natural juices and enhances the flavor, but on occasion (usually by request), I remove the heads before cooking. I never buy shrimp without the head on, as they are the freshest. On my recent trip to Visit Baton Rouge, I picked up a packet of BBQ Shrimp Seasoning at Red Stick Spice Co., and highly recommend it. Bon Appetit!
Barbecue Shrimp
Ingredients:
Feeds my husband & me, or 4 normal eaters, I double for serving 6~
24 (2 pounds) raw colossal Gulf shrimp, unpeeled, with heads and tails left on (mine shown heads off, but the flavor is enhanced and the shrimp are juicer when the heads are left on)
4 tbsp. Worcestershire sauce
2 tbsp. coarsely ground black pepper
4 tsp. Creole seasoning
2 tsp. minced fresh garlic
 3 tbsp. water or beer
1 lemon cut in half
1 stick cold, unsalted butter, cut into 1/2-inch cubes
Note: Red Stick Spice Co. in Baton Rouge sells the most amazing spice blends. I used theirs in place of the Creole seasoning. Order here.
Preparation:
1.) Place the unpeeled shrimp, Worcestershire, coarsely ground pepper, Creole seasoning, garlic, and 1 tbsp. water or beer in a heavy 10-inch, stainless-steel sauté pan.
2.) Squeeze the juice from the lemon over the shrimp and add the rind and pulp to the pan.
3.) Over high heat, cook the shrimp while gently stirring and occasionally turning the shrimp. After about 2 minutes of cooking, the shrimp should start turning pink on both sides, indicating they are nearly half-cooked.
4.) Add 2 tbsp. water or beer to the pan.
5.) Reduce heat to medium-high and continue cooking, gradually add the cold pieces of butter to the pan for about one more minute. While turning the shrimp occasionally, swirl the butter pieces until they are incorporated into the pan juices. The sauce turns light brown and creamy as it simmers, and the shrimp are just cooked through. Do not overcook the shrimp.
5.) Serve immediately (family style) with hot french bread to sop up the juices, cold beer, and make sure to have a roll of paper towels on hand for easy clean up. It's a messy but delicious dish to dive into!
Note: You can also use this sauce recipe to pour over freshly shucked oysters, before grilling on baking on the half-shell.