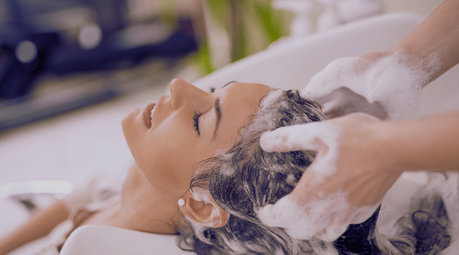 Trendy ingredients come and go, but argan oil has been used for centuries to for its various beauty benefits. Argan oil, which comes from argan trees that are typically found in Morocco, is naturally full of antioxidants and fatty acids that help strengthen hair, repair damage, and increase shine. Throw in the fact that it has even been linked to hair growth, and it is easy to see why more and more brands are including argan oil in their products. If you are interested in benefitting from the miracle ingredient yourself, incorporating one of the best argan oil shampoos into your routine is a great place to start.
Like with any other beauty product, not all argan oil shampoos are created equal. To actually benefit from the ingredient, you will want to choose a formula that lists argan oil towards the top of the ingredients list. Anyone can benefit from argan oil — just be sure to choose a shampoo that was designed for your hair type, whether that is oily and fine or dry and thick.
Argan oil for your hair
Argan oil is an oil derived from the Moroccan argan tree that does wonders for hair and is perfect for hydrating straw-like strands. "Argan oil can moisturize your hair and scalp and protect your hair from everyday damage," according to celebrity hairstylist Michelle Cleveland.
However, how exactly does this botanical oil hydrate hair (and skin!) so well? Cory Aaron Scott, another celebrity hairstylist that is all about the Argan oil hype, says that this rich oil contains many fatty acids, which are good when used on the hair or skin. "It can add moisture and shine to the hair and smooth out the cuticle when blow drying," he adds.
Hair Type + Color
Although both Cleveland and Scott agree that argan oil is safe for all hair types to use, Scott says you should use a light amount when using it in order to avoid a greasy texture and look. "The finer the hair, the less you use," he says.
Scott also advises blondes to make sure any argan oil product is clear in color before use. "If it has any yellow or amber hue to it, it can make your blonde hair turn yellow or muddy-looking," he says.
Skin Type
What does your hair care have to do with your skin? Well, everything actually. If you are dealing with constant breakouts along your hairline, shoulders, chest, and back, it could be due to the heavy haircare products you are using that clog your pores.
With that being said, Cleveland gives argan oil the green light for all skin types, including oily and acne-prone skin. "It is a natural anti-inflammatory and won't clog your pores," she says. "Even someone who has a naturally oily scalp could use argan oil, as it actually reduces oil/sebum production in oily skin."
We said it before, and we will say it again: Read the ingredient label! As you'll probably notice, most haircare products have a plethora of ingredients blended into one formula, so even if there is argan oil to quench your tresses, make sure there isn't anything else that could irritate your skin, dry your hair out, create an oily look on your hair and scalp.
Sensitive skin types should be wary of harsh ingredients like synthetic fragrances, essential oils, and sulfates, while oily and acne-prone skin types should steer clear of pore-clogging add-ins like coconut oil and cocoa butter.
Now, ready to give your parched strands a much-needed moisture surge? Then check out some of the best argan oil shampoos on the world wide web below.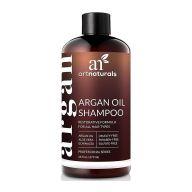 Double up on argan necessities with Art Naturals' organic shampoo and conditioner set bringing gorgeous shine to your scalp. Waking up tired strands with a burst of botanical extracts and oils to improve natural shine, it is a gentle cleanser that gets the job done.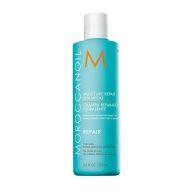 Moroccanoil's argan oil shampoo sends hair on a tropical vacay and back to smooth out your strands. Featuring antioxidant-rich argan oil, reconstructive keratin, and fatty acids, the highly concentrated formula will form a luscious lather around each strand, providing a gentle cleanse you will want to repeat daily.
Hask Argan Oil Shampoo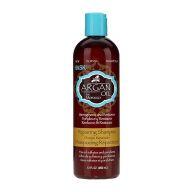 Hask's reparative shampoo truly brings hair back to life. A gentle cleanse for brutal damage, regular usage results in revival: zero-frizz, soft to the touch, and incredibly shiny.
Soapbox Argan Oil Control & Soften Solid Bar Shampoo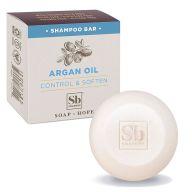 Although we are not ready to fully ditch our traditional liquid shampoos, this shampoo bar from Soapbox definitely gives quite a few competitors a run for their money.
This argan oil-infused solid shampoo's main focus is to tame frizz and leave your mane feeling softer and silkier than ever before, and it definitely lives up to its claims. This shampoo bar is also a more sustainable, packing-free option if you want to cut your beauty routine's carbon footprint down.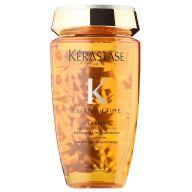 Is your hair looking a little lackluster? Then give it a much-needed sheen boost with this luxe shampoo. It is enriched with a blend of argan, maize, procaxi, and camellia oils to instantly smooth, shine, soften, and strengthen your strands. It is like a jack-of-all-trades of the haircare department, and that is why we love it.
Pura D'Or Original Gold Label Anti-Thinning Shampoo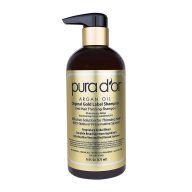 Racking up just shy of 18,000 customer reviews on Amazon alone, Pura D'Or's argan oil shampoo has definitely earned its four-star rating.
The organic formula is a solution for hair loss, derived from 100% plant-based extracts and premium ingredients sans sulfates and parabens. The perfect shower pick for him or her, argan oil softens while biotin strengthens each fiber, encouraging healthy hair growth and aesthetics.
Maple Holistics Argan Oil Shampoo
One of Amazon's most-raved about brands, Maple Holistics's argan oil shampoo treats every hair type with a nourishing boost of hydration.
Formulated with all-natural, nourishing ingredients like avocado and jojoba oils, silk proteins, and phytokeratin, regular use of the product will result in a lustrous style that's anything but artificial.
Herbal Essences Bio:renew Argan Oil of Morocco Shampoo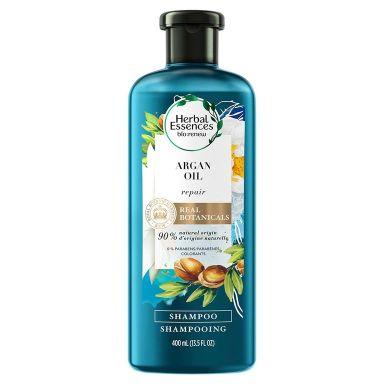 Argan oil is fancy AF, but it does not have to cost you an arm and a leg. Herbal Essences' argan oil shampoo will cost you less than a 10-spot, guaranteeing a total transformation in 21 days, max.
Safe on color-treated strands, the formula's been sweetened with Moroccan argan oil and scented with vanilla and exotic spices to forego frizz, improve shine, and protect against impurities.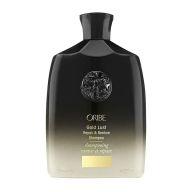 This shampoo is one of the most luxurious we have ever tried. Designed with nourishing argan oil to bring hair to its glossiest form, this rejuvenating cleanser also features cypress and maracuja extracts with a bio-restorative complex to reinforce the strength of each strand.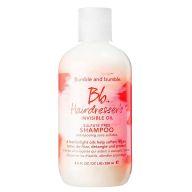 Bumble and bumble's ever-so-popular Hairdresser's collection fuses together six essential oils, such as coconut, sweet almond, and argan, to nourish strands efficiently.
Disclaimer: Oils can be heavy on skin and hair, but Bb's blend is feather-light, aiming to detangle, de-frizz, and smooth struggling strands.
Kiehl's Since 1851 Smoothing Oil-Infused Shampoo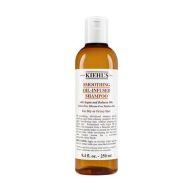 Another unisex option, this Kiehl's shampoo is rich in argan and babassu oil, catering to dry and frizzy hair sending out an SOS. The sulfate-free solvent releases a warm, earthy scent and tames unruly strands to prevent them from flying away.
---
In most cases, we can see that people have bad hair due to heavy chemicals and other important appliances. Sometimes the growth is also stopped. This is not good at all. Therefore, in such a situation it is extremely necessary to take proper care of your hair.
If you cannot care for your hair properly, you should use all organic shampoos regularly. Most organic shampoos are absolutely free of chemicals and parabens, so they are responsible for healthy hair.
The post The Best Argan Oil Shampoos In 2021 first appeared on Greatofreview.