In Search Of A Good Alternative To Wooden Arbors
Building cool gardens has been a favorite pass time for me for a number of years now, and am always looking for creative garden structures, like gazebos, fences, shaded walkways, and even supports for plants. For the longest time ever I have chosen wooden arbors, and though they look grand, heavy maintenance is required to keep them looking grand. There are a number of garden pests that attack wood, and the chemicals used to keep them away and also to re stain the wood to make it look good enough can often damage your plants.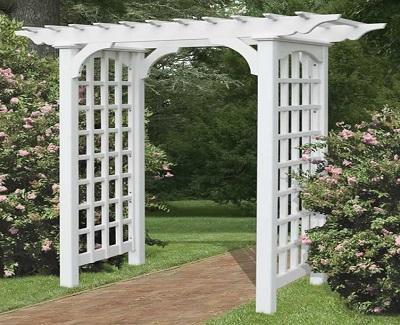 The benefits of vinyl arbors

It was in search of an easy to maintain alternative to wooden arbors that I came across the site vinyl-craft.com and was surprised to see a great range of fences, porches, patios, and an assortment of arbors which looked exactly like if not better than wood. I was a bit skeptical at first to how well Vinyl would hold up against the weather and on doing some research figured out that it is as durable as wood, requires little to no maintenance, cannot be destroyed by bugs and termites, and is a lot easier to move and relocate if you should wish to do so.
The maintenance free solution

If you're one of those people who are tired of painting your picket fences and your gazebos white every year, then vinyl-craft.com is the site for you. With thousands of designs to choose from, these fences never need to be painted, and can withstand the weather and the rain with ease. The best part about these vinyl arbors are that they are much lighter than wood, so even though they may need to be secured, they are highly portable and easy to carry or rearrange with ease, making the job of setting up your garden doable without any help.
An alternative that is a lot cheaper than expensive wooden arbors

The best part about buying vinyl arbors is that it is a lot cheaper than wood, building a gazebo from wood like teak or oak can cost thousands of dollars, and even more in maintenance, however the vinyl versions come at a fraction of the cost, look a lot better, and are not susceptible to the weather like wood. Since Vinyl is basically water proof this can be used anywhere and in any weather conditions like some cool patio furniture or any sort of outdoor seating equipment.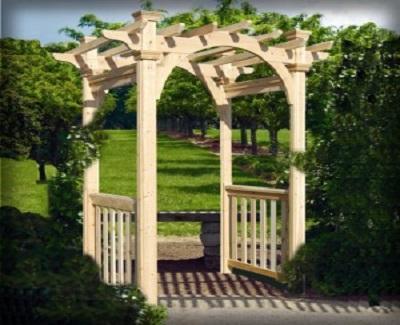 Arbors that keep looking good forever

Anyone who has used wood to build a fence or anything outdoors for that matter knows that wood cracks and warps with time, it often sinks into the ground and changes shape too, apart from resins and oils that need to be used to keep it looking as good as new. In contrast Vinyl arbors will never shrink, warp, sink or change shape. They don't need to be treated with oils and don't attract bugs and other critters like wood does, and keep looking like new for years and years to come.