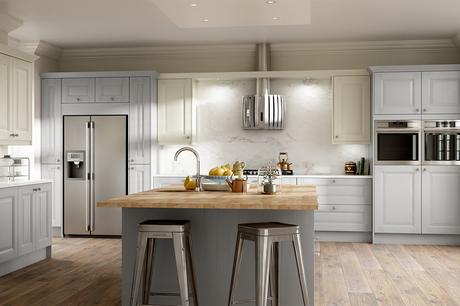 Selecting a new kitchen can be a challenging task as there is so much to think about and so many designs and styles to choose from.
The kitchen is the hub of the home and you can spend a huge amount on a kitchen in order to have it how you want but it is important to set a budget. While the cheapest kitchens are often not the best choice as they are unlikely to last for a long period of time and made-to-measure kitchens can often cost more than an off-the-shelf type of kitchen, however, this is not always the case.
This is because a bespoke kitchen can help to save money over time. This is down to the fact that it will stand the test of time and won't require replacing every few years. If you also opt for a painted kitchen, you can always change the colour when you want. So what are the benefits of deciding to have a bespoke kitchen?
It is designed for you
A bespoke kitchen is designed around your needs. You may want units that are a different height or size to off-the peg kitchens, you may require units that are not so deep or of an unusual shape because your kitchen is a unique shape. A bespoke kitchen will enable you to have a kitchen that fits your needs and your home.
It utilizes space
You will really be able to make the most of the space that you have because sometimes an off-the-shelf kitchen won't be designed to fit rooms that have an unusual shape. You can choose to have handmade spice racks or slot-in cutlery boards and specially designed larders. You can take your space and make your kitchen fit into it.
Designer Knowledge
Using a designer who can consider a number of factors when it comes to designing your kitchen will really help you to get the most from your kitchen. A designer with experience will ask the right questions and understand how you use your kitchen. They will also consider what you want in terms of practical solutions while also providing their advice and guidance. They will discuss appliances, units, worktops and any other aspect of your kitchen. They will then design your kitchen using CAD so you can see how it will look when it is in place.
A quality build
A bespoke kitchen is hand-built to the specific requirements of your home. This means that no two kitchens are the same but they are all built using the very best material and traditional methods so that they are sturdy and durable. Tops and backs are tongue and grooved so that the units are solid and they will often come with a ten year guarantee which provides you with peace of mind. A good bespoke kitchen designer will be a member of The Furniture Ombudsman which will also provide you with more confidence in their ability to create a kitchen that ticks every box.
Author Bio
Tara Neil are kitchen and bedroom specialists, with a wide variety of styles available in our kitchen showroom in Woodley, Reading.