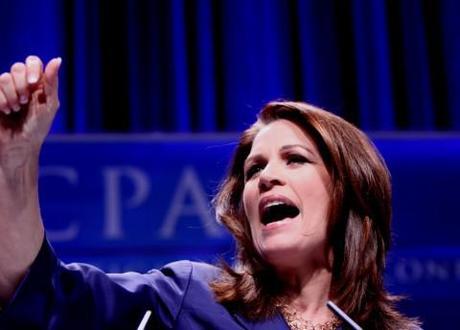 Michelle Bachmann speaking at CPAC 2011 in Washington, D.C. Photo credit: Gage Skidmore.
In the burgeoning showdown between the socially conservative Republican brunettes, the Minnesota Congresswoman with 23 foster children, Michele Bachmann, appears to be besting the former Tea Party darling and reality TV star, Sarah Palin. So far.
In the last few weeks, Bachmann has catapulted into second place in the GOP presidential nomination race, with polls consistently making her the top choice for 15 to 20 percent of Republican voters nationally, behind Mitt Romney's 30 percent. But, as Chris Stirewalt noted at Fox News's Power Play blog, that might not be such a good thing for the  self-styled fresh-faced independent's candidacy: "[H]er success has also opened the door to increasing scrutiny of her career, personal life and even her health. Reporters don't have time to trawl through the careers and lives of also-rans, but contenders get both barrels. That Bachmann has been an object of alternating contempt and ridicule by American liberals for many years only intensifies the effect in her case."
Palin, whose feature-length political ad The Undefeated is about to see a wider release in America after a better-than-expected opening weekend, has not yet declared and the primaries, the real test of a candidate's popularity, aren't for months. But in the meantime, let's take a look at the other Republican woman in the news.
Bachmann's rise. It was Bachmann's performance at the June 13 Republican candidates debate that has rendered her more credible in the eyes of Laura Washington, writer for the Chicago Sun-Times. "I have to say it — girlfriend more than held her own that night in New Hampshire. Since that June 13 debate, Bachmann has continued to impress, positioning herself as an independent-minded fresh face. She stands out from the stiffs," Washington wrote.
Bachmann's "pray the gay away" views: Over-hyped? Bachmann has come under fire from gay and lesbian advocates and their allies for both her staunch, Evangelical Christian-based opposition to same-sex marriage and to the unsurprising fact that her husband, Marcus Bachmann, believes that it's possible to pray homosexuality away and actively espouses this widely denounced theory at his Christian counseling center. "But," complained SE Cupp at the New York Daily News, "the liberal media's obsession with the topic is out of all proportion. And it's propping up a myth manufactured by gay rights groups that Bachmann's husband's beliefs are going to brand her as some kind of hateful Neanderthal – and seal her fate in the 2012 GOP primaries."
Bachmann's migraines. Bachmann's not so gay-friendly views aren't the only thing attracting media attention: This week, it's her admission that she suffers chronic migraines that's making headlines. Bachmann has had to deny that suffering migraines is going to impede her ability to serve as president but, noted Politico, it's "an issue that threatened to spiral out of control as the media sought more details about a potentially debilitating condition." Politico also dug up evidence that suffering from migraines has in fact affected her as representative, including migraine attacks that landed her in the hospital and kept her away from Capitol Hill votes.
Bachmann's "submissiveness". Bachmann recently told a Christian audience that the only reason she went into tax law was because her husband told her to and that while she didn't really want to, Biblical duty dictates that women be submissive to their husband's wishes. Ruth Marcus, opinion writer for The Washington Post, noted that she wanted to be respectful of Bachmann's Evangelical views, but that it begs the question, "Can she think for herself?" Marcus continued, "I don't lose sleep over Marcus Bachmann as Oval Office puppeteer, mostly because I cannot imagine Michele Bachmann making it there. But given where she is in the polls, it is fair and necessary to ask her about how she would reconcile the tensions between her understanding of the biblical view of woman's role and the demands of the presidency. Come to think of it, I wouldn't mind hearing from her husband, too."
Bachmann has also taken " a page from President Obama's political playbook" and left her Minnesota church, Salem Lutheran, after it was accused of holding anti-Catholic views. The Bachmanns hadn't worshipped there in two years.
Really, the Establishment fears both strong women. According to conservative tabloid Boston Herald, experts from both ends of the political spectrum are claiming that both Palin and Bachmann are being held to a higher standard than their male counterparts. Shannon O'Brien, a Democrat who ran against Mitt Romney for Massachusetts governor in 2002, told the paper, "You have two women who've captured the attention of the general public and were climbing in the polls, and they face a higher bar… In order to be taken seriously as a candidate . . . a woman must do a better job and go further to credential herself with the public." In recent weeks, Bachmann has had to declare that suffering from migraines won't interfere with her ability to be president and to deny that she is a "flake", while Palin has suffered scrutiny over her choice of dress and her mothering skills, and even claims that she's not the mother of her youngest child. If they were men, the mostly female experts claim, these issues wouldn't even come up.
More on Bachmann and Palin

Bachmann is the GOP's wild card
Sarah Palin won't be meeting the Iron Lady
Did Sarah Palin really re-write Paule Revere's famous midnight ride?
Palin Trump 2012? Is Palin even running?
Sarah Palin: The Movie