Off the reservation with the O antiphons
For three of the Sundays this month I have been preaching through the 'O antiphons'. These chants, or canticles, originated in the Sixth Century, re-emerged in the Eighth, and are still in use in many high churches fourteen centuries later. Traditionally they are recited on the last seven days of Advent, starting today, December 17th. Often set to beautiful Gregorian chant, and traditionally sung in Latin, they represent a considerable departure from Baptist territory. Between them they show seven of the significant prophetic descriptions of Christ:
O Sapientia   – o wisdom
O Adonai        - o Lord
O Radix           – o stem of Jesse's branch
O Clavis          - o key of David
O Oriens         – o radiant dawn
O Rex              - o King of the nations
O Emmanuel    - O God with us
The initials of those seven phrases S A R C O R E, mean nothing. However, flip them around and between them they spell ERO CRAS, 'tomorrow I will come', which neatly reminds us of Advent's often forgotten dual focus.
Each week I have dwelt on two of the antiphons in two short talks, and each has been followed with one of Malcolm Guite's (pictured below) beautiful sonnets.
Why step so radically outside my tradition in this way? There are numerous reasons:
It is good for all of us to dip into the richness on offer from other parts of the church

The antiphons give a device to gather so many of the prophetic hopes surrounding Jesus all together
The dual focus is vital
Their antiquity is their strength. The church has continued to sing these chants of defiant hope through wars, crusades, pogroms, famines and calamities.
Their universality – these chants will be sung in Ramallah and Jerusalem, Aleppo, London, Washington DC and Newtown Connecticut.
If you have not visited this particular liturgical territory yet, then I urge you to do so. After all, the first O antiphon is traditionally sung or recited today.  Click on Malcolm's picture below, and you can hear a setting of today's O antiphon from some Dominican monks in Oxford.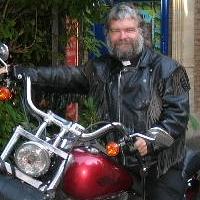 Image: st-edwards-cam.org.