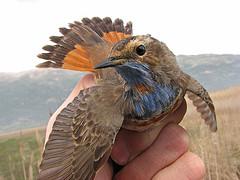 photo : Ramus Larsen
The Obertauern pass and ski resort area in Salzburger Land, Austria, is  home to the rare Bluethroat. But this Austrian based bird is no lover of snow. So he hits the hills of the Indian subcontinent when winter comes. It's another thing that India and Austria have in common.
Bluethroat
Birders and twitchers will be well aware what a Bluethroat is – and it has nothing to do with standing outside in the cold winter weather!
Bluethroats are small, rare songbirds. Overall, they only measures around 13 – 14 cm. Their song or 'chat' is often likened to the imitation of grasshoppers and crickets. The male is the more distinctive of the species, with plain brown back, a characteristic black tail and red side patches. His throat is blue, edged with black, russet and white. The female is similar in colouring, except she wears a necklace of spotty jewels instead of  the blue feathered ruff.
Bird Behaviour
The Bluethroat is a forager and prefers dense undergrowth to wide open spaces. Their behavior includes:
living on the edges of woodlands and wetland, where flies are easy to find
it builds its nest on the ground or low places, making little hollowed out cups of soft materials
the Bluethroat flies low to the ground and runs like a mouse to catch its prey
it's very territorial, though boundaries of the territory may be somewhat flexible as need demands
it's a monogamous bird – though the male has been known to stray from his birdy bliss – nothing new there, then!
Winter Walkabout
When winter comes and the snow begins to fall (usually late October – early November in this alpine area), the Bluethroat adopts an Australian habit and goes 'walkabout'. He invades India, where the weather is warmer until the ski season comes to an end in his Austrian home around late April or early May.
It would be interesting to know where in India this tiny songster warbles his way through the Austrian winter. Any ideas?
Chalet Lowonahill is an all-season, rustic style holiday home in Styria. It's an ideal place for you to discover the delights of the 9 provinces of Austria. To find out more, simply click here.