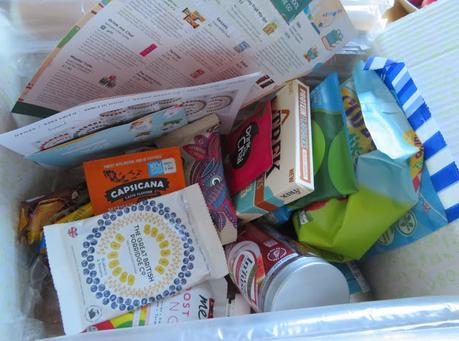 As those of you who have been reading me for a while know, I am the lucky recipient of the gift of a Degustabox each month. Once a month, around the middle of the month, I am gifted with one of these lovely

boxes

which contain a delicious

assortment

of all things foodie.  I just love these boxes.  Each one is always a lovely surprise.   Opening each one feels a tiny a bit like

Christmas

to me. Always a surprise, and always filled with things that pique my interest and desire to try. Degustabox is a monthly foodie subscription service that sends out a range of 10 to 15 specially selected foodie

products

. I even have a code that  can give you which will  give you a £3 discount off of your first box. I will tell you about that at the end. I have been getting these boxes for a couple of years now and I have to say I have never been disappointed.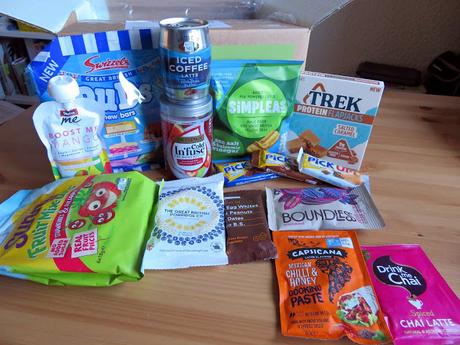 Usually each month I am inspired to make a recipe using some of the products in the box.  The August box month was a first for me however.  For the first time in a couple of years I was unable to come up wih a fresh recipe using anything from the box!  That did not stop me from enjoying the box however, which was labeled the Back to School and On the Go box!
There was lots of goodies to enjoy. Some items which I was already familiar with and some which I was not.  Heres more about what was in the box!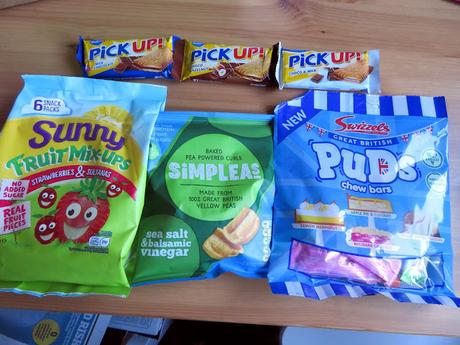 SUNNY FRUIT MIX UPS  1 X £2Real fruit pieces with no added sugar. A delicious lunchbox snack that the kids will love!*Available in the major supermarket chains
PICK UP 3 X £0.40Pick Up is a tick slab of real chocolate sandwiched beween two crunchy biscuits. This delicious biscuit bar with its surprisingly snappy chocolate really packs a great bite! First you get the crunch and then the follow through of an intense chocolate hit!*Availabl at Tesco, Sainsbury's, Morrisons, Asda, Waitrose, Coop, Lidl, Ocado and on Amazon. 
SIMPLEAS Pea Powered Curls 1 X £1.09Simpleas are made from 100% sustainably sourced and harvested Great British yellow peas which are loving baked, not fried.  Every delicious bag is vegan friendly gluten free, high fibre, high protein and only 88 calories.  These delicious Pea powered curls really are supearior little bags of good stuff. *Available from WHSmith, Skinny Food Company, Farm shops across the UK and on simpleas-snacks.co.uk 
SWIZZELS Great British Puds 1 X £1Great British Puds takes the favours of the nation's most-loved traditional puddings and sees them transformed into unique chew bars. They were crated by comptition winner Tracy-Jane. Flavours include: Sticky Toffee Pudding. Lemon Meringue. Rhubarb Crumble.  Apple Pie and Custard.  Bars are Vegan and have natural flavours.*Available at selected Asda, Morrisons, Co-op, One Stop, B&M, Home Bargains, McColl's, Premier, and Spar Stores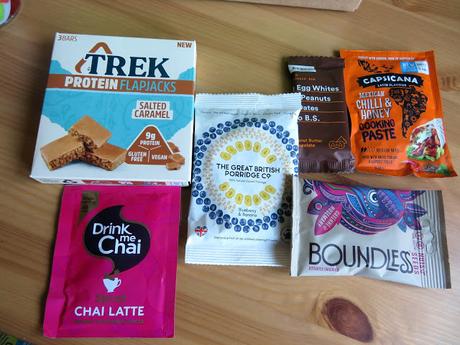 TREK Salted Caramel Protein Flapjack 1 X £2.50 New flavor from Trek! A delicious smooth salted caramel flavoured flapjack from TREK is now available in the market. These are not just any ordinary, gluten-free flapjacks. They're revolutionised. They are packed with 9g of plant based protein making them the perfect slow released energy snack, that is sure to keep you going and leave you feeling fuller for longer. Enjoy!  
DRINK ME CHAI 1 X giftAn Authentic spiced chai latte wih a frothy and creamy texture.  Contains less than 1% caffeine, is gluten free and suiable for vegetarians. Breathe in the intoxicating aroma of cinnamon, ginger and cloves and sip the creamy sweet spiced chai drink. Perfec hot, cold or as an ingredient in baking. £2.30 for a full tub. Available in the major supermarket chains 
THE GREAT BRITISH PORRIDGE CO 1 X £1.50Here at The Great British Porridge Co we make delicious healthy and dairy free instant breakfasts in five incredible flavours to give you that morning boost whenever you are. Everything in our handy little pots, sachets and re-sealable muti-srving bags is 100% natural, plan-based and gluten-free with no added sugar. 
RX BAR 1 X £2.50Our real food protein bars are made with a few simple ingredients: egg whites for protein, dates to bind, nuts for texture (and everything else for taste). Available in the following flavours: Chocolate Sea Salt, Peanut Butter Chocolate, Peanut Butter, Blueberry and Coconut Chocolate.
*Available at Sainsbury's, Ocado, Amazon and rxbar.co.uk
BOUNDLESS Activated Snacking Cayene & Rosemary £1.50/£1 at Sainsbury's The classic taste of Rosemary is taken to a new dimnsion by th unmistakable heat of South American Cayenne. Sweet but spicy and highly addictive.
*Available at Sainsbury's, Holland & Barrett, John Lewis, As Nature Intended, Revital & Independents.
CAPISCANA Mexican Chilli and Honey Cooking Paste 1 X £1.50This Mexican paste is based on the dish "Puerco al horno con salsa de chile y miel" and to create it we muse Mexican grown chipotle and ancho poblano chillies for a swee and smoky flavor. It tastes amazing with chicken, pork, or vegeetabes and is perfect for fajitas, BBQ's & marinades.
*Available at Sainsbury's, Waitrose and Ocado.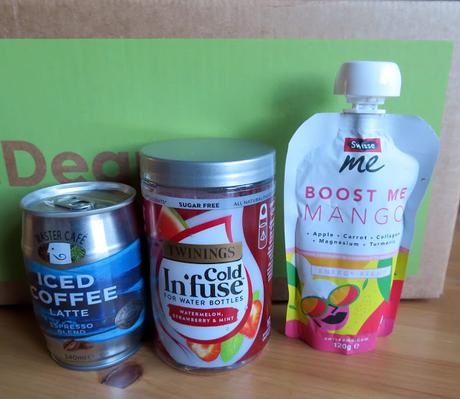 MASTER CAFE  Iced Coffe Latte/Mocha/Classico 1 X £1.50Experience a taste sensation like no other! Pick up a can of delicious, ice-cold Master Cafe for a boost of intense flavor nd nergy. We are chalenging the overly-sweet, mil-heavy brands and shking things up with our seriously tasty, lower calorie, low dairy, authentic Iced Coffees. njoy a punchy Classico, indulgent Latte or chocolaty Mocha anywhere, anytime! This is iced coffee, mastered!
*Available on snaxemporium.com, Amazon, Seleced Budgens, Londis & Other convenience stores around the UK. 
TWININGS Cold Infuse 1 X £3.79Make more of water with Twinings Cold Infuse. ts our little sugar free, all-natural nfuser tha brings a hint of fruity flavor to your cold water that helps you to drink more throughout the day. Simply drop, shake and enjoy! 
SWISS ME Smoothies 1 X £1.80Busy lifestyle. We got you! At work or inbetween workouts, lying in, these healthy smoothies are the quick pick-me-up you've been looking for. Packed with the good stuffm our range of ready-to-dink smoothies contain real fruits, veggies and natural ingredients. Vegan, gluten-free and dairy-free options available.
*Available exclusively on swisseme.com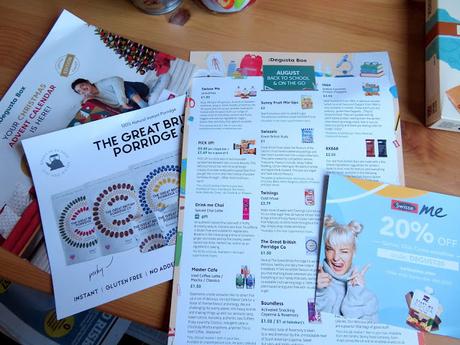 I really

DO

make great use of and enjoy many of these fabulous products I am sent each month to try out.  Many thanks to Degustabox UK for gifting me this box. I have to say I really look forward to getting my box each month. There are always lots of things in it to enjoy and new products to try out. I highly recommend. You can also tailor the boxes to your own likes and dislikes by filling in your own Taste Profile.  If you like the sound of this box, why not sign up now! I find them to be really good value for money spent and I really enjoy trying out new products that I have not tried before.   Included is also a detailed

information

card  which tells you all about each

product

included, and other extras such as recipes, etc.   
Follow them on Facebook 
Follow them on Twitter  
 So, that was the August Degustabox - a nice selection of products as always. We loved it. The price of each Degustabox is £12.99 (including delivery). To order your box, visit www.degustabox.com 
Use the code 2ROE0 to get £3 off your first Degustabox, free delivery – enjoy!     

I was gifted with the box free of charge, however any and all opinions are my own.  




Follow my blog with Bloglovin