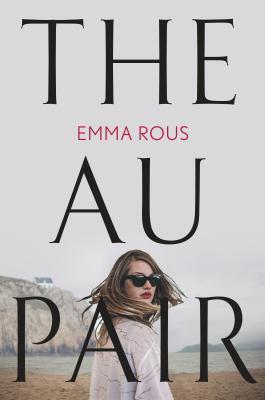 ABOUT THE BOOK:

Seraphine Mayes and her twin brother Danny were born in the middle of summer at their family's estate on the Norfolk coast. Within hours of their birth, their mother threw herself from the cliffs, the au pair fled, and the village thrilled with whispers of dark cloaks, changelings, and the aloof couple who drew a young nanny into their inner circle.
Now an adult, Seraphine mourns the recent death of her father. While going through his belongings, she uncovers a family photograph that raises dangerous questions. It was taken on the day the twins were born, and in the photo, their mother, surrounded by her husband and her young son, is beautifully dressed, smiling serenely, and holding just one baby.
Who is the child and what really happened that day?
One person knows the truth, if only Seraphine can find her.
LISTEN TO AN EXCERPT:
MY REVIEW:

The Au Pair by Emma Rous
My rating: 5 of 5 stars
The Au Pair by Emma Rous is a 2019 Berkley Books publication.
A wickedly dark, wildly entertaining, mesmerizing tale!
Seraphine Mayes is mourning the untimely death of her father, who died in a freak accident. Staying on at her family's summer home, she is going through her father's things, when she finds a photo of her mother taken on the day she committed suicide by throwing herself off a cliff. But, what strikes her as odd, is that her mother had just given birth to twins- Seraphine and her brother Danny- when the photo was snapped. However, her mother is only holding one baby.
At the edge of the photo is a woman, later identified as 'Laura', the au pair, who had been hired to care for Seraphine's older brother, at the time.
Why is there only one baby in the photo? Which baby is in the picture? Is it Seraphine or Danny?
With no one willing, or able, to answer her questions, Seraphine goes in search of the only other adult present that day who can provide her with answers- the Au Pair.
This is a bizarre, twisted family saga filled to the brim with secrets, misconceptions, coverups, and deceptions. The atmosphere drew me it immediately, as did the stylish blend of noir mixed with contemporary Gothic. The dual timeline is the perfect format for this type of story, with Laura narrating events from the past, and Seraphine providing the present -day narrative. The past and present slowly converges with ripples of shockwaves building to a massive eruption, leaving every single character-and the reader- shaken to the core.
There's plenty to chew on if one wishes to delve into the psychology of the story, which is deeper than it may appear. Seraphine, especially, has specific fears which drive her to obsessively seek proof of her heritage and identity. The folklore tales of "Sprites" and the rumor of a family curse only heightens Seraphine's paranoia. The many revelations and mind-bending twists, however, are jaw-droppingly entertaining.
This book has been compared to the V.C. Andrews' style of shocking Gothic family theatrics by some editorial reviewers, as well as to Kate Morton, who famously combines the past with the present, and adds a Gothic flavor to her stories, as well. Initially, I scoffed at such a notion, but strange as it sounds, the two styles do complement one another. So, I'm going to concur. However, I think this book can be enjoyed in a variety of ways. It is historical fiction, a domestic family drama, and a suspenseful mystery. Also, if you are a fan of Gothic novels, old or new, or if you like a story with a 'noir-ish' atmosphere, this book is one you might want to consider.
Overall, this is my kind of book! A gripping, spellbinding tale and a very impressive debut by Emma Rous!
View all my reviews




GRAB A COPY HERE:

https://www.amazon.com/Au-Pair-Emma-Rous-ebook/dp/B07C6HF9MG/

https://www.amazon.com/The-Au-Pair/dp/B07MGK1FR9/

https://www.barnesandnoble.com/w/the-au-pair-emma-rous/1128509276



ABOUT THE AUTHOR:




Emma Rous grew up in England, Indonesia, Kuwait, Portugal and Fiji, and from a young age she had two ambitions: to write stories, and to look after animals. She studied veterinary medicine and zoology at the University of Cambridge, and worked as a veterinary surgeon for eighteen years before starting to write fiction. Emma lives in Cambridgeshire, England, with her husband and three sons.
The Au Pair is her first novel. It will be published in eleven countries, in ten languages. She is currently writing her second book.
She can be found on Facebook at 
https://www.facebook.com/EmmaRousAuthor/
and on instagram as emmarousauthor.