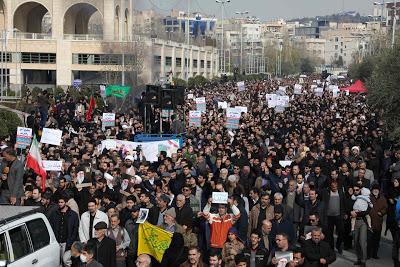 Demonstration in Tehran Over U.S. Assassination of Qassim Suleimani
On Friday, an American drone fired missiles into a convoy leaving the Baghdad airport and killed Maj. Gen.
Qassim Suleimani
, who for decades has led Iran's
Quds Force
of the Islamic Revolutionary Guards Corps. Several officials from Iraqi militias were also killed.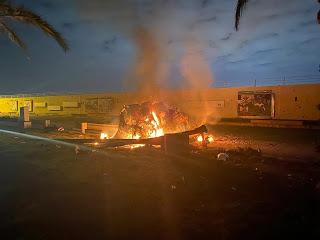 President Donald Trump, speaking from his Mar-a-Lago resort, said,"Suleimani was plotting imminent and sinister attacks…" He did not provide any details or evidence of such. Given the President's propensity for lying, the credence of Trump's rationale can certainly be questioned.
Suleimani was definitely an enemy of America, but George W Bush and Barack Obama both had opportunities to take him out
and chose not to
because the benefit was largely symbolic and the cost was largely unknowable. Of course, neither Bush nor Obama were facing an impeachment trial in the U.S. Senate.
What the general public is missing in all the "Sturm and Drang" over impeachment is the detrimental impact Trump's global actions — self-serving, ill-considered, or simply impetuous — have on American interests and on American lives. This is particularly true of this latest precipitous act.
The assassination of a revered Iranian leader undermines Iranian elements seeking regime change. It encourages Iran's
accelerated development of a nuclear arsenal
. Because it was carried out on Iraqi soil, it forces Iraqi's leaders to demand the removal of U.S. forces, opening the divided country to further Iranian and Russian influence. And it effectively neuters our NATO allies. Also, although unlikely to be discussed by authoritative sources, it very likely
compromised significant elements of U.S. national technical means
, if not HUMINT against Iran.
People have asked whether this action will lead to an American war in Middle East. My answer is, "Where the hell have you been for the last six decades!"*
_____________________________
 *
The July 1958 Marine landing in Beirut, Lebanon
began the modern era of America's wars in the region.