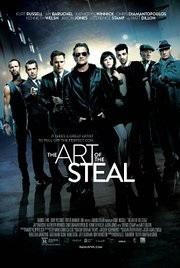 Director: Jonathan Sobol
Writer: Jonathan Sobol (Screenplay)
Starring: Kurt Russell, Matt Dillon, Jay Baruchel, Kenneth Welsh, Chris Diamantopoulos, Katheryn Winnick, Jason Jones, Terence Stamp, Devon Bostick
Plot: Crunch Calhoun, a semi-reformed art thief, agrees to get his old gang back together to pull off one last heist.
There may be spoilers the rest of the review
Verdict: Slick Heist Film
Story: The Art of the Steal starts as we learn that Crunch Calhoun (Russell) a master thieve that has given up the work after being caught on his last job with his half-brother Nicky (Dillon) left him in a prison. Crunch has moved on with his life taking Francie Tobin (Baruchel) under his wing.
When Crunch learns Nicky is back in the country he decides to go back into the business with his Uncle Paddy (Welsh) and Nicky to complete one more job. The question remains can the two work together to get this job done even with Interpol watching their every move.
The Art of the Steal is a heist movie that you can't really get into too much detail without giving too much away. We do get a heist story unfold while dealing with personal issues and this is a film that gives you every single plot point through the story you just need to watch out for them all. Everything comes off very slick and does what a good con does distracts from what is really going on.
Actor Review
Kurt Russell: Crunch Calhoun is a retired art thief that after being betrayed by his own half-brother. Released from prison he is struggling to make ends meet he finds himself getting his team back together for one final job even working with Nicky one more time. Kurt is good in this role having a lot of fun for this film.
Matt Dillon: Nicky Calhoun is the half-brother of Crunch who can talk his way out of anything even though he finds himself facing the choice of prison or just let his brother take the fall. When he returns to Canada he works with his brother one last time to make the biggest score of their careers. Matt is good in this role playing a opposite to Kurt.
Jay Baruchel: Francie Tobin is the apprentice of Crunch who ends up working with the brothers on the latest job where he gets a chance to learn from the best. Jay struggles to fit in with the rest of the cast in this role.
Kenneth Welsh: 'Uncle' Paddy MacCarthy is the wise expert with the connection the brother's turn to when they have stolen the art. He is wise cracking but loyal to the end to the boys. Kenneth is good in this role where we get plenty of laughs from his character.
Support Cast: The Art of the Steal has a small supporting with the highlight from Terrence Stamp has a fellow thief that has to help Interpol.
Director Review: Jonathan Sobol – Jonathan does give this everything you need in a heist film without putting that extra twist others might put in.
Comedy: The Art of the Steal has funny moments but a lot of the comedy feels very forced.
Crime: The Art of the Steal throws us into the world of art crimes going on with twists along the way.
Settings: The Art of the Steal doesn't have the best uses of settings with most just being generic without making any scene over memorable.
Suggestion: The Art of the Steal is one I would say to try but just don't expect an Ocean's Eleven level of film. (Try It)
Best Part: Terrence Stamp is very funny.
Worst Part: Slightly too short.
Believability: No
Chances of Tears: No
Chances of Sequel: No
Post Credits Scene: No
Similar Too: Now You See Me
Oscar Chances: No
Runtime: 1 Hour 30 Minutes
Tagline: It takes a great artist to pull off the perfect con
Overall: Stylish crime film that just doesn't reach the heights of fellow films in the genre.
Rating