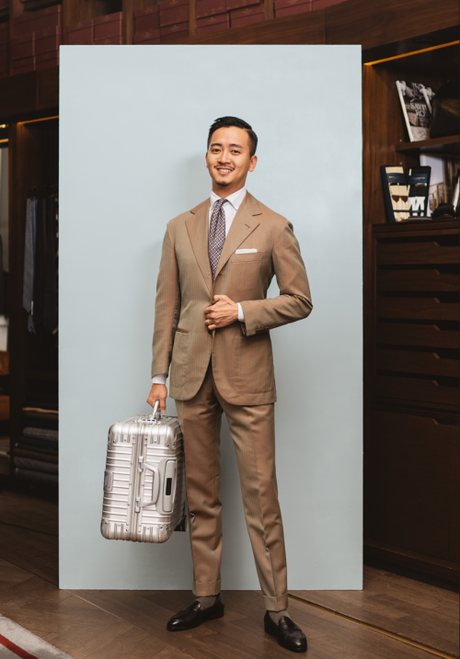 Lookbooks don't always have to be instructive. Especially for casualwear brands, they're more often than not meant to serve as style inspiration – showing the idea or spirit behind a collection, rather than telling you how to wear something. 
For the last year, however, The Armoury has been putting together seasonal presentations that feel both fun and grounded. Even if the looks are at times a little bold, many can be tweaked here and there to fit modern life. Last season, they did something in conjunction with illustrator Fei Wang (aka Mr. Slowboy). This season, they shot something inside one of their Hong Kong stores. 
There are lots of great takeaways here. The main one is how easily a suit or sport coat can be dressed down with a pair of slip-on shoes, whether they're tassel loafers, penny loafers, or those Belgian-esque styles from Baudoin and Lange. Similarly, just like how tweed sport coats can be worn with the right pair of jeans in the winter months (I like Drake's for these purposes), you can do the same thing with linen jackets on warmer days. The one below from Ring Jacket is cut a little trimmer and softer, which makes it easier to bridge the gap in formality between tailored clothing and denim.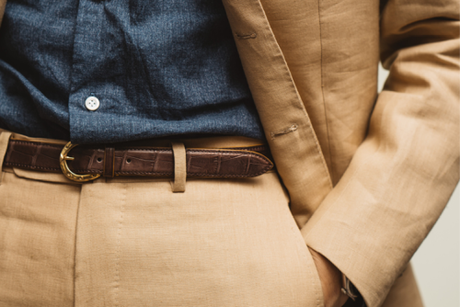 Unique accessories go a long way. I like how The Armoury's team is wearing slightly more interesting ties – things that are different from your typical Macclesfield prints, but still tasteful. Additionally, colorful, spring scarves can be a nice way to fill up the v-space around your chest when you're not wearing a four-in-hand. And if you can afford one, something like this alligator belt can look tremendous with casual, tailored clothing. The unique buckle really adds to the look, I think. 
I also like how one of the guys uses a darker blue shirt to anchor a tan linen suit. A light blue or striped shirt here would work just as well, but denim adds a complementary, casual touch, while at the same time turning the jacket into a visual frame. Similarly, Mark Cho demonstrates how great you can look in more daring colors, such as that travel jacket made from a chalky pink, slubby woven fabric. The peach colored sweater shows how you sometimes have to go all-in with these things. 
My favorite look: the one above worn by Alan See. A bespoke Solaro suit from Liverano & Liverano, worn with a unique tie, white shirt, neatly folded pocket square, and pair of Carmina lizard skin loafers. Just the right balance between having a bit of visual interest here and there, while also retaining a sense of conservative taste and harmony. 
(photos via The Armoury)