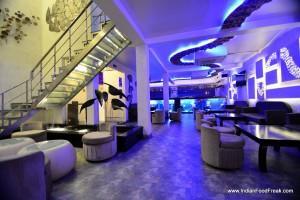 Interiors
When I am invited to the Aquarium, a one-month-old multi level lounge bar and restaurant located at the popular South Delhi hub of GK 2 N Block market, I am intrigued. I wonder – will I be under-water? Or will they feed me fish? When I reach the restaurant, all the questions in my mind are partly answered. The Aquarium is fitted with vertical gardens and uses water, in various forms. As I climb up the floors of this multi level eatery, water tinkles under the glass staircase. While the lower floor is very blue, the upper deck has natural lighting. I am welcomed by architect-designer cum restaurateur Ekansh Bansal, who owns and runs the place, apart from having designed it.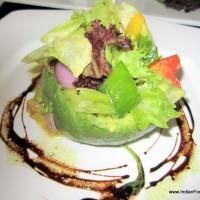 Avocado Salad
As we sit down and I go through the elaborate menu featuring six different cuisines from the world, I ask Ekansh about his restaurant. He explains that it is a three-level lounge includes indoor and outdoor seating for guests, a vibrant aquarium bar, a live entertainment space that will give the unique, local music scene a new arena for live music. This very evening they were having a popular Sufi night with two DJs.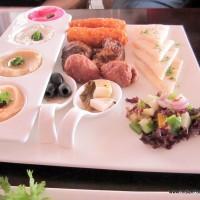 Mezze Platter
The food menu is diverse and I decide to try out a bit of everything. I start with veg Laksa (Rs 195), the Peranakan coconut flavored soup with the touch of lemon grass and ginger flower. The soup is a pleasant start, though I miss the taste of the sea which the non-veg version has. Prawn Chermoula (Rs 395) is prawns marinated in an Indian version of spicy and tangy Chermoula marinade which is normally used in Moroccan cooking. The dish is perfectly cooked and most enjoyable.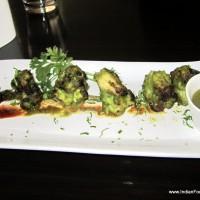 Prawn Chermoula
The mezze platter (Rs 375) has an assortment of dips, falafel, sambousek, salad fish & pita. Everything is made competently, though I would have preferred a chunkier babaghanoush. The undisputed heroes of this platter are the sambousek and the fish, both of whom are delicious. Another addictive dish is Thai corn cakes (Rs 345) which have been flavoured with lemon leaves, deep fried and served topped with mango salsa. Enslate De Aguacate (Rs 295) is a Mexican fresh avacado salad dressed with lemon vinaigrette which captivates the heart with its fresh, perfectly ripened avocado flesh.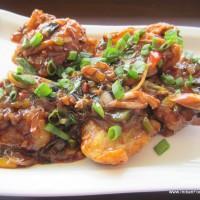 Thai Rock Fish
Some dishes do need fine tuning. Thearo Mushroom (Rs 345) flavored with wine and herbs along with goat cheese, pesto and balsamic reduction is over salted and does not provide a clear flavor profile. Pepperoni, Bacon and goat cheese pizza (Rs 425) disappoints with its bready base, and the minced lamb filling in the tacos (Rs 375) is too much and not seasoned enough. The brittle tacos break under the lavish helping of the mince, making quite a mess in the hand.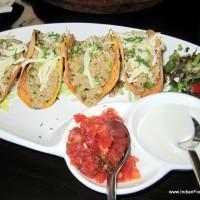 Enslate De Aguacate
Two dishes suffer from a bit of identity crisis. Thai Rock Fish (Rs 375) is not Thai enough. In fact the overuse of Soy sauce makes it go a trifle bitter. Udon Noodles (Rs 425) have been over boiled and cooked in an Indian Hakka style, thereby not doing justice to the beauty of these Japanese noodles.
Apart from these few hiccups, which are bound to be there in the first month of operation, the food at the Aquarium is uniformly good. The place shows clear promise, and I am sure the young, energetic Ekansh Bansal has got many tricks up his sleeve.
Restaurant Ratings (out of 5):
Food: 3.5 | Ambience: 4.0 | Service: 3.5 | Overall: 3.5
Meal for two: Rs. 1500 | Alcohol: Yes | Credit Card: Yes | Home Delivery: No
Address: The Aquarium Lounge, M-79, Greater Kailash II M Block market, New Delhi | Telephone: 011 33036753|