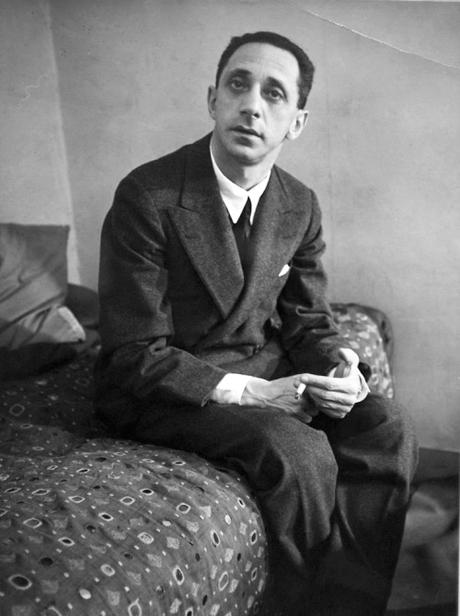 There's something fascinating about people who've committed themselves to a personal uniform – a tightly edited look they wear no matter the occasion. Think of Steve Jobs in his mid-blue jeans and finely knitted black turtlenecks, or Tom Wolfe in those dandy all-white suits, white ties, and two-tone shoes. Then there's Karl Lagerfeld, who's fashioned for himself one of the more unusual ensembles. His seemingly powdered, frosty white hair – which he wears tightly pulled back into a ponytail – is paired with austere black tailoring, impenetrable sunglasses, and high-collared, starched white shirts (he supposedly owns 1,800 of those same shirts, each custom tailored for him by the Paris branch of Hilditch & Key). A few years ago, an interviewer from Elle Magazine asked Lagerfeld if she could see him without his shades. He answered: "There are perhaps a few ambitions one should not satisfy in life, so as not to be disappointed."
In some ways, the personal uniform has never seemed more anti-modern. In an age where most of us revel in having choices, the idea of limiting yourself to just a few items seems weirdly monastic. Robert Muller only wears white dress shirts and demands the same of anyone working for him. There are stories of FBI agents, who had to brief Mueller in the morning, scurrying out the night before to get the right clothes. Similarly, Bill Cunningham is famous for having only worn a battered French chore coat and straight-cut khakis for much of his life, and President Obama once famously said he only wears navy and gray suits. "I'm trying to pare down decisions," he said. "I don't want to make decisions about what I'm eating or wearing because I have too many other decisions to make." Some call this decision fatigue. 
On the other hand, having purposefully cultivated a personal uniform also seems like a uniquely modern concern. A hundred years ago, people's dress choices were tightly prescribed by time, place, and social mores. Country clothes were worn in the country, city clothes in the city, and rarely did the two mix. As dress codes have broken down, clothes in some ways have taken on more meaning. Choosing an outfit today requires answering some very personal questions. Who am I? Who do I wish to be? What do I want to express? The idea of having a distilled uniform can be alluring because it suggests we can actually answer those questions. That there is, in fact, some stable and true sense of self to be expressed.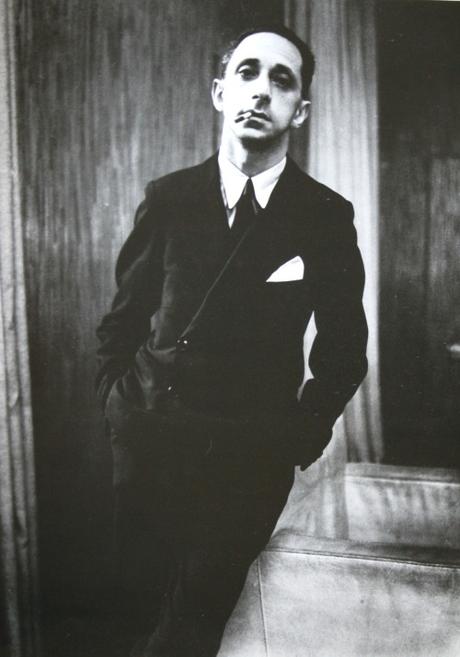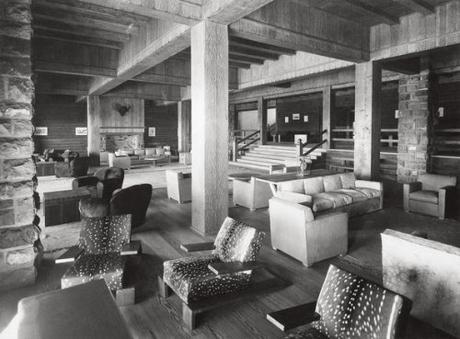 I've never been interested in developing a personal uniform – I'm much too interested in clothes and too haunted by this episode of Seinfeld, where Jerry goes on a date with a woman who wears the same dress all the time – but I'm fascinated by people who are so committed. And while the previously mentioned examples are charming, few strike me as stylish as Jean-Michel Frank. 
Jean-Michel Frank lived a short life, having committed suicide at age 46, but during his brief time, he became one of the most influential interior designers of the last century. A pioneer in minimalism, Frank was known for his plain-lined but sumptuous furniture made from luxurious materials such as mother-of-pearl, shagreen, and leather. For example, here's a striking oakwood armchair upholstered in doe-hide that he designed for a hotel in Patagonia (his work was famous among wealthy elites in Argentina, who would often visit Paris, where Frank was based). He also designed a special collection for Hermes in 1924, which was re-released by the French luxury house. Included was a club chair made from sheepskin, a rye-straw marquetry screen, and a parchment covered dressing table. 
Frank's love for simplicity extended to his wardrobe. It's said he owned over forty of the same exact gray flannel suit. Each was double-breasted with a four-on-two buttoning configuration (four buttons, two for fastening), and made with a long peak lapel line and no ticket pocket (for the sake of simplicity, we can assume). The lapels were cut relatively straight, rather than curved with a belly. The chest was clean, the shoulders soft, and the upper arms a touch full. The result was a silhouette that allowed Frank to look relaxed and comfortable, but also gave him a great elegance. 
For me, Frank stands out because I think personal uniforms ought to be interesting. Rather than the anonymous light-blue dress shirt and plain front chinos many men wear today – which technically constitute a uniform – Frank fashioned together a striking double-breasted coat-and-tie ensemble with an elongated lapel line. In a 1938 issue of Harper's Bazaar, the interior designer was quoted as saying, "Throw out and keep throwing out. Elegance means elimination." He seems to have done this in both his work and wardrobe, paring things down to their most essential forms – and making sure that what was done, was done exceptionally well.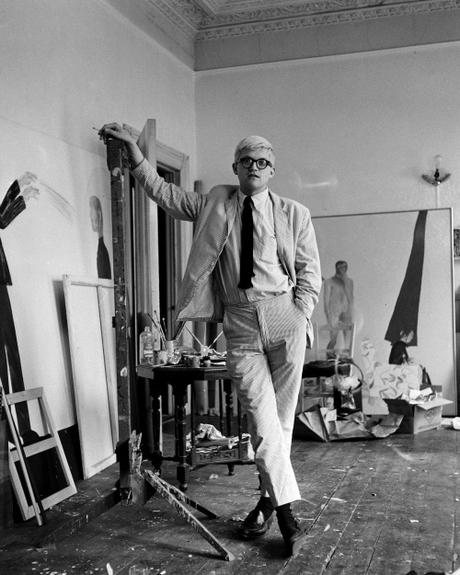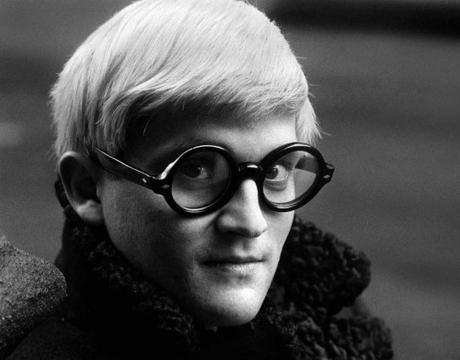 Few men today will ever own forty of the same suit, let alone rely on them for their daily wear, but the idea of a personal uniform needn't be so narrow. David Hockney, for example, was known for his bleach-blond bowl-cut hairstyle and unusually thrown together ensembles – wide-legged trousers worn with unpressed shirts, block-striped rugbys, and baggy cable knitwear sweaters. It was his accessories, however, that defined his style. Hockney often wore mismatched socks, polka dot scarves, and thick rimmed, all-black, circular frames that looked like mini-magnifying glasses. 
Then there was Johnny Cash, who once sang about how he wears his sombre-toned outfits for "the poor and the beaten down, livin' in the hopeless, hungry side of town." And while that may have been true, the decision to wear all black was not originally his; it was his tailor's. At the time, Cash got his clothes from a Nashville-based Mexican clothier named Manuel, who was responsible for outfitting the likes of Hank Williams, Bob Dylan, and Little Richard. "I do for artists what they need, not what they think they need," Manuel once explained in an interview. And for Cash, Manuel delivered nine custom-made outfits, each one made from black fabric. Manuel recalled:
Johnny Cash was so surprised. He said, "Brother, how come they're all black?" I started kidding with him. I said "There was a special on black fabric." I told him, "I think you're the man in black. You should wear this color. It's your vibe, it's your aura. Something tells me you should wear this color. He said, "OK, I'll try it."
Cash ended up wearing his all-black outfits religiously, pairing his black trousers with black tailored jackets, black Western shirts, and black cowboy boots. After receiving his first set of clothes, he returned to Manuel weekly for new custom-tailored outfits. But he never again questioned the color.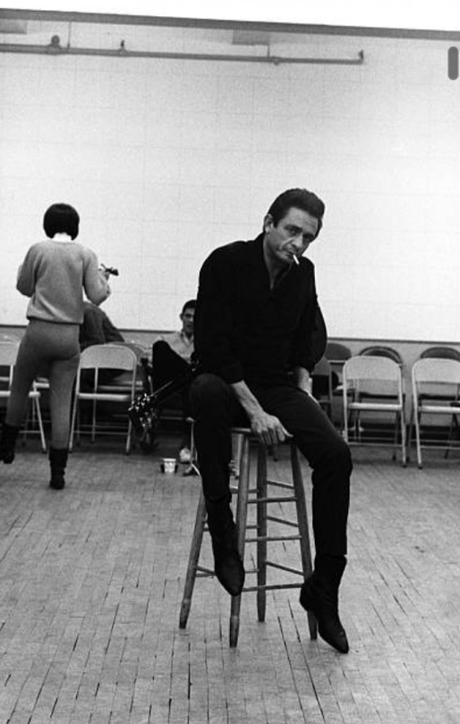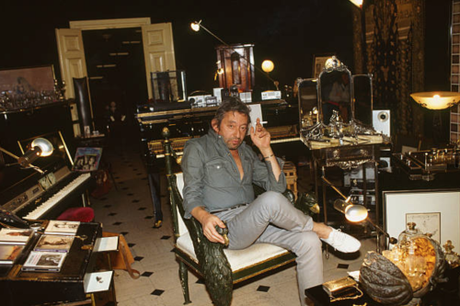 Often looked over, but no less stylish, is Serge Gainsbourg. The handsome, scruffily dressed singer was often photographed wearing modish suits, trim cut trousers, and crumply collarless dress shirts. Gainsbourg always wore his clothes in that artful déshabillé way that suggested he had just rolled out of bed, which gave his style a sense of alluring sexiness, but it was his choice in footwear that gave him a personal signature. The French singer mostly wore white leather Repetto jazz shoes throughout most of his life. His girlfriend Jane Birkin bought him his first pair, and he found the soft, unlined construction to be ideal for his sensitive feet. Gainsbourg loved them so much that he paired them with everything from chalkstriped suits to casual denim jackets – and always looked great. Supposedly, the man went through thirty pairs a year (the thin soles aren't great for walking outdoors). 
There's something admirable, even if a little odd, about wearing the same suits, accessories, and color all the time. And while we all can't reach such towering levels of eccentricity, I like Eric Kvatek for more relatable style inspiration. Kvatek is the talented photographer behind some of my favorite fashion lookbooks, such as the ones from 45rpm and Kapital. And in many ways, he reminds me of some of my more stylish friends in real life – ruggedly handsome men who wear thrifted clothes and workwear in a way that feels natural to their lifestyles, rather than lifted from an internet page. 
Kvatek's sense of style is unfailingly consistent. He relies on boot-cut, raw denim jeans from RRL (a model that's unfortunately no longer made, but were once the personal favorite of Ralph Lauren himself). Shoes are suede pull-on ropers from Red Wing; jacket is a simple Levi's denim trucker, presumably thrifted; and t-shirts are typically vintage Harley Davidsons. Sometimes he wears a Kapital camo-denim jacket as a mid-layer, but that's as complicated as it gets. The uniform is simple, easy-to-wear, and relatively affordable. And much like a navy sport coat worn with gray trousers, it's classic and understated enough to repeat for daily use. Plus, workwear inspired outfits only get better with age. And I suppose if you're going to distill your look to just a few pieces, that ought to be a requirement.