I don't usually have much to say about Baltimore events here, but I've recently received an email from The Family Tree, that looks like a fun thing to do if you're in the area. Here's some information from their site:
The Family Tree is Maryland's leading non-profit organization dedicated to improving our community by providing families with proven solutions to prevent child abuse and neglect.




A national affiliate of Parents Anonymous®, Prevent Child Abuse America, and The National Exchange Club Foundation, The Family Tree offers volunteer-supported programs and services that aide and educate individuals, families, and communities.
Seems like a no-brainer, and if anyone is around, I hope to see you at the Baltimore YMCA on October 27, for the annual Walk for Maryland's Children & Family Fair. I'll be the one carrying two children for 5 kilometers.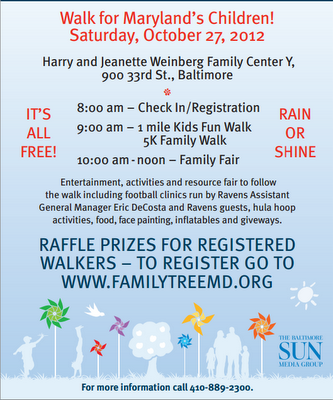 Actually, although I've signed up for the 5K walk, I might downgrade to the one mile walk, because really, there's no way I'm carrying two kids for an hour, even though the 5K looks like the scenic route...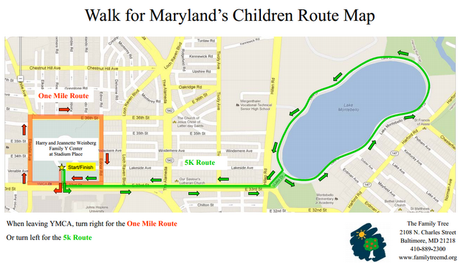 Here's some more information from the organizers about what seems like an awesome day. Hope to see you there with your families:
Immediately following the walk, at 10:00am, participants can enjoy the Family Fair. Ravens Fans - Join Ravens Assistant General Manager Eric DeCosta and Ravens guests for free football clinics. Bring the whole family out for arts and crafts, face painting, free t-shirts, obstacle courses, musical entertainment, activities, games, giveways and free breakfast. Register online to be eligible to win great prizes including an ipod and raven's tickets!! http://www.familytreemd.org/walk-for-mds-children/register-as-an-individual/
---