Recently I got to take a kick ass after hours tour of the Anchor Steam Brewery in San Francisco, CA due to placing in a sales contest at work. See waiting tables has it's perks sometimes!!! The tour was great and our host was super informative and I thought I'd share some of that with you guys!
First, a little about Anchor Steam's history. They can trace their roots back to 1849, when Gottleib Breckle arrived in SF during the Gold Rush. In 1871 he purchased a billards saloon that would be changed into the future brewery. In 1896 the name officially changed to Anchor with new owners and for many years and many ups and downs Anchor brewed its steam beer until prohibition. After prohibition Anchor struggled in competition with the more popular light beers of the era. It wasn't until 1965 that Anchor was saved from closing by Fritz Maytag that the brewery finally began it's upswing. By 1971 the brewery was leading in the craft brewing renaissance and in 1977 moved to the home of the current location on Mariposa Street. Anchor Steam is also home to Anchor Distilling, where Old Potrero Rye and Junipero Gin are distilled in traditional fashion.
http://www.anchorbrewing.com/brewery/our_history
This is what you find after you are let in a side door and led up a few flights of stairs an amazing tasting bar!! Here is where the tour starts and you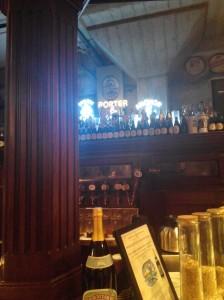 are offered the change to taster every single Anchor Steam beer in circulation. My favorite was the California Lager, Big Leaf Maple was a close second. Honestly though we drank a lot of great beer! During this time our guide explained the history of the brewery and gave a brief description of each beer we were tasting.
After the tasting session we were led onto the brewing floor, immediately greeted by these huge copper brew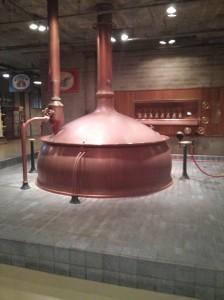 kettles where the wort and hops boil and brew together. At the time we were there they were just adding a new batch so it was hot and steamy inside one of them. I took a pic of the inside of the other, the smell was less than enjoyable.
After that we were walked down a hall directly next to their lab and these huge vats of beer fermenting!! They looked like olympic swimming pools!!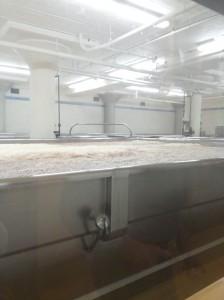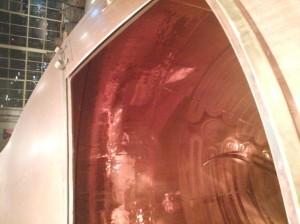 The hop room was also awesome, it had all the different hops Anchor uses in huge piles! The smell was insane!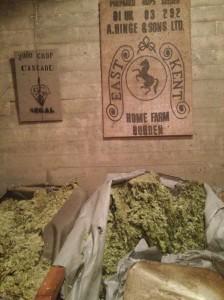 These hops pictured are East Kent Goldings native to East Kent, U.K. They impart a smooth, sweet flavor. The ones on the left are  Cascade hops developed in Oregon, has a moderate bitterness level and floral aroma. Very popular on the West Coast, used in lots of Pale Ale!
For future reference this tour is usually free if you make reservations in advance, it's highly entertaining, informative, and includes tastings of all their beers! I highly recommend it and our tour guide Jack was outstanding!
Here is a link to the Anchor Steam site if you are ever in San Francisco!
Thanks For Reading,
- Kristen, StuckServing.com