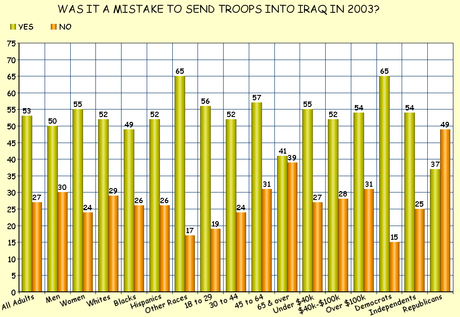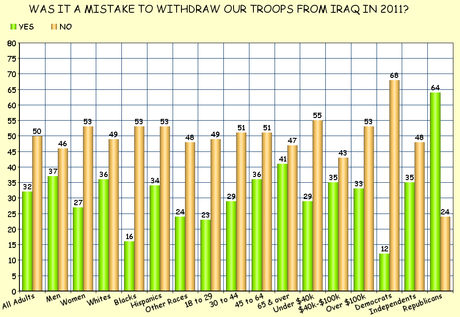 As readers of this blog will know, I never liked the Iraq War. I thought it was a mistake for Bush to invade and occupy Iraq -- and I berated Obama for taking three long years to get us out of that religious civil war. And while most Americans were initially fooled into thinking the invasion was necessary (thanks to the lies of Bush and Cheney), they now understand it was a bad mistake.
Note in the charts above, a majority of Americans (53% to 27%) now believe the invasion was a mistake. And when the demographic results are shown, every single group agrees with that -- except for the Republicans (who seem to be making a habit of holding positions in disagreement with the public's opinion).
And the same thing goes when people are asked whether withdrawing from Iraq was a mistake. A majority of the public says it was NOT a mistake to withdraw, and every demographic group (except, of course, the Republicans) agrees with that.
That makes me quite mystified that all of these groups (except Hispanics and young people) now say that the current bombing campaign in Iraq by the United States is not a mistake. I don't understand. How can the first engagement in Iraq be a mistake, but our re-engagement is not a mistake? Isn't this the same religious civil war? Do we have any friends on either side of this conflict? Isn't this new bombing campaign just going to make even more enemies for this countries (as more civilian casualties are created)?
I think a few years from now the public will understand that this re-engagement in Iraq's religious civil war was as big a mistake as our initial invasion (which started the whole thing). It's just sad that they can't see that right now.
These charts were made from a recent Economist / YouGov Poll -- conducted between August 9th and 11th of a random national sample of 1,000 adults, with a margin of error of about 4 points.