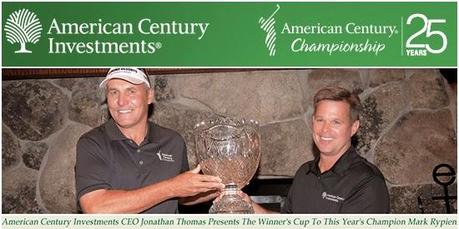 The American Century Championship took place this past weekend, celebrating it's 25th anniversary.  This years event brought together a powerhouse lineup of 80+ sports legends and celebrities to Edgewood Tahoe.  Returning participants in the 2014 tournament include Charles Barkley, Oscar de la Hoya, Aaron Rogers, Kevin Nealon, Ray Romano and Jack Wagner. They were also joined by several newcomers including  Rob Riggle (comedian), Terrell Davis (NFL) and Ricky Stenhouse (NASCAR).  In the end, it was retired NFL quarterback, Mark Rypien who came out victorious.
Although Rypien was the official winner of the tournament, the real winner of this event is not found in an individual golfer, but in the work done by the tournaments official national beneficiary, the Stowers Institute for Medical Research.  In honor of American Century Investments Founder James Stowers Jr., an investment management innovator and philanthropist who recently passed away at the age of 90, the official national beneficiary of the 2014 tournament is the Stowers Institute for Medical Research. The Institute was established in 1994 through the extraordinary generosity of cancer survivors Mr. Stowers and his wife, Virginia, who dedicated their personal fortune to improving human health through basic research.
It's inspiring the see the amazing things that are accomplished through the golf community, and the PGA Tour, which raises more money for charity than all other professional sports combined.  The American Century Championship is a great example of work being done through golf, and that in life, it's not always about 'what' we do, but 'why' we do it.  Each year, more than 40 percent of American Century Investments' profits are distributed to the Stowers Institute of Medical Research. Total dividend payments since 2000 now exceed $1 billion. Learn more about the American Century Investments' Profits with a Purpose.
Here's what some of the tournament participants had to say about the experience:
Charles Barkley on competing in the American Century Championship
 "
NBC, American Century, the people of South Lake Tahoe, it really is an amazing event. And I would love for everyone at home to come up here for the week. I get to meet some amazing guys. It is amazing to hang out with all of these celebrities. It is a fun week. When I set my schedule up in January, this is the first thing I put on my calendar
."
Chad Pfeifer on the experience competing in the American Century Championship for the first time
 "
It has been an amazing experience for me. An amazing opportunity for me to come out and not only test my golf skills against some really great golfers, but to have an awesome time meeting all of the celebrities and athletes that are here. It is so incredible to be here and be a part of this
."
NBA All-Star Stephen Curry discusses the American Century Championship, his favorite moments, the Profits with a Purpose mission and goals for the 25th anniversary...
Actor Alfonso Ribeiro discusses losing a loved one cancer and what finding cure would mean.
Additional links and resources:
BioMed Valley Discoveries
Stowers Institute for Medical Research
Profits with a Purpose
This post was created in partnership with American Century Investments. I have received compensation for this post. However, all thoughts and opinions are my own.