Learning a foreign language has lasting benefits to propose to learners, most especially for those young ones. To learn English Language is one of the most popular for many beginners. Therefore, since every language has its own grammar, phonetics, alphabets to familiarized, and various principles in constructing a sentence, a continuous study is advantage for young learners, knowing the scientific fact that children's mental capacity is much more active than adults. Here's the amazing fact about the advantage of young learner who's learning foreign languages.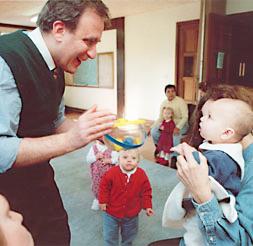 Francois Thibaut during a workshop at the Language Workshop For Children. (Photo credit: Francois Thibaut via Wikipedia)
5 years ago, there was a 4-year old American girl whose name was Azure Warrenfeltz who can understand multiple foreign languages such as Japanese, Spanish, German, Italian, Arabic, French, and Chinese Mandarin language too. It was truly amazing knowing a young girl, 4 years of age who's able to speak such languages.
"I'm smarter than my father. He can only speak one language. Muchas gracias!" Azure said playfully when she was interviewed by USAToday last 2007. According to Azure's mother, she started schooling her daughter when she was 6-week old. "I wanted to make sure she had every tool and every benefit at her disposal."
At the present globalize world, some situations entail the credibility of an individual being bilingual or multilingual. That's why Azure's parents insist her to study including foreign languages. This proves that young learners who are learning foreign languages make the process much easier than it is for adult learners. Whilst, some of the benefits that young learners may acquire as they are exposed to other languages develop them to get higher score on  standardized tests, they are observed as reliable problem solvers, they do better in their studies, and they are open to a variety of things in real life.
The Language Workshop for Children with 9 schools across the East Coast is run by François Thibaut, who is an established teacher for babies. Do you believe that he's teaching 6 months old babies? He started teaching 35 years ago, and you would expect that many would not want to believe his idea; however, in the current times, approximately 1 thousand students are enrolled kin his school and there are some more who are waiting on the lists. The demand of his school spread through out the place, which in fact, some expectant mothers call for reservation for their child in their tummy when they give birth soon.
This is a reality how advantage to teach and allow young learners to learn foreign languages. There's no need to learn English in Washington, or learn Chinese Mandarin in Beijing to accelerate the learning process because today, 6-month old babies are now welcome in language schools registration.