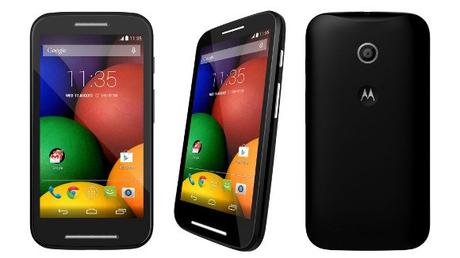 When last year Motorola launched in India, it was the first time when I saw journalists and bloggers cheer when the price of the device was announced. Moto E was not a premium device, but it packed in itself great value for its price. And not surprisingly, it ended up being one of the best-selling smartphones of 2014 in India.
And therefore, there was great excitement to see what the latest version of Moto E was about to bring. Well, if you too were waiting for the new Moto E, the good news is that it is now available in India and it is better and offers more value for the same price as old Moto E. The biggest difference between the old Moto E and the new Moto E is the addition of the front facing camera. The old Moto E had a lot to offer, but the absence of the front facing camera was felt to be a big minus factor. But now, even that has been taken care of. Another welcome change is that Moto E now has 8 GB internal storage. The old Moto E had only 4 GB. Moto E (2nd Gen) also has better battery and a slightly bigger screen.
The main reason why I like Moto E a lot is because it offers great specifications and features at a low price and also has the trust of being from a dependable brand like Motorola. Many other Indian and Chinese brands may also offer same specification at maybe even a lower price. But they can't provide the trust and durability that a Motorola device can. And that is one of the main reasons that Moto E proved to be the winner and might even have helped in setting the trend of high-specification devices coming at lower prices.
Talking about specifications, the Moto E (Second Gen) is equipped with Qualcomm® Snapdragon™ processor with a 1.2GHz quad-core CPU and 1 GB RAM. That is plenty of muscle power to help the device run smoothly and ensure a stable performance. Moto E (Second Gen) measures 66.8×129.9×12.3 mm and weighs 143 g. It has a nice 4.5-inch qHD TFT LCD display with 960 x 540 Pixels. The smartphone runs on latest Android v5 (Lollipop). And it being a Motorola device, the users can enjoy a pure Android experience without any bulky skin added on top. The old Moto E had 4 GB internal storage which posed a problem if the users wanted to install more than a few apps. But that problem has now been taken care of as the Second Gen Moto E comes with 8 GB of internal storage. And as 4.5 GB out of this 8 GB is available to the user (the rest being taken up by the system and pre-installed apps), the storage should be quite sufficient for most users. The smartphone is powered with 2390 mAh battery.
Overall, this means a swift and sturdy device capable of meeting all the basic smartphone needs of users.
The user experience is enhanced with the addition of premium Moto features like Moto Display for easier access to notifications and updates. Moto E (2nd Gen) also has Moto Migrate to help the user transfer important data like contacts, photos and videos from an old phone to the new Moto E.
The new Moto E has 5 MP rear camera and a 0.3 MP front camera. To enhance the user ease, the device allows the user to click a photo by touching anywhere on the screen. And if you are using the rear camera and then want to click a selfie, just twist your wrist. That will automatically switch the front camera on and you can easily take the selfie.
Another thing that I was happy to know was that the new Moto E has Front speakers. One never likes putting a touchscreen smartphone face-down. But as most smartphones have speakers at the back, the sound gets muffled when the device is put down with the screen facing up. There won't be any such problem in the new Moto E as its speakers are in front.
Moto E also has the personalized software experiences that were introduced with Moto X.
In terms of looks, Moto E (2nd Gen) has a softly curved design which makes it easier to hold and use. The display is protected with Corning Gorilla Glass for durability and has anti-smudge coating to prevent finger prints. And one can easily change the color of the smartphone using the interchangeable Motorola Bands and Grip Shells. Using these bands and shells a simple black or while smartphone can be instantly transformed into a cool turquoise or raspberry device. These bands and shells don't just look cool but also give the smartphone an added layer of protection from scrapes and spills.
Moto E (2nd gen) launched in India on 10th March, 2015. It is available exclusively on Flipkart for the price of INR 6999 till the stocks lasts.
Specifications and Price of Motoe E (2nd Gen)