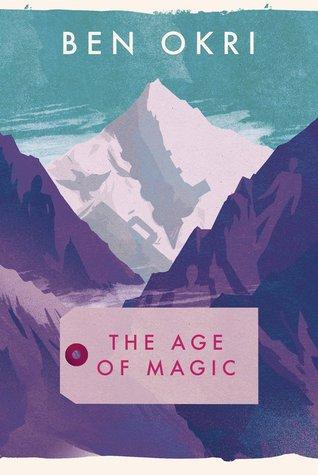 TITLE & AUTHOR: The Age of Magic by Ben Okri
PUBLISHER: Head of Zeus
EDITION: Hardback
RELEASE DATE: 6 November 2014 (first published 9 October 2014)
PAGES: 288
SOURCE: Library
AUTHOR TWITTER PAGE
WHAT'S IT'S ABOUT
This novel takes us on a journey, a magical, and a literal one. A tightly knit group of filmmakers travel from Paris together to make a documentary. Unknown to themselves they carry a lot of unwanted baggage - fear, anger, jealousy, love.
When they arrive in an idyllic Swiss village ringed by mountains and reflected in a lake, they discover a haunted world that will compel them to confront the demons they have been trying to escape.
A mind-blowingly beautiful book, full of unexpected, poetic and metaphysical revelations.
EXTRACT
Some things only become clear much later.
WHAT I THOUGHT
This is my first time reading the author. I don't know if I would read him again.
I was drawn to the book because of its size; a cute little pocket-sized hardback with a lovely cover. The blurb intrigued me so I decided to dive in. I read the book, every word on every page but I'm left with only the vaguest idea what it was about and a sad, empty feeling. The Age of Magic is clearly not for me. I feel like this book has no depth or substance, rather like an empty husk or a corpse picked clean. Don't get me wrong the writing is beautiful at times but ultimately flat and empty. The characters are all two-dimensional, flat, cardboard cut outs that made me feel nothing. There are also a lot of sections containing nothing but dialogue for pages which is a bit heavy-handed and pretty awful. The Age of Magic is just very cold and abstract and didn't do much for me. I really wouldn't recommend The Age of Magic to anyone and this has put me off reading more by this author.