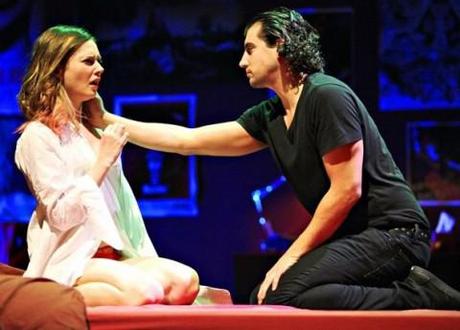 Annabella and Soranzon in Cheek By Jowl's Tis Pity She's a Whore. Publicity image.
There's nothing like a Jacobean tragedy for lust, incest, and hearts on sticks. Especially the latter. Cheek by Jowl's flabbergasting production of John Ford's Tis Pity She's a Whore,  at the Barbican's Silk Street Theatre, is an uber-tragedy, a slick, serpentine nightmare-machine where everything happens at a thousand miles an hour and under manic, bright strobeing lights. This is what would happen if you boiled tragedy down to its purest essence. It's what the witches make in their cauldrons in Macbeth.
The text has been sliced down to its bare bones – there is no bumptious suitor subplot here. Everything is focused on the affair between Annabella and her brother Giovanni. The stage represents many places at many times, but is always Annabella's bedroom, giving the impression that the whole thing is a sordid adolescent fever-dream draped in posters of True Blood.
Lydia Wilson's Annabella goes from sweet, iPod-bouncing ingenue through lustful demoness to final repentance with ease and poise, her presence always  balanced, and never, though she is often physically thrown about the stage, out of control – until, crucially, at the end. Her brother, Giovanni (Jack Gordon) has a fanaticism to his lust, convincing himself with philosophies and books that he is right, even in his most psychopathic moments. He strides around in a black t-shirt and ripped jeans, recalling Ben Wishaw in Hamlet; like a depraved, cut-price version of that delaying prince in his more vengeful moments.
The rest of the cast fit seamlessly into the nightmare. There is Soranzo (Jack Hawkins), seemingly a man of good reputation who is the best suitor to Annabella's hand, but in reality as corrupt and whimpering as anyone else. Putana (Lizzie Hopley) wins out as Annabella's conniving maid, playing her with all the world-weariness of an East End gangster's moll. No matter, says she, if a girl gets the fit upon her then father or brother – it's all one.
Characters remain on stage even when they are not there, or even when dead, acting as a weird kind of chorus, a set of Eumenides, sometimes in suits, sometimes barechested, dark ghostlings of a disturbed mind. The simple set has two doors – one that opens into freedom; and one that enters into a white tiled bathroom. If you go into that bathroom, you're not going to come out of it happy. Or even alive. This was perhaps the most effective thing about the production – that the goriest moments happened in that clinical room, thus heightening their power. There were some fine touches, as when Soranzo, trying to reconcile Annabella after he's found out she's pregnant with another's child, buys her baby clothes; or when a leather-clad man arrives suddenly to seduce the nurse Putana into giving away who the father is.
The play eschewed the final lines of Ford's text, which provide the title: "We shall have time / To talk at large of all; but never yet / Incest and murder have so strangely met. Of one so young, so rich in nature's store, / Who could not say, 'tis pity she's a whore?" In a production such as this, the rhymes would have been jangly; the nervous audience would have guffawed. Instead, we were left with Giovanni, spattered with his sister's blood, holding her heart in his hands as her ghost reaches towards him.
Whether manically dancing, or stylised into heaving piles of flesh that resembled paintings ('The Wreck of the Medusa" at one point; the Sacred Heart at another) the cast gave their all to it. This production was full of apocalyptic energy, of a decadent entropy that pulled everything out away from the centre, out of control, into chaos. We are lucky that we can turn the lights on, and escape from that crimson-tinged bedroom. We can flee the nightmare-machine – but only just.
This is an edited version of a review that first appeared on Philip Womack's  weblog