Well, the Oscars are this Sunday and I haven't put together my Oscar Ballot.  Mainly I am a wait to the last minute sort of guy, but also I wanted to try and catch a couple more Oscar films before making an informed decision.  So while I nailed the Golden Globes, I am hoping that magic will carry over to the Oscars and net me zero dollars since I am not betting in a pool of some kind.  But that shouldn't stop any of you from using my predictions as I like to think that I am good at knowing what Oscar bait films will win the crowd over.  Also I watch way too movies, so there is that going for me.  So I will start from the bottom, meaning the technical awards and then move on up to the big dogs of the evening.  Enjoy and good luck.  One more thing, there are a lot of categories, so I broke the post out into a few pages, so please click through from additional content.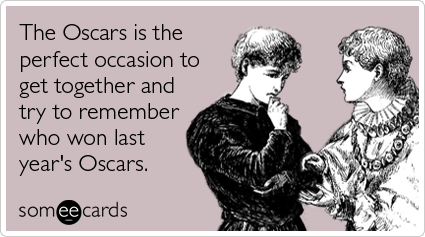 Visual Effects

"Harry Potter and the Deathly Hallows Part 2″
Tim Burke, David Vickery, Greg Butler and John Richardson
"Hugo"
Rob Legato, Joss Williams, Ben Grossmann and Alex Henning
"Real Steel"
Erik Nash, John Rosengrant, Dan Taylor and Swen Gillberg
"Rise of the Planet of the Apes"
Joe Letteri, Dan Lemmon, R. Christopher White and Daniel Barrett
"Transformers: Dark of the Moon"
Scott Farrar, Scott Benza, Matthew Butler and John Frazier
Well I never imagined that the box art for "Transformers 3" will now say, Oscar nominated, but by damn that visuals were impressive and eye melting.  It's hard to say which is going to get the award, mainly because Fox has been on a tear as of late to get Andy Serkis nominated for his work in "Rise of the Planet of the Apes", furthering the art of motion capture and ping pong ball suits.  "Real Steel" wasn't that great in terms of the visuals, but interesting none the less.  "Hugo" was inventive and magical, but Harry Potter has gone a long time without a solid win. 
Predicted Winner: Rise of the Planet of the Apes
Outside Shot: Transformers
Sound Mixing

"The Girl with the Dragon Tattoo"
David Parker, Michael Semanick, Ren Klyce and Bo Persson
"Hugo"
Tom Fleischman and John Midgley
"Moneyball"
Deb Adair, Ron Bochar, David Giammarco and Ed Novick
"Transformers: Dark of the Moon"
Greg P. Russell, Gary Summers, Jeffrey J. Haboush and Peter J. Devlin
"War Horse"
Gary Rydstrom, Andy Nelson, Tom Johnson and Stuart Wilson
Again, another toss up as the Academy has been all over the place with this selection.  I mean having Transformers win would be exciting as I get giddy over the sound of the Autobots rolling out and transforming.  It hits a certain childhood memory of  the show.  "The Girl with the Dragon Tattoo" would be interesting, given the general bleakness of the setting along with a solid score.  In the end though, I am leaning towards Hugo to give it a go with a solid mixing of ambiance and bustling sound of the busy train depot. 
Predicted Winner: Hugo
Outside Shot: Transformers
Sound Editing

"Drive" Lon Bender and Victor Ray Ennis
"The Girl with the Dragon Tattoo" Ren Klyce
"Hugo" Philip Stockton and Eugene Gearty
"Transformers: Dark of the Moon" Ethan Van der Ryn and Erik Aadahl
"War Horse" Richard Hymns and Gary Rydstrom
This is almost an insult to "Drive", not even one iota of love for this film other than a technical nomination.  I spit at thee.  Anyways, you might be wondering what the different between sound editing and mixing, so click this link to know more.  With that said, this is a wildcard as well since the past winners of this award have been stuff like "Pearl Harbor" and "U571″.  So keeping those items in mind, it wouldn't be outside the realm of possibility that Transformers could win, but I think that "Hugo" has the top honors of the evening and will probably take the win.  I wouldn't count out David Fincher's "The Girl with the Dragon Tattoo" getting their only win from this category.  Poor "War Horse" though, someone should put that shit horse movie to sleep. 
Predicted Winner: Hugo
Outside Shot:  Girl with the Dragon Tattoo
Makeup

"Albert Nobbs"
Martial Corneville, Lynn Johnston and Matthew W. Mungle
"Harry Potter and the Deathly Hallows Part 2″
Nick Dudman, Amanda Knight and Lisa Tomblin
"The Iron Lady"
Mark Coulier and J. Roy Helland
I can't believe that "The Iron Lady" is getting nominated for this category.  I mean I can't imagine it took a lot of time to get the British cast to look British.  Maybe period ere British, not 1980′s British.  I wouldn't put it past the Academy to give an award to "The Iron Lady" based on, well, nothing.  Also having "Albert Nobbs"…really?  I mean are they that hard up to give an award for making Glenn Close look like an old dude.  For shame.  I hope….I really hope that Harry Potter gets some recognition and takes this shit.
Predicted Winner:  Harry Potter and the Deathly Hallows Part 2
Outside shot in Hell: The Iron Lady
Costume Design

"Anonymous" Lisy Christl
"The Artist" Mark Bridges
"Hugo" Sandy Powell
"Jane Eyre" Michael O'Connor
"W.E." Arianne Phillips
This is pretty much a horse race with "W.E", "Jane Eyre", and "Anonymous" all vying for the puffy shirt and frilly dress category.  I don't think anything will set that apart from one another and so it comes down to the two prestige movies of the evening.  While "The Artist" might seem like the odds on favorite with all the buzz it has been getting and awards to boot, I think that the vibrant life of "Hugo" will steal the win.
Predicted Winner: Hugo
Outside Shot: The Artist
Art Direction

"The Artist"
Production Design: Laurence Bennett; Set Decoration: Robert Gould
"Harry Potter and the Deathly Hallows Part 2"
Production Design: Stuart Craig; Set Decoration: Stephenie McMillan
"Hugo"
Production Design: Dante Ferretti; Set Decoration: Francesca Lo Schiavo
"Midnight in Paris"
Production Design: Anne Seibel; Set Decoration: Hélène Dubreuil
"War Horse"
Production Design: Rick Carter; Set Decoration: Lee Sandales
I got to say, it is going to come down to "The Artist" and "Hugo" for the nomination.  While "War Horse" looked very pretty, that is all the movie had going for it.  Nothing really moved me in the art department, so I am comfortable ignoring the inclusion of the film.  "Midnight in Paris" is lovely as well with a fancy look at the French life there and is about art, I have to say that "Hugo" is prime to take the win with the Parisian Train Station.  That set took on a life of it's own and really became its own character.
Predicted Winner: Hugo
Outside Shot: The Artist
Cinematography

"The Artist" Guillaume Schiffman
"The Girl with the Dragon Tattoo" Jeff Cronenweth
"Hugo" Robert Richardson
"The Tree of Life" Emmanuel Lubezki
"War Horse" Janusz Kaminski
I want "The Tree of Life to win this award.  The film itself might have been a bit too pretentious and out there for a lot of people, but there is no denying the sheer beauty of that film.  From the forming of the galaxy down to the soft lit memories of a childhood past, Terrance Malick crafted one of the most captivating films this year.  Hugo might have a strong shot at taking it down with the ode to old cinema and progression of effects.  "The Girl with the Dragon Tattoo is just too surgical looking and clean to be able to have a strong shot.
Predicted Winner: The Tree of Life
Outside Shot: Hugo
Film Editing

"The Artist" Anne-Sophie Bion and Michel Hazanavicius
"The Descendants" Kevin Tent
"The Girl with the Dragon Tattoo" Kirk Baxter and Angus Wall
"Hugo" Thelma Schoonmaker
"Moneyball" Christopher Tellefsen
This will be a tough one, but I got to go with "The Artist".  Employing the same techniques from the era films that it is honoring, title cards, narrative cards, simple fades and cuts all bring a certain rhythmic cadence to the film to keep it going.  I won't for a second though count out either Scorsese and Fincher for a moment though, cause Fincher's films all have a certain clean cut and tight editing to the film, eliminating clutter and useless shots.
Well that covers some of the technical and art categories.  On the next page will cover some of the animated, documentary films and musical selections of the ballots.