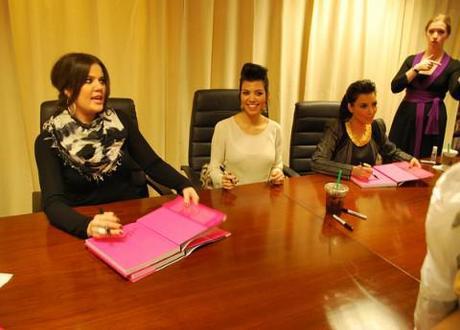 A trio of Kardashians in happier times. Photo credit: Faye Mous, http://flic.kr/p/8XnZLZ
This just in: romance is officially dead. Kim Kardashian has filed for divorce from husband Kris Humphries after 72 days of marriage. If a reality star famous for televising every aspect of her life can't make her multi-million-dollar-generating alleged hoax of a marriage work, what hope is there for the rest of us? Now, The Periscope Post brings you five more tales of short-lived celebrity unions. You're not alone, Kim. What's that you say? No, we're not crying; we just have something in our eyes.

Britney Spears. Former princess of pop Britney Spears managed a full 55 hours of marriage with childhood pal Jason Alexander. The fairytale wedding took place in a Las Vegas chapel, with the blushing bride in jeans and baseball cap. Sadly, the marriage was subsequently annulled. Nine months later, Britney married Kevin Federline, and they lived happily ever after. Well, until they divorced acrimoniously after two years.
Jennifer Lopez. Singer Jennifer Lopez married back-up dancer Cris Judd in 2001; they separated eight months later. J-Lo subsequently got engaged to lantern-jawed actor Ben Affleck, but the couple split before making it up the aisle. The American Idol judge recently announced that she and husband Marc Anthony are divorcing after seven years.
Currently trending on Twitter: #Thingslongerthankimsmarriage.
Drew Barrymore. Actress Drew Barrymore is no stranger to the short-lived marriage. Her first, to bartender Jeremy Thomas, lasted six weeks; her second, to comedian Tom Green, made it to the six-month mark.
Lisa Marie Presley. Elvis's daughter has apparently spent a lot of time in the heartbreak hotel. Her first marriage lasted six years; shortly after the divorce was finalised, Presley married Michael Jackson. Yes, that Michael Jackson. As rumours swirled about their relationship, Lisa Marie popped up in her husband's video for 'You Are Not Alone' and the couple appeared on stage at the 1994 MTV Music Awards. "Nobody thought this would last," said the Thriller singer, before pulling his bride in for a kiss. Actually, it didn't last: the couple divorced after 20 months. Presley went on to wed actor and Elvis fan Nicolas Cage; they split after 108 days.

Elizabeth Taylor. Hollywood legend Elizabeth Taylor would have been ideally placed to counsel Ms Kardashian, having gone through eight marriages to seven husbands. Her first, to Conrad "Nicky" Hilton, was also her shortest, lasting just nine months.