Most intimate relationships have a beginning, middle, and end. When you reach the end, is there a proper way to end a relationship? Do you think it depends on the type and length of the relationship? Should you end as friends, or should you end as enemies? Can an intimate connection morph into another kind of relationship, or should it just disappear as though it never happened?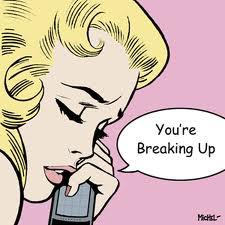 Experts endorse all kinds of rules for the termination of a relationship entered into by couples. Here's my take as a professional couples therapist. 
If a relationship occupied most of your time and energy and lasted a significant amount of time, say over two years, then it deserves a proper ending. 
Recently a friend shared with me that her boyfriend of more than two years called her while driving to work one day and simply said their relationship wasn't fair to her as he could only give her three percent of his time and energy.  And so, he decided, the relationship must end. 
Huh? 
Their entire conversation took a total of seven minutes. How do you think my friend felt hearing her boyfriend's words? Yep, she felt frustrated, blindsided, and very hurt.  She asked her boyfriend if they could meet to talk about this situation face to face and, if nothing else, say a proper good-bye. Was she wrong? 
It is my professional opinion if two people spent two years of their time, effort, and energy enjoying and being involved with each other, the relationship was a markedly significant event in their lives. Any break-up would need to be processed and discussed to learn from it and begin the grieving, then healing process. 
The injured party deserves honest answers to questions so she or he can move on with integrity and their self-worth firmly in place. When relationships end, there can be feelings of diminished self-worth, abandonment, and rejection. These feelings must be adequately processed to rebuild a positive sense of self. 
I think it is sad when the ending to a long term relationship cannot be appropriately handled, thus leaving the injured party with unanswered questions. 
What are your thoughts about this?