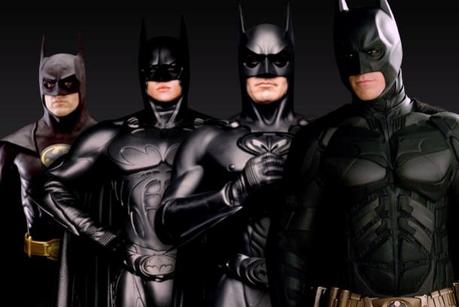 Batman has always been my favorite superhero/comic book based film series. The older ones and then Nolan's reboot was exactly what I wanted to see. I cannot really explain where, when and why my love for Batman started but it did and still exists. I still love the older films and bought the DVD box set years ago. Yes I do have a soft spot for Batman Forever and even slightly for Batman & Robin – yes I do realise that people are going to judge me for that but I remember seeing that film at the cinema just before my 10th birthday and let's face it I probably hadn't seen anything like that at the time. I know now it is so cheesy and just not in the same league as the other films but I cannot help but remember what it was like watching it for the first time in the cinema, it was exciting. I saw Batman Begins in the cinema on its release and the same with The Dark Knight, which I then saw another two times making that my record of three times for a film at the cinema. The Dark Knight Rises I attended a 5 am screening and will be heading back to the cinema this afternoon for a second viewing. It's not only Batman that I find myself loving but the villains are always so interesting and brilliant as well. The actors who have been in the films always seem to be spot on with it and create something really special to watch from start to finish.
Batman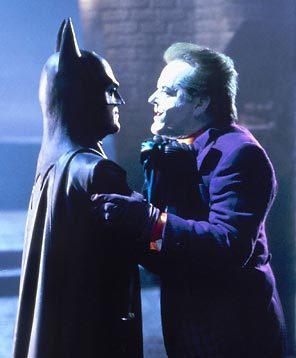 Tim Burton's first Batman along with Michael Keaton taking on the role of Bruce Wayne/Batman who comes up against Jack Nicholson's Joker. This film is very well-loved and I am one of the people who love this film. I have lost count of how many times I have seen it over the years, Nicholson is my favorite ever actor and he really is incredible in this role. The film let's us see how Batman got started and flashbacks to what happened when he was a child. One downside of this film has to be Kim Basinger screaming throughout, I mean there is no need for that whatsoever!
Batman Returns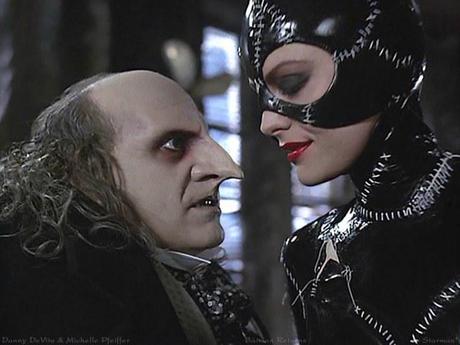 Burton, Keaton and Batman all return for another outing as the caped crusader. This time joined by DeVito as Penguin and Pfeiffer as Catwoman. Gotham City is once again in up roar and Batman must come to its rescue once again. This film is just as dark if not darker than Batman. I always remember finding the Penguin quite freaky when I was a youngster watching this film. I have always loved Catwoman and wanted to be Catwoman! Love the fight scenes she has with Batman just brilliant.
Batman Forever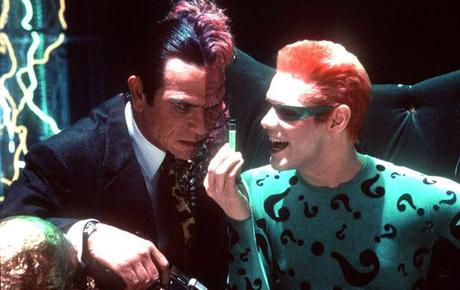 A new director and a new Batman this time Val Kilmer steps up to take the cape from Keaton. This film is not very dark at all and has a more humorous edge with Tommy Lee Jones as Two Face and Jim Carrey as the Riddler. Also the appearance of Robin in the end which is hinted at throughout the film. Kilmer isn't terrible as Batman but he isn't brilliant either. I always thought Lee Jones and Carrey carried off the characters so well and really in your face. Taking the darkness away which was created in the first two films. Making it much more of a popcorn film than the previous two installments.
Batman & Robin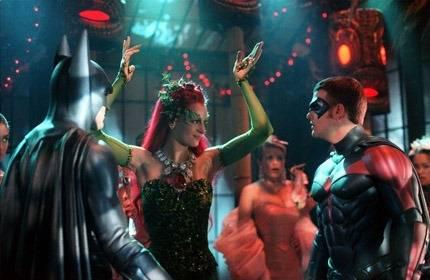 We have George Clooney is as the next Batman and this film is often talked about as one of the worst of all time. It is very cheesy and has some truly terrible moments which is such a shame with the cast they managed to pull in for what would be a very big budget film. But it see's the end of Batman for almost 10 years! It wasn't that bad was it? Well Batgirl at the end really doesn't help. Mr Freeze, Poison Ivy and Bane all appearing as the villans which could have worked out so very well but it isn't dark at all and some of the very corny lines make me shudder now. After I mentioned earlier that at the time of release and being a 9-year-old at the cinema I really did love this.
Batman Begins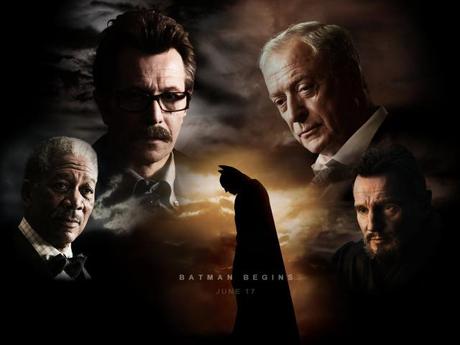 A reboot not a remake, Christopher Nolan takes on the direction and writing. Christian Bale is brought in as Batman along with an incredible cast including Sir Michael Caine as Alfred! Sounded like it was going to be amazing and it certainly didn't disappoint. It is dark, it builds up Bruce Wayne as a character and gives us a brilliant story to really get into from start to finish. Oh and Liam Neeson is the bad guy . . . Officer Gordon and his build up has to be my favorite start to the series, wasn't this guy the commissioner?
The Dark Knight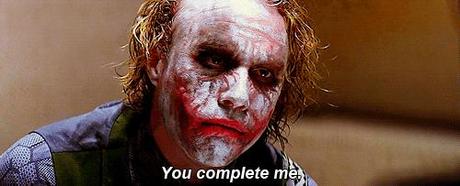 Now where to start with this film . . . Nolan was going to bring back the Joker and Heath Ledger had been cast. I can remember thinking this will not work when I first heard about that casting, I was upset as loved Nicholson in the original Batman. I am sure that was the general consensus on hearing of the casting. But weren't we all about to be blown away with one of the best ever on screen performances. Unfortunately Heath Ledger had passed away before the film was released and he never got to receive the praise he rightly deserved and pick up that Oscar. This Joker was sadistic and just wanted to see the world burn. Along with the addition of Harvey Dent who would become two face, this is an incredible film. Batman is put to an amazing test. I went to see this film three times at the cinema it really did blow me away. It's amazing and one of my all time favorites.
The Dark Knight Rises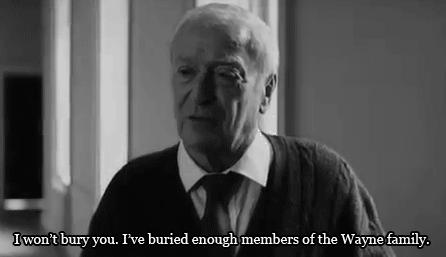 The epic conclusion to the epic trilogy. A 5am showing. High expectations. All of this was true, I had waited seen The Dark Knight for the next film and went on Friday morning at 5am. It was a crazy time to be sat in the cinema and it was an incredible experience. The film blew me away, Tom Hardy as Bane a brilliant performance. The surprise of how much screen time Joseph Gordon Levitt would get! The few twists and turns which I will not spoil as I did not see them coming. Bruce Wayne is pushed to his limits and we see the best performance from Bale in his time as Batman, but we could have done with him having much more screen time. Hathaway as Catwoman – although she is never actually called Catwoman loved her performance and costume which made her look like a cat without it being overkill.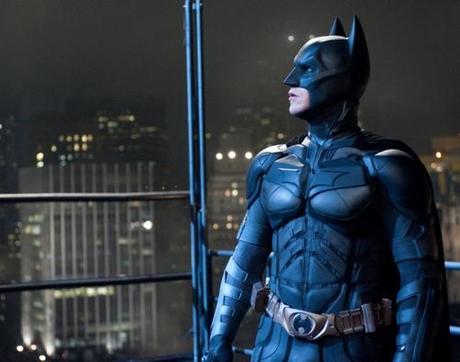 So for now Batman is finished . . . Well Nolan and Bale's are finished. But the ending of The Dark Knight Rises is very open and so many possibilities for another film or another series of films. Surely we still have plenty of films which can either be brought to the big screen or brought back to the big screen. What next for Batman?   I am not going to answer that right now, as that could be a massive blog post in it's own right! Watch this space . . .