Valentine's Day is most likely one of the most controversial holidays in the contemporary calendar. It's a tricky day, which creates many issues for many people. Some don't like it, but their partners do, others don't know, a segment of the population takes it very seriously and some oppose it with the very valid argument that there is no need for a special day to celebrate couples and love, but that this can be done anytime and all the time.
Indeed, it's odd to expect a certain day to celebrate your love, but sometimes, in the chaos of daily living, such a holiday is a welcome reminder, especially for those who need a refresh of their relationship. It's also an odd, but possibly useful opportunity for those who are desperately dating to show their interests and to connect with someone. February 14 th can also be a couple's holiday for those who, for various reasons, may not have a special day of their own. And, last, but certainly not least, San Van can be a fun occasion only if for the camp and kitsch of the holiday and the fun that it can bring.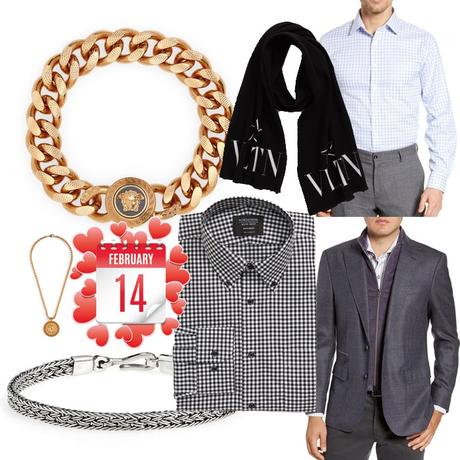 In terms of fashion, there are many ways in which you can dress up, depending on what you do on this mid-February day. The most common scenario though is a classic date at a semi-fancy restaurant, followed by a bar or a fun activity. In this sense, we recommend going for a simple, dressed-down business casual look. What this implies basically is a pair of dress or casual pants, a blazer, a dress shirt, which can be colorful or featuring prints and a few accessories such as bracelets, a watch and a belt. Wearing something like a tie or a bow tie may make it too uptight and serious, but ultimately you should wear whatever is fit for the occasion, the setting and your relationship to it and to the person you are meeting.
This being said, we always say that when in doubt, go for a complete classic suit!
Women have more options, as they can go for elegant evening dresses or for simple blazer and skirt suits if they wish to be more subtle.
V-Day gifts can go overdone and kitschy very fast. A red heart-shaped box of chocolates: it's a rather cliché gift, but it surely works for some. The general idea when buying gifts, regardless of whether they are for a man or a woman is to offer something that is suited to the relation you have with that person. Sometimes, gifts that may seem appropriate in one context, may not be right in another. For example, when you are meeting someone for the first time at their home, it may not be best to bring a bottle of wine, as the person may not drink. Of course, anything can go astray, so you don't really have to worry so much if things go wrong.
However, once you know someone rather well, offering something dynamic-appropriate is a golden rule that applies to any occasion. For example, you wouldn't offer a perfume to your boss, but you can offer it to your husband. Moreover, the cost of the gift is also important. You may bring flowers on a first date and a scarf on your fifth, but a $50,000 watch may seem more like an engagement ring than a normal gift.
Last, and certainly not least, the amount of gifts you offer is also important. Showering someone with presents may make them uncomfortable, especially if you are not extremely close to them. Some people may feel bad because they did not foresaw it and thus feel like they have not done enough, while others may simply feel overwhelmed and thus become uncomfortable because they are not sure what the real reasons behind all the gifts is.
In short, a gift should reflect three things: your relation to the giftee, the occasion and the point at which and the person are.
In the end, whatever your view of Valentine's Day may be, if you decide to celebrate it, the goal is for it to be a fun event and not a cause of stress. And in that sense, you may do almost whatever you want. Happy Valentine's!
Fraquoh and Franchomme
Further reading:
The Valentine's Day Rules
What Should a Man Wear on a Date
5 Ways to Get a Date for Valentine's Day
How to Dress to Impress on the First Date
9 Matching Couple Gifts that Your Partner Will Love
P.S. We want to hear from you! Do you celebrate Valentine's Day? Why? How do you celebrate it? Share your feedback, questions or thoughts in the comments below! For more articles on style, fashion tips and cultural insights, you can subscribe to Attire Club via e-mail or follow us on Facebook, Twitter or Instagram!