Halloween is a holiday that is no longer an Irish-American-Canadian festival, but an increasingly International holiday.
Around the world, more and more people celebrate Halloween with parties and get-togethers to celebrate... well, what they celebrate is a whole different story (the history behind Halloween is so complex and complicated that it would take too much even to sum up here).
Basically, for many people, Halloween is nothing but either a holiday where they get to dress up like on a carnival, or just a reason to have a costume party.
We focused on what a good Halloween costume is back a while ago and this time we will be focusing on Halloween style - the version without dressing up.
If you go to a Halloween party that does not necessarily imply costumes and dressing up as silly (and spooky characters), you might still want to convey the spirit of Halloween through your looks.
This can be achieved by wearing clothes that feature autumnal/Halloween-esque elements, but that are not too explicit and tautological. For example: a pumpkin tie is too explanatory and tautological - it basically says "I'm wearing a pumpkin on pumpkin fest" and that's not too subtle and elegant. On the other hand, wearing a tie that features an abstract orange-red motif is a choice that indicates that you are a man who can go beyond the surface of things and think in an abstract manner.
Basically a non-costume Halloween party has the same purpose as any other party: to have fun, make friends and maybe even meet someone to date. This is why, whatever your style: dressy or casual, you should make the best impression you can and you clothes are definitely a great tool to let others know who you are in a short time frame, as clothes speak in parallel to the wearer. And being dressed as a table won't make you seem very accessible.
Let's take a look at some outfit ideas that feature elements you can use as an inspiration for your own Halloween outfit. Not costume.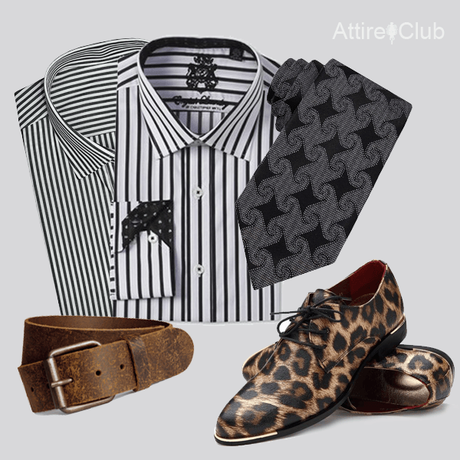 You can look dressy and polished and still express the Halloween spirit by wearing items that only point to the idea of Halloween, rather than expressing it in an obvious manner. For example, a pair of shoes that feature an animal print is a way to show your wild side without having to make a spectacle of yourself. Moreover, such a pair of shoes is something one doesn't see everyday, so putting them on on Halloween will make you special and more noticeable. It's like wearing a costume without wearing a costume.
Another way you can Halloween-ize your look is by wearing a print or a pattern that features a rather strange or mysterious print. Black and white combinations, muted tones, deep hues are all elements that will make your outfit more interesting on All Hallows Eve. As an example, you can look at the tie pictured above: you don't need to wear something too obvious to say "Halloween", you can go a little more subtle.
Wearing rugged or distressed items, such a rough belt is another way to add some Halloween style to your outfit.
Make sure though that, if you mix prints, they should be of different sizes.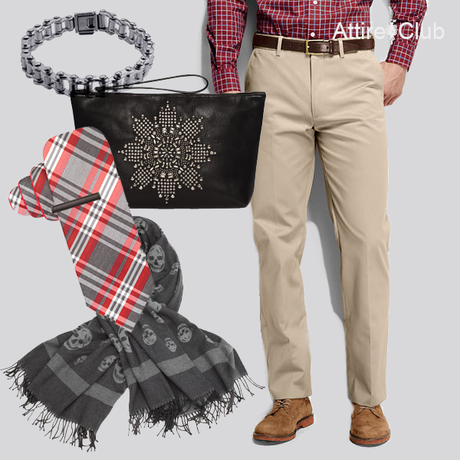 If you want to go casual this Halloween, there are a lot of ways you can do that.
One simple way (which is better suited for casual outfits than dressy ones, even though it's not a faux pas if you apply it to a dressy outfit) is to wear the Halloween color palette. Orange, red, black - these are some of the colors that are mostly associated with this holiday. The reason why we don't encourage you to do this too much is because the combinations are rather limited and very obvious: orange and black is not a color combination that can we transformed in too many ways without being too tautological. This is why, if you choose to play with colors, we recommend creating a mysterious color scheme by mixing deep colors or colors that seem to blend with each other and play with the others' mind. For example, you can wear purple with green.
Accessories are always a great way to style up your outfits and wearing accessories that feature elements one would not expect. A bracelet made from a bike chain or a pirate scarf are ways to add that element of costume and creativity to your look.
Last, but not least, working with contrasts can also work to your advantage: shiny metal pieces on a deep leather bag are an example of something that will definitely catch the eye and make you the star of the get-together.
There are many ways in which you can dress up for Halloween without actually having to dress up. Wearing clothes and accessories that make your look different is the best way to make the most of a party and to still be yourself and to keep it elegant.
With this being said, don't forget not to indulge too much on that pumpkin pie and remember that the attitude you have towards your clothes will show in your attitude and your confidence levels, so always only wear things that will make you feel comfortable and strong!
With this being said, we wish you a happy Halloween!
Fraquoh and Franchomme
Further reading:
40 men's Halloween costume ideasA history of costumes: Vintage Halloween photos
P.S. We want to hear from you! How do you dress on Halloween? How do you celebrate the Celtic New Year? Share your feedback, questions or thoughts in the comments below! For more articles on style, fashion tips and cultural insights, don't forget to subscribe to Attire Club via e-mail or follow us on Facebook or Twitter!