Christmas time is here again and everything shines, sparkles and glows. And, in such a colorful décor, you want to make sure you will stand out. Christmas fashion doesn't have to be gimmicky or too obvious, especially if you want to go for a mature look.
Dressy or casual, your Christmas style should be elegant and sophisticated, but simple and practical at the same time.
Here are some ideas on what to consider when dressing up this season:
Festive wear
Dressing up in festive wear is a great way to put you in the holidays spirit and to externalize an inner celebration. To do this, you should definitely wear clothes that are rich in terms of materials and colors, that feature great cuts - we definitely encourage you to go to a tailor and have something done or adjusted for you, as the more tailored to your body a garment is, the better it fits; and that make you feel confident. Moreover, wearing clothes with subtle details such as a fine texture or accent fabrics is a wonderful way to make yourself noticed.
Our main tip this season is to wear one statement piece, such as a jacket that features an interesting color, print, pattern or is made from a special material and to wear other great supporting pieces with it. This way, you will be the center of your look and not the clothes, which is something that often happens when one is wearing too many statement pieces at a time.
A dressy look should always be sharp, well-pressed and impeccably clean. Formal or dressy outfits are usually darker and more sober than casual looks. Make sure you take the clothes you want to wear on Christmas to the dry cleaner's ahead of time, so that you still have the time to pick them up in time for the holidays.
Also, wearing great accessories is a good way to make yourself noticed this Christmas. A watch, a tie, a pair of elegant cufflinks are all good options when it comes to styling up your look. However, because you don't want to look like a Christmas tree yourself, make sure you don't overdo it and always remember to edit your outfits before you consider your outfit completed.
Edit your outfits
An important rule to remember is to put on the things you want to wear and edit the outfit on you, instead of looking at it on the bed or on a hanger, as this way, you will have a better grasp of how the clothes work on your skin tone and your shapes and size.
Moreover, we definitely recommend wearing things this Christmas that go together well even if they don't match. Mismatch your belt and shoes, your jacket and pants or wear a pair of colorful socks with a dressy outfit and you are ready to go.
If you can coordinate colors well and pick the right accessories, you are good to go.
Creating a casual, yet still festive outfit is not very hard if you have a few tricks up your sleeve. To obtain a fancy, yet relaxed look, you can go to one or both of our main tricks: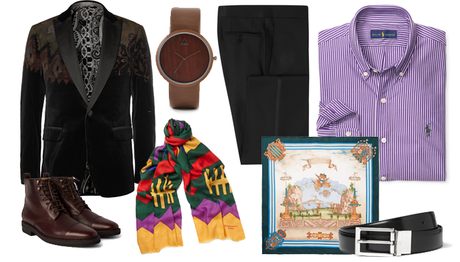 Mix high and low
For great sartorial results, you can always mix and match pieces that very dressy and high-end with pieces that are very relaxed, casual and simple. For example, you can wear a tuxedo jacket, which, by definition is very dressy, such as the Etro jacket in the picture with a series of other clothes that will balance it out. Remember that the pieces that are not very dressy should still fit well and be "Wow" pieces, but they should come from the casual category. Casual outfits are usually more colorful and bright than formal or dressy outfits.
Mixing high and low is a great styling technique used by many fantastic stylists. One of our favorite stylists, who is known for amazing high-low mixes is Carlyne Cerf de Dudzeele, whose work has become truly iconic.
Add great accessories
To polish off and complete an outfit, one can always appeal to accessories to style up their sartorial game. Accessories have the power to enhance even a very bland, muted outfit and to make it into a great sartorial "Wow"-moment.
Choose pieces that you like and that speak to your taste and style, and you are all set.
When it comes to accessories, there are a few rules one should always remember:
One: For a balanced look, you should always wear accessories that are proportionate to your body size. Bigger men should opt for bigger accessories, while smaller men should go for smaller accessories, such as skinny ties and small bow ties.
Two: An outdated rule says that if you wear metals or metallic fabrics, they should always match each other, meaning that gold can only be worn with gold and silver with silver. Today, however, we know better, and we know that metals are all neutrals, which means that you can wear different types of metals or metallic fabrics at the same time. Moreover, since metals are neutrals, they go with absolutely any color, print or pattern.
If you decide to wear metals or metallic fabrics, it is recommended not to put too much of them on. Keep it low and simple, and you will turn heads for all the right reasons.
Regardless of what you want to wear, it is essential to remember that your clothes should always be an expression of you and that you can make a statement about who you are through the clothes you put on. Make this Christmas an opportunity to explore new fashion territories and encourage yourself to wear new things, to go out of your comfort zone and to take your style to a new level.
Fraquoh and Franchomme
Further reading:
The AC Holidays Gift GuideA guide to festive clothesMore Christmas inspiration from last year's guide
P.S. We want to hear from you! What do you want to wear on Christmas? Do you prefer a dressy look or a casual one? Share your feedback, questions or thoughts in the comments below! For more articles on style, fashion tips and cultural insights, you can subscribe to Attire Club via e-mail or follow us on Facebook or Twitter!