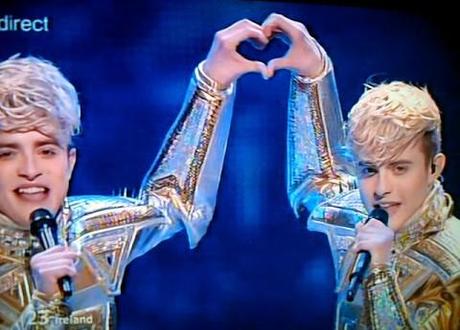 Jedward love you! Photo credit: Banlon1964 http://flic.kr/p/c69V3S
The background
The Eurovision song contest is taken very seriously in many European countries. However, in the United Kingdom it is widely ridiculed. Regardless, millions of Brits tune in every year to gawp at the weirdest, wackiest and, well, worst acts. And they rarely switch off the box disappointed.
The Eurovision 2012 contest, which took place 26 May in Azerbaijani capital Baku, featured its fair share of pretty dodgy songs and songsters. In a night where power ballads and relentlessly upbeat dance tracks ruled the roost, here are The Periscope Post's worst five performances.
Yes, big-voiced, Bjork-esque Albanian singer Rona Nishliu really does have a serpentine dreadlock stuck to her chest:

Check out The Periscope Post's round-up of the best Eurovision 2012 comment here.
Anyone for a bit of funky Balkan-Latin fusion? Time to give Romanian-Cuban outfit Mandinga a listen:

Lithuanian singer Donny Montell can sing a bit but he makes the cut here due to his downright creepy blindfold:

Warning: Ukrainian diva Gaitana's track Be My Guest is infuriating catchy. And it features some insanely dressed backing dancers:

More high-energy mayhem from Oirish pop twins Jedward: