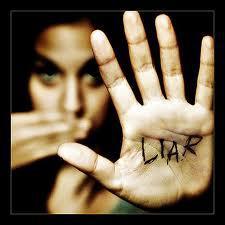 A few weeks ago I overheard a guy telling everyone within shouting earshot about his all night slumber party with two heavenly vixens. Unfortunately for him, I play a lot of poker and I immediately spotted his tell. It was a dead giveaway:  he was disgusting. And he had the personality of a retarded goat. The only slumber party this man was capable of hosting involved a bottle of Lubriderm and a box of Kleenex.
Over the years, I've noticed that people seem to believe the only way to get others to like them is to manipulate their perception of them.  I can only assume this act of lunacy is caused by the driving force that causes all lunacy:  trying to get laid.  Add a little alcohol to the mix and the lies come pouring out of you like in The Mummy Returns when those flesh-eating bees come streaming out of the mummy's mouth and eat everyone in sight.  Based on what I've witnessed over the years, these are the most common lies I see told in bars night after night. Use this guide, and BEWARE!
I COULD HAVE GONE PRO – The Liar:  Men
"Yeah, I averaged like 43 points, 19 rebounds and 24 assists per game in high school.  Coach K was begging me to come to Duke, but he wanted me to play the 2 guard and I wanted to play small forward, so I told him to fuck off."
I'M INCREDIBLY SUCCESSFUL AND WILL PROVE IT BY TELLING YOU HOW MUCH I MAKE – The Liar:  Men
The best part about this lie is watching men awkwardly try to work it casually into the flow of conversation.  "Yeah, I like movies too, especially the popcorn, but it's really expensive, which reminds me:  I pull in about 150 k doing investment banking."  That's great.  It will offset his midget-sized penis.
I'M NOT THAT DRUNK – The Liar:  Men and Women
Sure you're not.  You just ate every olive, cherry and cocktail onion out of the condiment containers and now you're standing on the dance floor screaming at the jukebox, "Come on, DJ, play Funky Town, bitch!"
I AM (TEN YEARS OLDER THAN WHATEVER I'M TELLING YOU) – The Liar:  Women
The least you women could do is respect us enough to keep the number somewhere within the vicinity of truth. When your mouth tells me 33 but your crows feet are screaming 48, you might as well tell me that you live in Narnia with your sister the White Witch.
I'D LOVE TO GET TO KNOW YOU BETTER – The Liar:  Men
The only things men want to know about you are:  1) are you wearing any panties? 2) If so, what color are your panties?  3) How long before I can get into your (aforementioned color) panties?  And 4) how long before you can put your panties back on and get the fuck out of my house?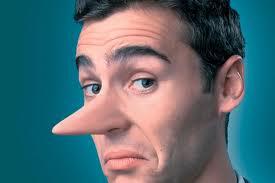 I'M REALLY INTERESTED IN WHAT YOU'RE SAYING RIGHT NOW – The Liar:  Men
When men furrow their brows and nod their heads intensely while you're telling them all about your childhood pony, I know it seems like they're incredibly sensitive and sincere, but what they're really doing is playing a multiple-choice game in their head:  A) Furry  B) Landing strip or C) Smooth
I BELIEVE IN EQUALITY FOR WOMEN – The Liar:  Men and Women
Why men don't really believe in equality for women:  They can't stand not being #1.  They say they believe in it because it's politically correct, but deep down every man believes that women are a weaker species that should only be allowed to provide blow jobs and bring them lemonade while they are building a deck in the back yard.
Why women don't really believe in equality for women:  Oh, they say they do, but they just want to pick and choose the good stuff, like one does at a buffet. "Uuummm, let's see…I'll take equal pay at my job and equal status on the corporate ladder, but that whole 'paying for movies and drinks and dinners', you guys can keep that, as well as cleaning out the bathtub drains, mowing the lawns, and going downstairs to inspect loud noises that might get you killed."
I HATE JUSTIN TIMBERLAKE – The Liar:  Men
No you don't.  He's delightful.  Not to mention fresh and innovative and good looking, and when Sexy Back comes on in the car you know that you shimmy your shoulders to the beat and sing along with it at the top of your lungs. Don't be ashamed. Them other boys just don't know how to act.
I WOULD LOVE TO DO SOMETHING WITH YOU TOMORROW – The Liar:  Men
If a man EVER claims to be interested in going with you to the craft fair you are attending the next day, look for the gigantic red flag blowing in the wind.  Men will agree to anything the next day as long as it means going home with you that night. Just don't be surprised when he suddenly remembers that he's supposed to go fishing with the boys.
I LOVE SPORTS – The Liar:  Women
Women often use this lie so she can be one of the boys.  "Oh my god!  I LOVE baseball.  Go Lebron!  Get a touchdown!  WOOOOO!!!"
NAME DROPPING – The Liar:  Men and Women
"Brad Pitt is actually a really nice guy."  While he may seem nice, watching Brad Pitt get out of a Taxi and wave at the cameras doesn't really count as "knowing him".  Especially when you watched it on A Current Affair from your living room. Shut the fuck up!
TOUGH GUY – The Liar:  Men
"That dude is really lucky he left.  I was about to rearrange his face."
"Really?  I think we can still catch him.  He just left."
"Uhhh…no, that's ok…my knuckles just healed from the last guy I destroyed."
I LOVE SMALL TITS – The Liar:  Men (Duh!)
No really, it's fine, I'll just play with your shoulders.  It'll be great!