It's time for Week 5! We've had a hugely positive response to this series – it's great to see so many fans finding new material from this list. Today we're going to finish up with Marvel and start looking at our favorite villains!
Also, here's Part 1, Part 2, Part 3 and Part 4!

#41 – Cable and Deadpool: If Looks Could Kill
Entry by Slam Adams
Long time rivals Cable, the telekinetic soldier from an apocalyptic future, and Deadpool, the mentally unstable super soldier gone wrong, knock heads and ultimately team up when a cult hires Deadpool to steal a virus that will turn the world blue. This adventure serves as a stepping stone for a pretty epic friendship between the two. Deadpool was always a hard character to crack. Most people think he is just a walking one-liner machine, but anyone who read the Joe Kelly series that preceded this series knows there is more to Deadpool than his blunt wit. Luckily, writer Fabian Nicieza had a hand in creating Deadpool and continues depicting him as an empathetic killer.

#42 – Black Widow: The Itsy-Bitsy Spider
Jamie
Black WIdow, or Natasha Romanov, is skyrocketing in popularity due to her involvement in Marvel's superhero films. She is featured in a number of good books but this one is particularly worth reading because of how well it handles her character. In it Natasha, a reformed Soviet spy, faces off against her replacement, Yelena Belova. In doing so, Natasha must not only contend with a foe equally as deadly as herself, but she must face her past as well. Black Widow: The Itsyits-By Spider spans many countries and gives us a classic spy story worth remembering.

#43 – Madrox
Slam Adams
James Madrox used to be known as Multiple Man, a mostly comic relief C-list X-Men, rebooted by Peter David as a film-noir buff who uses his powers to aid in private investigating rather than straightforward superheroics. Constantly making meta- references to detective fiction, he sets up shop in Mutant Town, a poor area of New York inhabited by mostly mutant residents in similar vein to Chinatown or Little Italy. It was a breath of fresh air for a publisher that has leaned pretty heavily on classic superhero tales, and it spun off into the very awesome X-Factor Investigations series.

#44 – Uncanny X-Force: The Apocalypse Solution
Slam Adams
Unlike its mother book, Uncanny X-Force takes a more interesting look at killer superheroes. The decision to kill is weighty and comes with consequences both physical and emotional. Wolverine leads killers (with varying outlooks on killing) Fantomex, Deadpool, Psylocke, and Archangel to proactively take on threats to the mutant race, the biggest of which is Apocalypse, who just won't stay down. Apocaplypse is an ever evolving threat that puts the team through the wringer in a gorgeously illustrated book with an exciting and emotionally investing narrative.

#45 – Invincible: Family Matters
Slam Adams
You probably know Robert Kirkman best for his Walking Dead series, but for my money, this his better series. It stars Mark Grayson, the half alien teenage son of the world's favorite superhero, who gets his powers just as his father betrays his super-team. Invincible is like the best moments of Superman and Spider-Man put together and updated to be more contemporary age. It juggles being light-hearted and funny one moment and recklessly dangerous and gorey the next. It is literally a one-stop shop of everything superhero fiction has to offer.
Comics will always be about the heroes – but nothing defines a good hero like a really great villain! Here's a small selection of great stories featuring our favorite foes!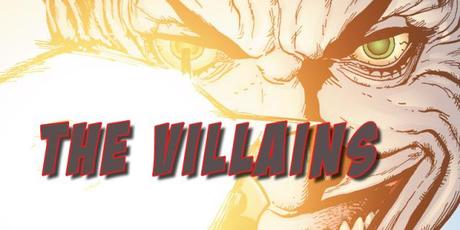 #46 – Batman: The Killing Joke
G-Funk
Batman has, over the years, attracted the biggest and best names in the business. It's been said that every comic writer has a Batman story they want to tell. In this instance we have a take by Alan Moore that focuses not on the Batman but his arch-nemesis The Joker. Constructing the closest we've gotten to a definitive backstory the story reveals much more about the Joker's way of thinking and his relationship with Batman. He's mischievous, kooky and horrifying. With Gordon strapped into his diabolical deathtrap and Batgirl left bleeding in her entryway, the Batman heads out for what he suspects with be a final confrontation.

#47 – Harley Quinn: Mad Love and Other Stories
G-Funk
Needless to say, no-one saw this coming. During the production of an episode of Batman: The Animated Series the writers opted to mix things up and add a female to the Joker's usually all-male group of goons. The jester girl Harley Quinn exploded in popularity, making the leap over the printed page during the No Man's Land saga and affirming her place at the Joker's side. Their twisted romance has become a mainstay of the comics and she has appeared a prominent feature of the video games, the latest incarnation of the Suicide Squad and her own comic series. Find out the real story behind one of comic's biggest and most unexpected successes in recent years in her first headline story.

#48 – Magneto: Testament
Paul C.
Is Magneto the most interesting character in the entire X-Men Universe?  Stories like these are why he's not only mentioned in that statement but argued as such amongst comic-book fans constantly.   This is a holocaust story with a young Magneto at the center that not only fleshes out his origin but tells a heartbreaking and all too familiar tale of peril through Nazi-occupied Germany.  It's a crippling struggle for this fictional family just as it was for thousands of others before them and it's that balance of social commentary and real-world events that makes it so genuine.  This is before he is Magneto and long before the X-Men have come together and because of that you get something that really lets you explore who this character is and where he came from.  If you'd like a break from the normal superhero battles and would like to check out something different than I highly recommend this graphic novel.

#49 – Wanted
G-Funk
This is the odd one out, not being centred on a known villain but a generic group of familiar villain tropes. Most people are only familiar with this title through the movie, which pushed aside the ground-breaking concept of the book to focus on…stupid. The story begins the same, with a loser named Wesley Gibson who unexpectedly inherits his father's legacy as a master assassin. It is revealed that superheroes and supervillains are all very real, and the villains had long since wiped the heroes off the face of the planet and now control the world from behind the scenes. Gibson aka The Killer enters a world controlled by supervillains and all the chaos that goes with it.
Aaaaaaand that's it! We're cutting this week short by one entry to neatly tie of the Superhero portion of our feature. Join us next week as we delve in to the world of crime and espionage!
Don't forget to vote for this weeks best title!
<a href="http://polldaddy.com/poll/8064985">Take Our Poll</a>