Every day this month I am looking back on the 10 years since I started this blog in June, 2008. Part 12 is this one — Gone Troppo — from January 2010, another traveller's tale, this time from one of our favorite destinations, Darwin in the Northern Territory. We've been there three times and would love to go there again.
January's almost half done and not a single blog posting! Well, this marathon bunch of holiday snapz will make up for that. Pammy and I have just got back from a week of foolish fun spent paddling about in the middle of the wet season in Darwin, in tropical far northern Australia. To cut a long story short, we want to go back! But as this is a long photographic story, it's on with the pix (as always, click on the photos to make them bigger) ...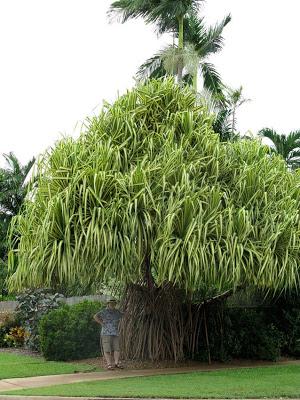 Typical southern tourist me, wearing the new Panama hat Pammy gave me for Christmas, posing under a variegated pandanus tree. And that was one of the themes of this holiday. "You can't grow these in Sydney, Jamie, so if you like them you'll just have to come back for another visit, won't you?" Yes, mam.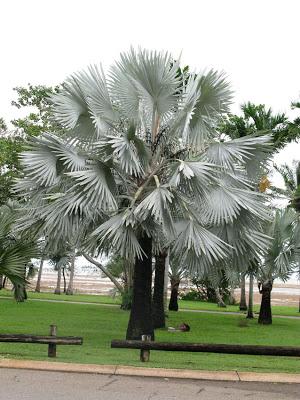 More forbidden delights – the Bismarckia palm. These stately grey-leaved palms are everywhere in Darwin.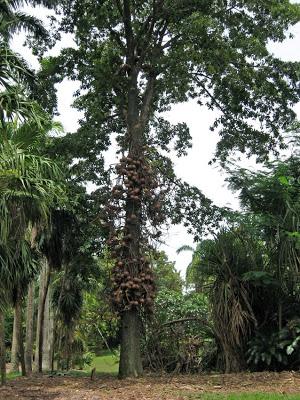 It's a good thing these cannonball trees aren't everywhere, as they're dangerous to stand under. This one is in the Botanic gardens and it's the only one we saw. It's a big thing, at least 25m tall.
.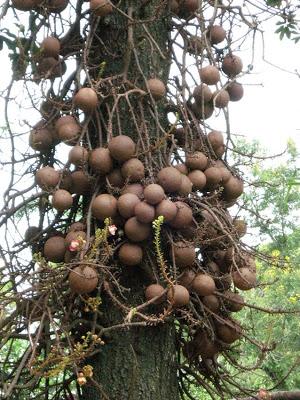 The cannonball fruit are like small coconuts and they are said to fall from the tree at any time, clonking passers-by on the head in the process. It's not an Aussie tree – it's a native of Guyana in South America, but it thrives in Darwin's tropical climate. Fascinating weirdo.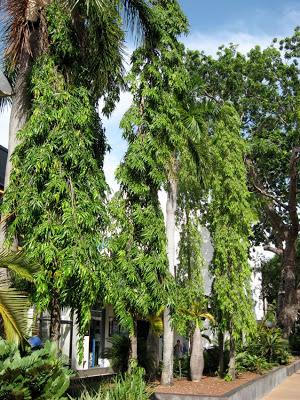 These tall, thin Indian Mast Trees are another import which are everywhere in Darwin. Growing to about 10m tall, they're just a meter or so in width, with elegant droopy green foliage. First time you see one you tap your partner on the shoulder and say "oh look at those".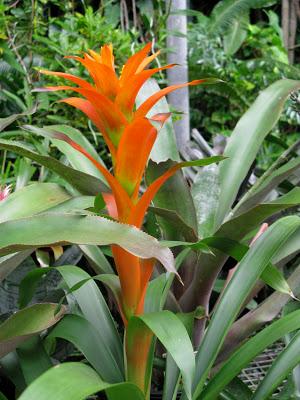 However, my gardening discoveries weren't all of the "you can't grow these at home in Sydney" variety. We visited 

Jenny's orchid garden

 in Howard Springs where countless numbers of both bromeliads and orchids were on display, and some of these bromeliads could probably be grown in my garden (hopefully, fingers crossed, maybe).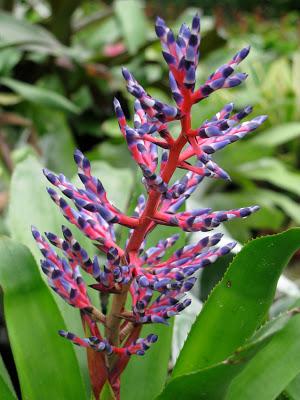 Bromeliad flowers are nothing if not varied, and at times outrageous.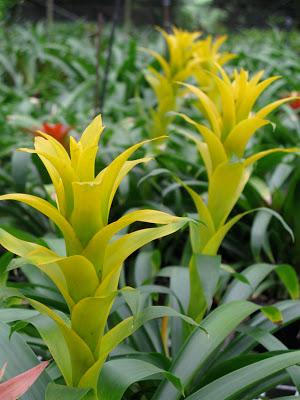 By comparison to the spotty space alien before, this yellow fellow is almost plain.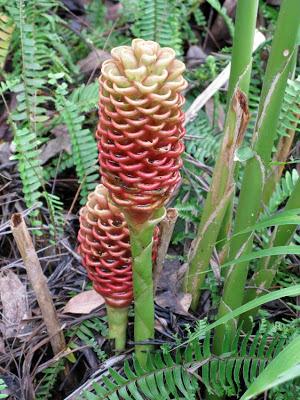 Ornamental gingers were in bloom everywhere. While I have seen many photos of beehive gingers before, none of them prepared me for the fact that the blooms poke up just a couple of inches above ground level. I had always envisaged these as being atop stately stalks.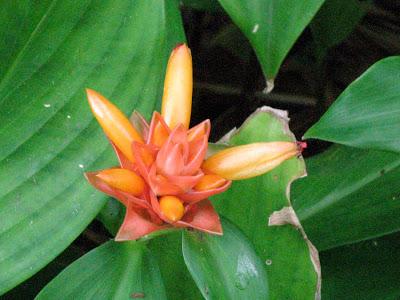 This is another ornamental ginger, not sure what sort, but it's useful to include just because it shows how varied ginger blooms can be in both color and form.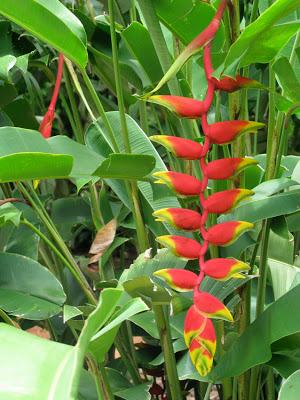 The heliconias were in bloom too, and like the gingers there are many colours and forms on show. This is the popular and striking crab claw heliconia.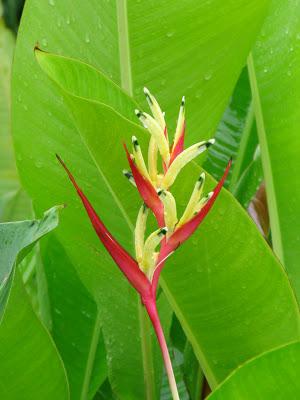 Many other heliconias look more like this, in an assortment of colours, often red, orange or yellow, or a combo of any of these colours.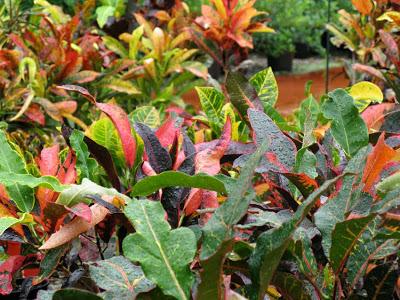 Foliage plants are the backbone of tropical gardens, and these crotons seem to do a lot of the technicolor heavy lifting in many tropical gardens.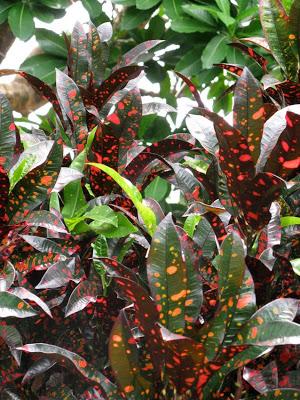 Not sure what these spotty people are called, but they're pretty typical of many foliage plants here, which wouldn't dare limit themselves to just plain green.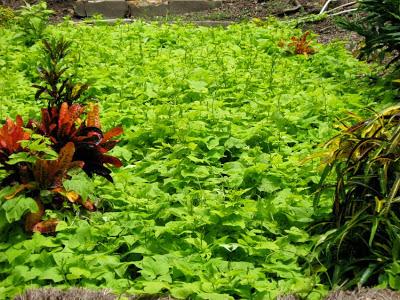 One vivid exception to this 'not just green' rule is the ornamental sweet potato, a fast-growing groundcover that is so tough that it's used to fill in traffic islands on highways. Just looking at it is like enjoying a cool drink.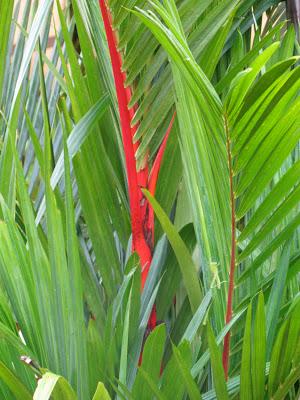 Of course palms are everywhere, and gardeners in Darwin seem smitten with these red-stalked beauties known as lipstick palms, for obvious reasons. And no, you can't grow them in Sydney, Jamie.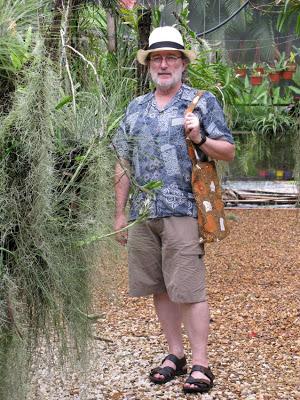 Speaking of Sydney gardeners on holidays, here is me in my Panama hat about to smile, but not quite managing to, while visiting Jenny's orchid garden. As well as the bromeliads pictured above, this remarkable spot is, of course, filled with orchids in bloom.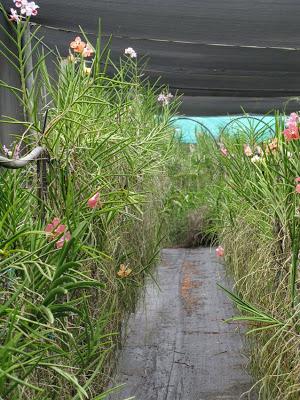 In many sections organised simply into a series of tennis-court-sized enclosures, Jenny's orchids are hung in long rows of wire baskets, not planted into soil of any sort.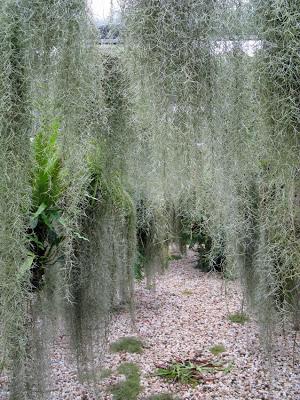 Everywhere you wander the orchids are festooned with air plants, tillandsias, better known as Old Man's Beards or Spanish Moss. Makes a nice, spooky forest, it does.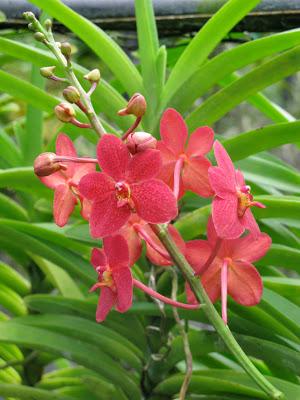 The variety of orchids here is amazing, but they don't all bloom at once. Many plants were about to come into bloom, or had obviously finished blooming a few weeks ago. They just bloom when they want to bloom, and with the sheer number of plants grown here there was no shortage of pretty things to see, such as this one.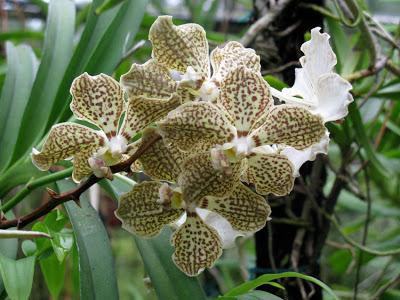 Or this one...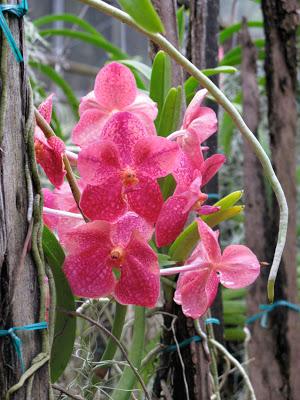 Or this one...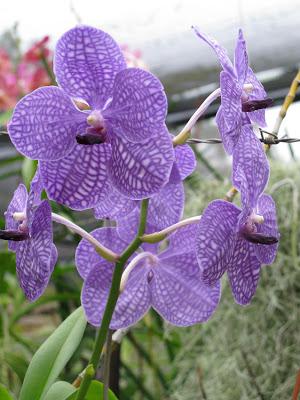 Or this one.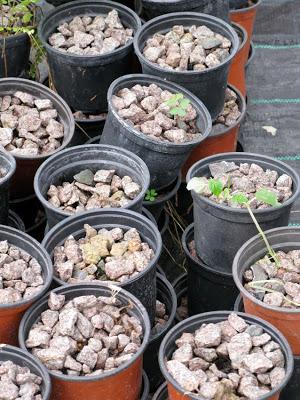 Some orchids were growing in pots, but the pots were just of gravel. Drainage, excellent!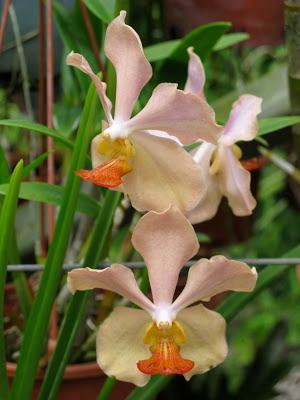 If I lived in the tropics, I think I'd grow a lot of orchids.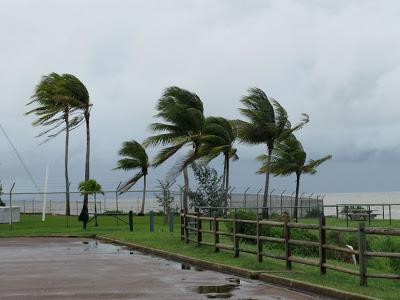 But if I lived in the tropics I'd also spend a lot of time enjoying the weather there, too. We arrived at the same time as a monsoonal low pressure system did, and for the first three days there it rained and rained and rained, and the wind blew the rain into sheets that fell sideways – no escape for pedestrians! The constant rain dropped the daily max down to 29°C (84°F) – nice and cool – and we settled in well. To get around, all you had to do was wait for a squall of rain to pass, then walk about on the rapidly drying footpaths in the 20 or so minutes between the next squall. I found wandering home from restaurants late at night in balmy 25°C (77°C) air the really addictive thing about tropical living. Loved it.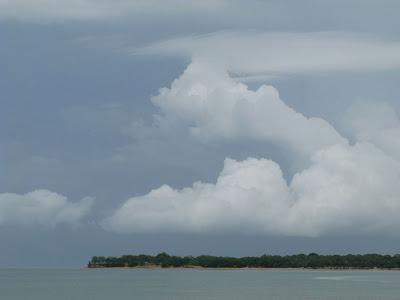 Towards the end of our stay the weather returned to the more normal wet season pattern of a hot, humid day (max 32°C or 90°F) with a spectacular thunderstorm around sunset to cool things off. Those tropical cloud formations are a nice thing to behold with a cool drink in your hand.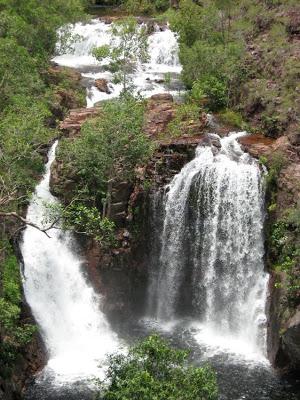 And of course the big thing about the wet season is water. Lots of water. This is the Florence Falls in Litchfield National Park, about 2 hours drive from Darwin. The sound of the falls greets you from far off, but nothing quite prepares you for the sheer force of water roaring over the edge. It's such a shame that the word awesome has been hijacked to now mean anything fairly impressive to a bored teenager, as these falls really did produce a sense of awe in all who stood on the viewing platform, feeling thoroughly insignificant in the presence of Mother Nature running her bath.
And so that's our holiday snaps. Or should I say "Pam's holiday snaps". Most of these photos were taken by Pammy, and she did a great job capturing our holiday in the steamy tropical north. And we're going back for more, too!