This list might seem oddly specific, but all of these blue men's running shoes are available in other colours.  You can click the "buy now" link to begin exploring.
Public service announcement: Summer's coming up in less than two months.  After the crazy winter we all had this year, no one's judging if there's still a little winter weight hanging on for dear life; but time's running out if you want to get back into peak form for the first beach days of summer 2014.
If you're looking to get yourself to the next level, here's one piece of advice: you can't exercise off a bad diet.  The calories in a single M&M require you to walk across a football field to burn off.  No one has time for that!  This isn't a post about food advice, but remember that it's important.  So why exercise if diet is so important? It builds muscle and endurance and it burns off the excess.  And lets face it, hauling your ass up a hill is a great way to commit to a healthy lifestyle.  Here are ten pairs of blue running shoes to get you on your feet.  Why blue? No reason.
ASICS Men's Kayano Blue Running Shoe - Buy Now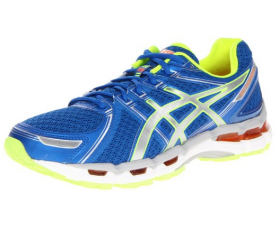 Asics is one of the top names in the running game, and the Kayano is an excellent example of why.  This running shoe strikes the delicate balance required between stable support and flexible comfort for ultimate wearability. And it's easy on the eyes.
Under Armour Micro G Toxic 6 Running Shoes – Buy Now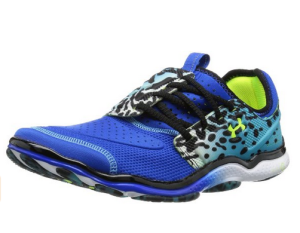 The Under Armour UA Toxic Six Men's Blue Running Shoe's design looks pretty much a poisonous tree frog.  Wearing these isn't guaranteed to grant you the agility of one of those little buggers, but you'll definitely have a little extra spring in your step with an ultra lightweight upper and absorbent contact pads on the soles.
 Nike Free Flyknit Men's Running Shoes in Blue – Buy Now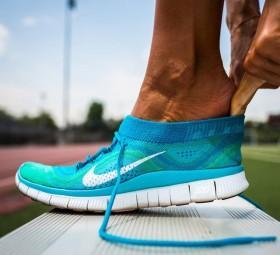 If you thought those last shoes were lightweight, check out these bad boys.  With a uniquely designed upper that is constructed to fit you like a sock (take a closer look at that picture), these running shoes mold to your foot in a completely new way.
Reebok Men's CrossFit LifterPlus – Buy Now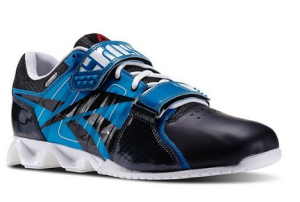 For those of you that already have a regimen, or are thinking about starting one, or just prefer to kick it in the gym, these Blue CrossFit Shoes by Reebok are the cream of the crop.  Specifically designed to keep you light on your feet while lifting in the gym, they have been constructed with stability and comfort at the height of mind.
New Balance M890 Running Shoe – Buy Now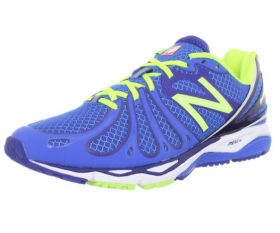 The big N is a universal symbol of quality shoes, and these blue trainers from New Balance will give you the step you need in the gym or on the pavement.  With a synthetic upper and rubber sole, they get the job done.
Saucony Kinarva – Buy Now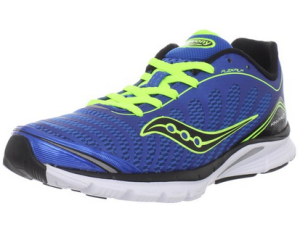 Saucony cut its chops and earned a reputation by building shoes for the long distant runner.  Use these to their full potential and gear up for your next (or first) long distant event.  (Having a goal makes the journey that much easier!) These blue Saucony Kinarvas were conceived with extra attention given to the heel, with ProGrid Shock absorption and memory foam to keep you running longer.
Adidas Liquid Ride Running Shoes – Buy Now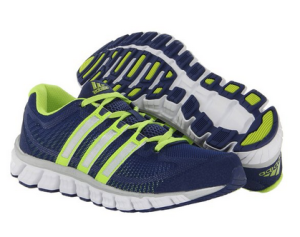 First of all, we applaud loudly whomever it is that is responsible for naming shoes at Adidas.  The Liquid Ride was also designed with ADIPRENE in the forefoot, a substance designed to propel you forward with every stride.  It's obvious they are paying close attention to every detail over at Adidas, and we'd be proud to wear these running shoes any day of the week.
Brooks Adrenaline in Blue – Buy Now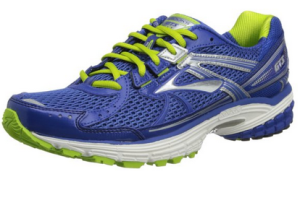 Lots of shoes give you the bare minimum required to stay on your feet, but no matter how many grams you shave off the total weight, some things just can't be compensated for.  Disinterested in sacrificing practicality for lightness, Brooks has instead made sure they are instead delivering the pinnacle in comfort and stability.  That's not to say that these runners are heavy on your feet though; and besides, what's a few more ounces on your feet, really?
Mizuno Wave Creation - Buy Now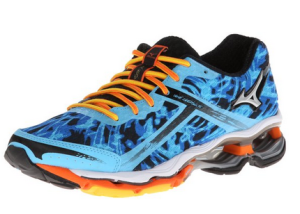 These Mizunos have earned a reputation for performing well for the heavier set runner. Not everyone begins with the spry, lean runners physique, so these are definitely worth a look for anyone who's hitting the pavement with more than ~170 pounds for these electric blue running shoes to support (fat or muscle). Check out the description on their product page to learn more.
Altra Instinct Men's Running Shoes – Buy Now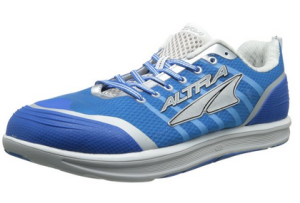 These may not look like your stereotypical running shoe, but rest assured, they have been designed for comfortable exercise with an extra wide toebox (the front of the shoe won't cramp your wide feet) and plush midsole.
Comments
comments