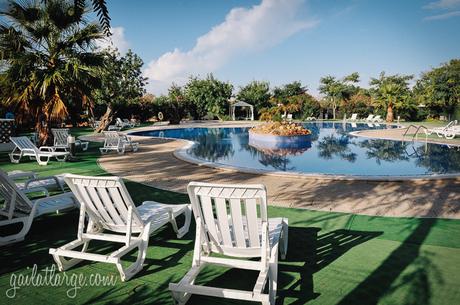 If I hadn't taken this picture myself, I wouldn't believe it was a camping site, either. But it is — Camping Ria Formosa in Tavira, Eastern Algarve. We stayed here on our big road trip last year, choosing campsites from a mobile app as we went along, making our selections based on price rather than amenities. When I spotted the pool I started laughing…
WHAT?? This isn't camping!
Plenty of campsites in Portugal have pools but until this point we'd not seen this anything this glam. It's the Algarve, I told myself, I'm sure the whole south coast of Portugal is Glamping Central. On that trip we spent four nights across the Algarve (Tavira, Faro, Quarteira, Albufeira) and this is the only campsite where we spent any significant time in a pool. We're not really pool people, but we truly enjoyed this one. I even requested that we pitch our tent next to it — less for me to trip over without my contact lenses (I'm quite blind without them).
Before we went camping at Easter, I wrote about some of the differences between camping in Portugal versus Canada:
Thankfully, Portugal doesn't have the large wild animals that Canada has, which makes camping much easier — especially with pets! No tying up food in trees, no worries about bear attacks or cougars eating Ice for breakfast or a moose stomping on us in our sleep. I think only those who've camped under such conditions can appreciate the inescapable twinge of paranoia felt while lying in a tent in pitch darkness, analyzing every sound in the surrounding wilderness. In Portugal, there are no dangerous species and no campsite is further than 200 metres from an espresso machine.
I forgot to mention another distinction about camping here, something the Portuguese call animação. When I first saw this word I thought it was 'animation' but in this context it's more like 'live entertainment'. There are full programs of activities here! Everything from live music to yoga to belly dancers to sports, even activity programs for children (like summer camp but with parents?).
This concept of live entertainment at a campsite blows my Canadian mind. Camping in Canada typically focuses on nature, privacy, and getting away from it all, while glamping in Canada, the upgraded version, usually promises amenities and comfort but still makes an attempt to blend in with the wilderness — albeit in a fancy Scandinavian way (complete with Scandinavian-style prices). Here in Portugal, glamping resembles a Mediterranean resort with bungalows and bars and Brazilian disco… that just happens to have a tent pitch and communal bathrooms. However, camping prices here are lower than in Canada: this glampsite cost us the princely sum of €12.50. Our cheapest campsite on the road trip was €6.40 in Constância, the most expensive was €22 in Lagos. For everything that's included and proximity to civilization, this seems inexpensive to what I'm used to in BC, where there are recreational fees in provincial parks for camping, having a group picnic, day use, etc. (To be clear, I don't object to these user fees, they're necessary for maintenance of these sites and many of them are very remote.) These fees add up!
As a Canadian, a scene like this one doesn't compute with the word campsite. Is it the palm trees? The pool? No, it's the lack of bear-proof bins!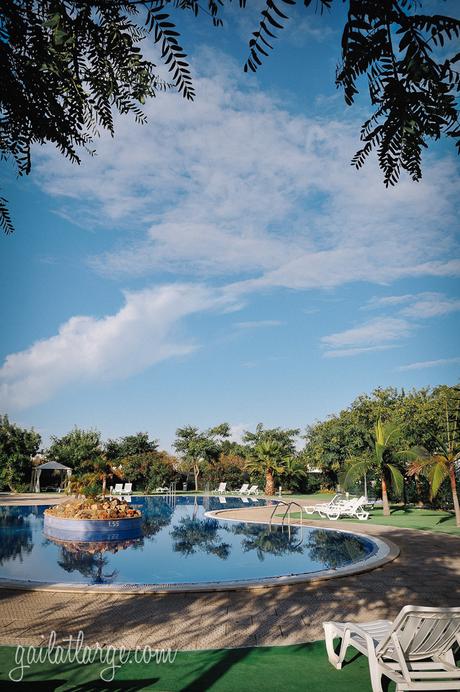 September 18, 2014
Album: Portugal Road Trip (SEP 2014)
Possibly related posts:
My First Year In Portugal This entry is part 1 of 1 in the series Portugal AnniversaryMy one-year anniversary was actually a week ago, on September 29, but that day I was 3,150km away, running...
Praia da Falésia, Central Algarve You may know Portugal for its beaches in the Algarve, but we were pretty selective about those, to avoid the mass tourism. Our favourite Algarve beach on this trip was...
Summer Postcards From Southern Portugal Now that winter is in full swing, it's time to bring back the summer in pictures. I shot these on our road trip in September, which was at the very...
Postcards From The Douro Valley's Almond Blossom Route This is a continuation from the preview of our Almond Blossom Safari through the Douro Valley two weekends ago, where you will find groves of almond trees scattered hither and yon...
Weekend Preview: The Douro Valley We went to harvest the family cherry tree in the home village of Penela da Beira this weekend before the bounty went to the birds or the ground. The last time we...