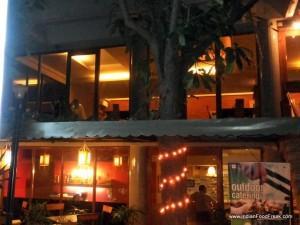 I love meat in all its forms and shapes. And living in Ahmedabad, where most of the population is primarily vegetarian, the non-veg component in the food is somewhat obscure, and whatever non-veg is available, isn't the best I've had. But as you head towards the south of Gujarat, to cities like Vadodara, Surat or Vapi, the non-vegetarian component in food becomes more visible. It's a common sight to find roadside eateries selling all kinds of chicken and mutton curries, tandoori, grilled and all other commonly possible fare. This could be because cities like Vadodara and Surat have a migrant population among the natives, and so establishments have come up catering to their tastes.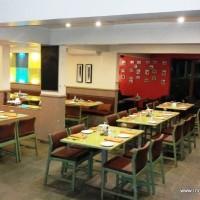 Before leaving for an official visit to Vadodara, I was googling for some good places to eat in the city. Though Vadoaara has never disappointed me, I was looking for some place untried, and something away from the naan-butter chicken-mutton curry monotony. A travel website had a small description of 'That Place (yes, it's the name!)', which happened to be located within a walking distance of my hotel, and it had some glowing reviews. I called up the restaurant, just to check if they served non-vegetarian (I have to, because in Gujarat, most places where you might expect it turn out to be pure vegetarian, regardless of the cuisine). And the answer was a big YES! They elaborated on the type of food they served, which DID NOT include Indian, apart from dishes like Amritsari Machchi and a couple of others. I love continental, and this place seemed to have ample number of dishes to try!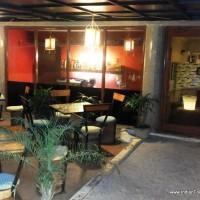 So I arrived in Vadodara on a sultry Monday and went about my work. Vadodara is a stark contrast to Ahmedabad, and has a more cosmopolitan look and feel. Food-wise, it has a lot more variety to offer than the places in north Gujarat. Evening came, and it was time to hit the place I had researched about. That Place is located inside a by-lane between R C Dutt road and Jetalpur Road, called Sampatrao Colony, the landmark being the Jetalpur flyover. It has a simple façade with a graveled entrance, a part of which has been made into outdoor seating with a mocktail bar next to it. A smartly dressed waiter greeted me and took me to a table. Well lit, comfortable, it has nothing garish about it, allowing one to relax in the surroundings. It is an approximately 15-cover restaurant with a staff of 9 to look after the diners. One section has a lounge style seating, with a guitar hanging on one of the walls for the crooners. More of a deli-style set up, it boasts of nothing extraordinary, ambiance-wise, though there's a book shelf, stacked with international food & travel magazines with a few books & comics, for the diners to accompany their meal. This is perhaps the first place I've seen in Gujarat that offers reading and eating together! The tables have the usual crockery, cutlery and the condiments neatly arranged, with a bottle of hand sanitizer as well! Sweet!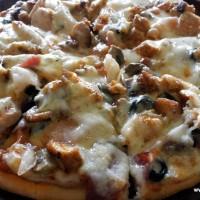 I got talking to the captain of the restaurant, who informed that That Place is the brainchild of three friends, from different walks of life, who stumbled upon the idea of offering the Vadodara population something they had never tried. One of the owners happens to be the chef too. The restaurant opened about two years ago, and has done well since. The menu was handed over to me, and as a habit, I spent a full ten minutes reading it from cover to cover. Primarily it has continental, with an interesting mix of Italian, Mediterranean and Pan Asian dishes, with one-odd desi fish preparation. There are sandwiches, wraps, pizzas, burgers, apart from the plated meals. The combined order of all the visits included a Lamb Steak (399); Cajun Prawns (349); Lamb Burger (279); the LOT Pizza (379); Mexican Pepper Chicken (249); Portuguese Chicken (369); Lemon Chili Fish (289); Creamy Pesto Pasta (349) and Persian Lamb (289).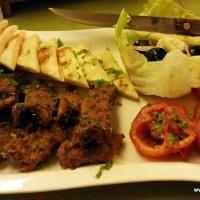 The Lamb Steak, topped with Rosemary sauce, came with stir fried vegetables & mashed potatoes. This was delightfully well cooked, the meat soft but retaining the bite and the sauce had strong flavors, both making a wonderful medley. The mash was creamy and went well with the dish. The Cajun Prawns, with garlic spinach sauce and salad, weren't the best I've tasted. The glint of the oil they were deep-fried in still remained, both on the face and in the taste. The Mexican Pepper Chicken contained crisp morsels of chicken, rubbed with Mexican spices (as the menu said), with salad and salsa. The chicken was cooked well, the flavors well balanced and had a nice tangy-spicy edge to it. The Portuguese Chicken consisted of chicken breast topped with hot peri peri sauce, accompanied with herb rice and sautéed vegetables. The chicken again was nicely cooked, had the tenderness and the juices intact, and together with the sauce was an exquisite combination. The rice was subtly flavored and the whole dish was a delight! I would love to go back for this! The fish in the Lemon Chili Fish was extremely soft, tender and beautifully flavored with the lemon and a hint of chili. I loved the accompanying baby potato salad too! The pasta was not great, but as good as anywhere else. The Persian Lamb came with a thick pita bread lookalike, cut into triangles. Where the lamb was beautifully tender and succulent, the bread was hard to chew. I had taken away a Lamb Burger to my room for midnight snacking- a soft bun inside which were a thick lamb patty, fried egg, lettuce, tomato, caramelized onions, mayonnaise and cheese, with fried and salad on the side. The burger, which had turned cold by the time I had it, still tasted good, with all the elements coming together beautifully.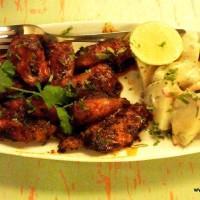 Perhaps That Place could explore more in terms of the crockery in which the food is served. Almost all the main course dishes were served in a standard size plate, and all starters came in a long tray-like plate, as is evident from the pictures. The service is courteous, and the staff is well informed. The food at That Place is a delight, would love to visit whenever I am in Vadodara. By the way, they also serve breakfast on weekends, consisting of Pancakes, Bacon, Eggs, Salads and almost every other constituent of a continental breakfast.

Definitely recommended for a heartening experience- repeatedly, if you're a glutton like me!

Disclosure: This review is a combined description of three separate visits to this restaurant done within a week. All meals were paid for in full.

Ratings (Out of 5):

Food: 4.0 | Ambience: 3.5 | Service: 4.0 | Overall: 4.0

Meal for two: Rs 800| Credit cards: Yes| Alcohol: No| Home Delivery: Yes

Address: 33, Sampatrao Colony, Below Hotel GRG, Alkapuri, Vadodara | Tel: +91 265 2310 222